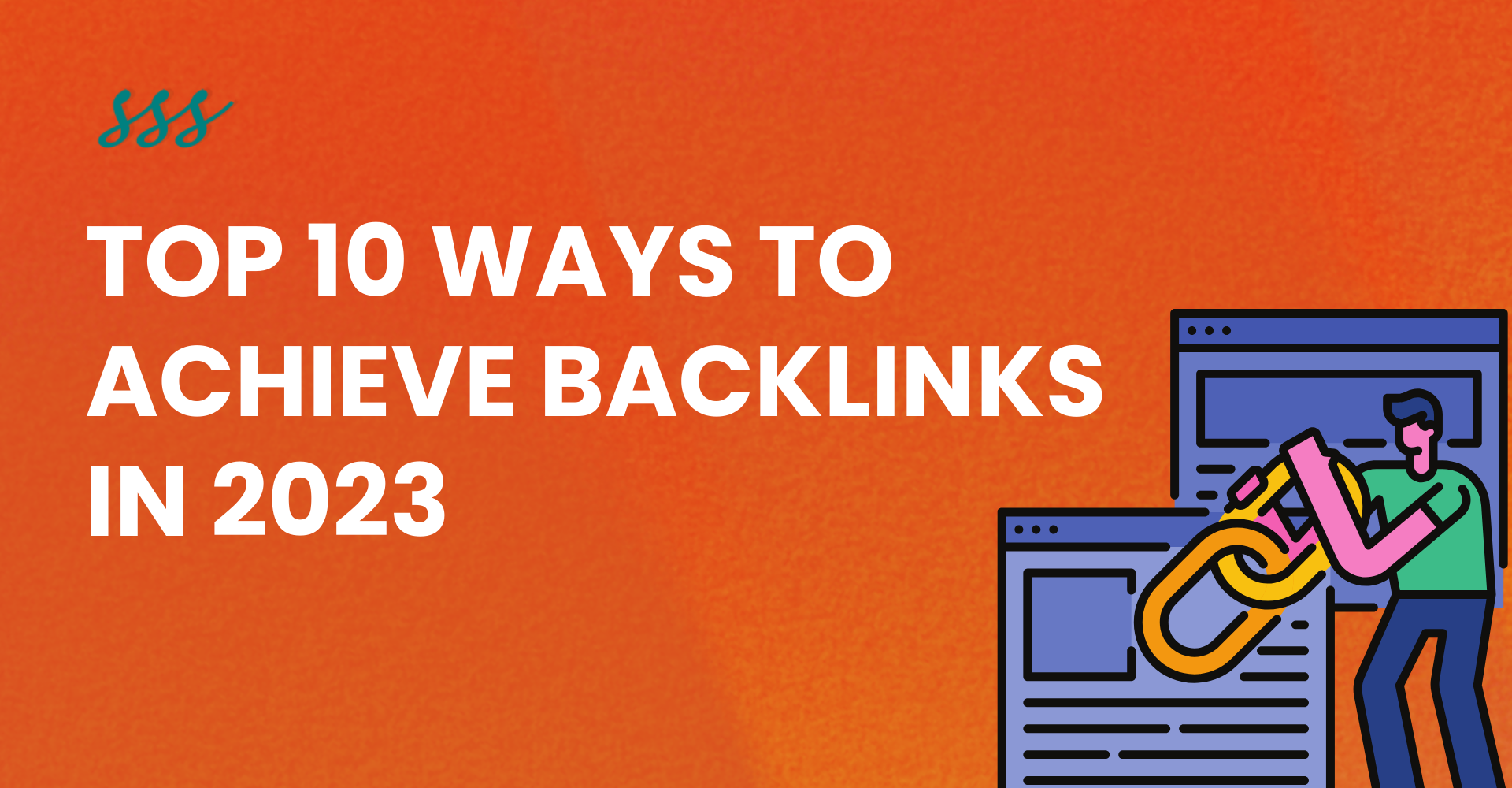 Top 10 Ways to Achieve Backlinks in 2023
September 29, 2023
|
13

min read
By: admin
Today, backlinks create a huge impact on the website's ranking on search engines. It allows websites to get noticed by users. When you try to implement an SEO strategy on your website which is aimed at ranking your website on search engines like Google and Bing, backlinks are a required element for it.
It is not easy to achieve backlinks without any research and strategy. Because with the ever-evolving Google algorithms, and SEO techniques, users want to see high-quality content which makes the digital world more competitive. It becomes a little bit harder to get or build links.
But, what are backlinks, why it is so important for ranking websites, and how you can get more backlinks, we know these questions are appearing in your mind, so here we are going to discuss all these topics related to backlinks.
Before getting started, you need to know that blindly following any monotonous strategy will never be the solution to getting backlinks. In 2023, link building for SEO, you need to take for opportunities whenever you find them or sometimes creating your own will be an option. So, no more wasting any time, let's wrap it up:
What are Backlinks?
A Backlink refers to an incoming link that is coming from another site. It is also known as external links, inbound links, or incoming links which work as an indicator of high-quality content which gets support from another website. If someone links your site to their site, then you get a backlink from them or if you link to another site with your website then they will get a backlink from you. A website with lots of backlinks gets a higher spot on search engines.
Why are Backlinks Important in SEO?
There are some reasons why backlinks are important in SEO such as helping to find your website on search engines, helping the audience to access more information based on their searchers, and helping the Google algorithm to notice your website.
Backlinks are mainly votes that you get from other websites that introduce your website as useful, high-quality, and valuable to search engines. The more you get backlinks the more your website gets higher ranks on search engines. We all know about Google's algorithm which changes regularly, but when it comes to ranking websites, backlinks are still playing as the key element.
If any website links to your website Google spider will surely crawl your site. After discovering your site, spider identifies your content as newly created content which allows your website to get noticed by Google and its users. This is one of the important reasons why backlinks are crucial for every brand.
Trust is one of the key factors of customer engagement. If your website has a great reputation and has lots of backlinks from other websites, users are most likely to click on your website which helps you get more conversions and gain more sales than before. Backlinks help to gain popularity because Google analyzes inbound links as popularity votes which are related to gaining traffic, increasing leads, and driving more sales.
Types of Backlinks
Among various types of backlinks, there are some types of backlinks that add value to our website. One high-quality backlink is better than a low-quality backlink. Here are the most valuable backlinks types which are mentioned below:
1. No-follow Links
No-follow links are referred not to click on the required link of another website that you add to your website. If you see the HTML reference, the attributes of no-follow links are <a href="https://www.domain.com/" rel="nofollow">this is a nofollow link</a>, if you put any website link according to like that, then Google algorithm does not scroll another website which you add on your content. This will not give any votes to get a spot on the first page of search engines. When you add nofollow links, Google will not notice any link marked on that content.
2. Acknowledgement Backlinks
Acknowledgement backlinks are the one of crucial backlinks for website SEO strategy. When you sponsor any kind of events that are related to your website, they add links to your website on their page. Then you get a backlink, which helps you get noticed by Google and its users. It helps to rank higher on search engines like Bing and Google.
3. Comment Backlinks
If you comment with your website links on any blog post that might bring backlinks to your website. But sometimes it is introduced as spam. But if you comment on high-quality websites that will help your website to maintain your visibility.
4. Follow Links
With the follow links, Google is allowed to scroll through another website. There are some types of links that give permission to Google to scroll to linked websites such as 1. Blog links, 2. Comment links, and 3. Press Release links.
How to Get Backlinks
There are various ways to get backlinks and rank your website on the first page of search engines. Here are the top 10 ways to get more backlinks which are mentioned below:
Reclaim for Unlink Mentions
Get a Spot on "Best X" Mentions
Update Old Written Content
Create Free Tools
Add Images for Earing Mentions and Links
Get Contextual Links
Look Into Competitor Websites
Publish Guest Posts
Build Relationships with Influencers
Create Round-up Posts
1. Reclaim for Unlink Mentions
When you see someone mention your brand's name but doesn't link to your website, you can send him/her mail to reclaim unlink mentions. This is the most effective and easiest way to build backlinks on your website. You just need to check who mentions your brand's name on their websites or blogs. To identify where your website's name gets mentioned, you can use tools like Google Alert, Ahrefs Content Explorer or Mention, and BuzzSumo.
You can use the same method for any events you host, or for employee names, if you go for an interview in which you mention any website employee name, that would count as a backlink, or on any research reports and more. For example, if any website mentions your brand's name on the research report and doesn't add a link to your brand, then you can send a note for link attributions.
2. Get a Spot on "Best X" Mentions
Today, customers always go for research before purchasing any products or services. For researching which products or services are the best for them, they always go for the " Top 10 Best E-commerce Platforms in 2022" post like this to see which they recommend as the best.
Getting mentions for the products or services you provide, will help you to get noticed by customers which might generate leads on your website. To get a spot on that list, check out other blogs that are ranking higher on search engines, and post this kind of article or blog related to your products or services.
Here are some phases which help you to find this kind of blog such as "Best X", "Top X", and " Ultimate Guide". You need to research which website they are mentioning in their post, go through those websites, and check out their internal links, backlinks, traffic, and ranking. Once you achieve all these points, then write a request on why your products or services belong in their list.
3. Update Old Written Content
If you see a blog or research report on your website that has not been updated for a while, then you need to check how many backlinks you get from that. If you see many websites or publications mention your blog or research report, then it is a surety that you posted high-quality content.
Now you just need to add some fresh content with updated data. Once you publish your updated content, you need to reach out to the old publications or websites or reporters who posted your old content to let them know you have updated your content with new fresh information and they will mention your updated content in their current blog for reaching out their customers about new information which you write on your updated content- that's how you can gain more backlinks through updated content.
4. Create Free Tools
If you can create free tools like template generators or calculators, this is an effective way to get backlinks on your website. For building free tools, you can add the need to research keywords to see which tools or generators come in the first row. Check out which tools or generators get more backlinks these days and try to build something the same but in a better way, people need to get interested and find something different on your tool or generator that will make you stand out from others.
5. Add Images for Earing Mentions and Links
Infographics are the best way to earn more backlinks on your website. Here are a few ideas on how you can create a perfect infographic:
One-page templates
Create a chart and add valuable data
Diagram for explaining complex concepts
6. Get Contextual Links
Getting contextual links through reading more or recommendation sections, is the one of finest ways to gain backlinks. To get contextual links, you need to find which website is writing articles related to your products or services and have a recommendations section. After researching which resources publish contextual links, write them a note about why your website is worth getting contextual links.
7. Look into Competitors Website
This is the most easy step for building links. Like other SEO strategies, you need to look into your competitor's website. Many successful sites have already built their own links. Almost all of their backlink profiles feature domains that want to link to their sites as well as yours. It's just that those domains aren't aware of your existence.
First, you need to make a list of your competitors using any SEO tools or SERPs. After that, you can use sites like Competitor Backlink Spy tool, where you can get to look into the most authoritative domains along with a table of all pages linking to your competitor site.
Now, you know which sites are available for linking sites like yours. But how can you achieve the backlinks there? If you want a backlink, you can either wait for someone to find your content and decide to give you one, or you can make your own contact.
8. Publish Guest Posts
Publishing guest posts is one of the best practices for getting backlinks, as it can help you showcase your expertise, build your authority and credibility, and expose your brand to a new and wider audience. Guest posting is the process of writing and publishing articles on other websites that are relevant to your niche and audience. If you want to achieve the best rank with backlinks, you need to look into SEO checklists first.
You can use various methods to find websites that accept guest posts, such as searching for keywords related to your niche and adding modifiers like "write for us", "guest post", "contribute", etc. Once you have a list of potential websites, you need to pitch your guest post idea to them. You should follow their guidelines and requirements for guest posting, such as word count, format, tone, etc. You should also write a personalized and compelling email that introduces yourself, explains why you want to write for them, and proposes a topic or title that is relevant, interesting, and valuable for their audience.
If your pitch is accepted, you need to write your guest post according to the website's standards and expectations. You should write high-quality, informative, and engaging content that provides value to the website's audience and solves their problems. You should also use proper grammar, spelling, punctuation, and formatting. You should also include relevant keywords, images, links, etc., to optimize your content for SEO and readability.
After writing your guest post, you need to submit it to the website for review and approval. You should follow their instructions and deadlines for submission, as well as make any revisions or edits if needed. Once your guest post is published, you need to promote it on your own website and social media platforms, as well as respond to any comments or feedback from the website's audience. You should also thank the website owner or editor for the opportunity and maintain a good relationship with them.
9. Build Relationships with Influencers
Influencers are people who have a large and loyal following on social media or other platforms and can influence the opinions and behaviors of their audience. Building relationships with influencers can help you showcase your brand personality and voice, as well as earn backlinks from their websites or social media posts.
You can use various methods to find influencers who are relevant to your niche and audience, such as searching for keywords related to your niche and adding modifiers like "influencer", "blogger", "podcaster", etc.
Once you have built a solid relationship with them, you can pitch your collaboration idea to them. You should follow their guidelines and preferences for collaboration, such as format, topic, tone, etc.After executing your collaboration, you need to maintain the relationship with them by thanking them for the opportunity and providing them with feedback or results.
You should also promote the collaboration on your own website and social media platforms, as well as tag or mention them. You should also continue to engage with them and their content, as well as look for more opportunities to collaborate with them in the future. These are some of the steps to follow for building relationships with influencers that can help you earn backlinks from them.
10. Create Round-up Posts
Round-up posts are posts that compile and summarize the best resources, tips, opinions, or insights from various experts or influencers on a specific topic. Creating round-up posts can help you provide valuable content to your audience, as well as earn backlinks from the experts or influencers who participate in your round-up post. You can use tools like social media like LinkedIn marketing strategy or Quora to find and connect with experts or influencers in your niche.
Conclusion:
Backlinks are an essential part when it comes to ranking articles. To maintain your website visibility you need to build backlinks. If you are still facing issues with backlinks, we as a leading digital marketing company are here to help you. Our expert team will help to earn backlinks, get noticed by users and rank your website on the first page of search engines. We hope this article on what are backlinks and how to get it, gives you more enlightenment on this topic. If you want to read more about trending topics, keep your eye on our blog page.