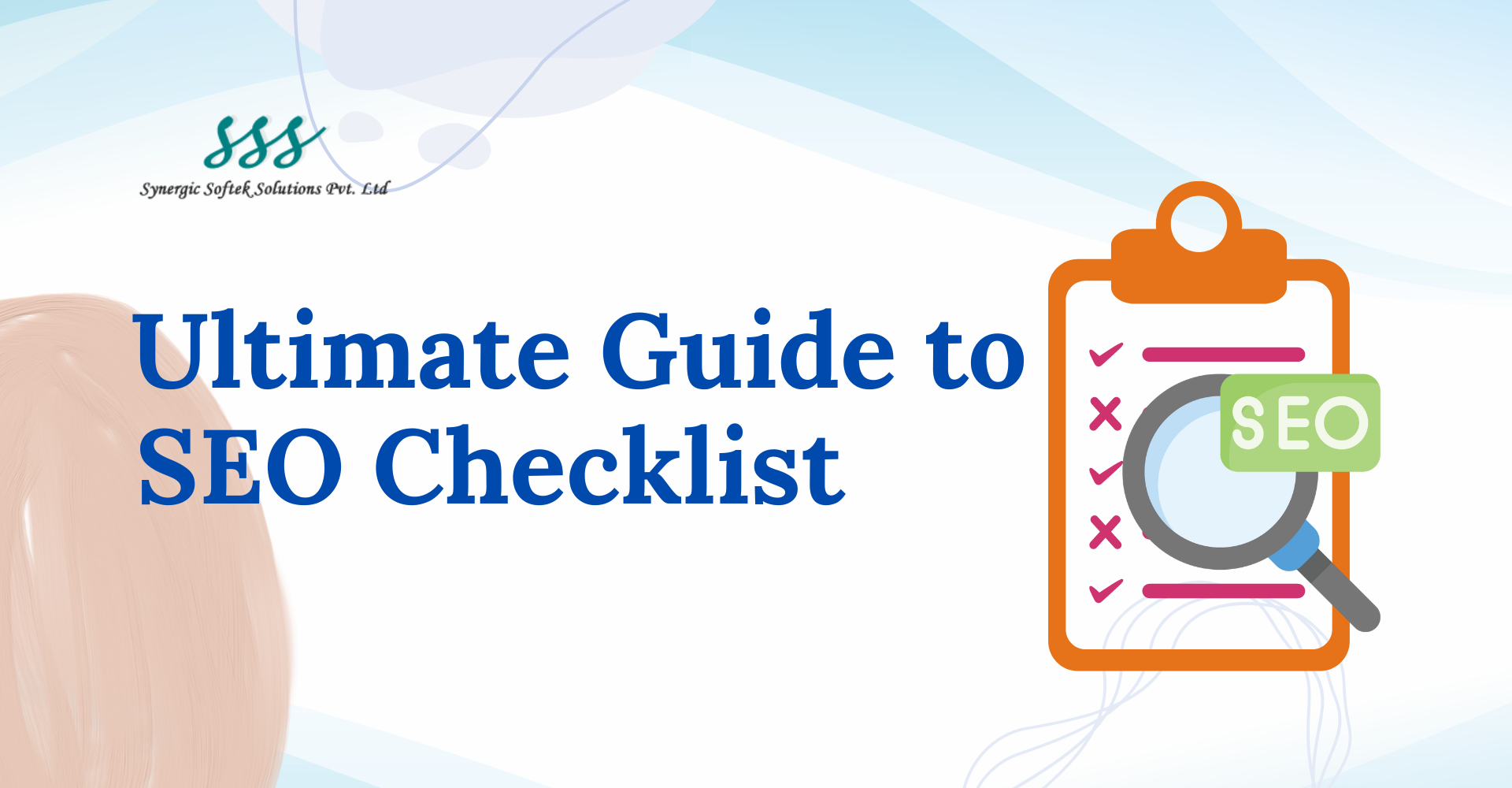 The Ultimate Guide to SEO Checklist
September 1, 2023
|
16

min read
By: admin
To get a spot on the top 5 websites of Search Engine Result Pages (SERPs), you need to ensure that your website is correctly optimized. Optimizing the website to drive quality traffic that comes to it, is an essential part of engaging with more audiences. If you are wondering which steps you need to implement in your SEO strategy, we are here to offer you a complete SEO checklist that will help to optimize your website for Google in 2023. This SEO checklist offers you full insight into all SEO tactics including SEO basics, on-page SEO, off-page SEO, technical SEO, and local SEO as well as a detailed SEO strategy. Here we are going to discuss the SEO checklist briefly.
SEO Basic Checklist
To create a strong SEO strategy that helps to accomplish your business goal, you need to understand the basic concept of SEO along with the components that are used as SEO tactics. Here we have discussed the SEO basic checklist which is given below:
What is Search Engine Optimization (SEO)
SEO refers to search engine optimization, the process of optimizing the website to get a better ranking on SERP. In simple words, SEO consists of some bucket of rules, if you implement these rules to your website, that means you allow search engines like Google and Bing to crawl, index as well as access your content without any restriction.
The main purpose of SEO is to build a seamless and effortless website in terms of usability and content which should keep your audience and search engines happy. Search engine algorithms decide which websites will be on the search engine result pages (SERPs)using some guidelines. To manage those guidelines, various SEO tactics are categorized into main parts including on-page SEO, off-page SEO as well as technical SEO.
1. Verify Your Website with Google Search Console
Google Search Console is a service for free, offered by Google that provides webmaster access to various tools and reports for optimizing their website on Google Search. You can use it to see the performance of your website whether your website is crawled and indexed by Google or not and if there are any glitches or bugs or errors, you can fix them and inform Google about the changes you make. It is one of the most crucial tools to optimize a website on Google. To get started with Google Search Console, you need to add your website domain link and verify your website properties.
2. Verify Your Website with Bing Webmaster Tools
Bing, is the second most popular search engine worldwide. To make your website appear on Bing search results, you need to optimize your website with Bing webmaster tools. These tools have similar functionalities to Google Search Console.
3. Setup an Account for Google Analytics
To analyze your website's SEO performance is an important step to follow. Using Google Analytics consists of various reporting tools, you can easily measure your website performance. The first step is to set up Google Analytics code on your website and learn the steps which are used as SEO basic tactics.
4. Focus on Google Penalties
Google Penalty refers to punishment for those websites whose content conflicts with Google webmaster guidelines enforced by Google. The punishment was imposed on these websites by the Google webmaster team. As a punishment, Google will dismiss your ranking along with stopping your website from getting organic traffic. So, while you are thinking of an SEO checklist, make sure your website is not under the Google penalty. If a Google penalty hits your website, you need to follow a different way to fix the penalty first and then continue with SEO checklists.
Technical SEO Checklist
Technical SEO is about server optimization of your website to ensure that search engines can easily crawl, access as well and index your website. It is the most important part of the whole SEO checklist. This optimization is fully on your server, it has nothing to do with your website content or your website promotion.
You could have a well-optimized website along with engaging and useful content, but if your website can't be crawled and indexed by search engine crawlers, then all your efforts will go down the drain. To get your website indexed by Google, it is important to focus on technical SEO. Here is the technical SEO checklist which is mentioned below:
5. Create SEO-friendly URLs
To create SEO-friendly URLs, you need to optimize your website URL using search engine optimization (SEO) best practices which include website architecture, choosing the right words or using target keywords that describe what your content is about as well as using hyphens between words. If you wish to see a rise in the growth of organic traffic to your website, then it is important to create SEO-friendly URLs for all of your website pages.
6. Install SSL to Ensure Your Website HTTPS
Installing SSL for your website, means you start to grow your business online with the most known ranking factor. The purpose of installing SSL is to make your data secure which is shared between your website and the server. If you still haven't installed it on your website then you have to add this point to your to do list. it is not enough to fulfill your SEO purpose but If you add SSL correctly to your website without losing your current ranking on SERPs, then it will help to get noticed by Google crawler which offers you better rankings.
7. Optimize Your Robots.txt. file
Robots.txt. refers to a file which is created by the webmaster which instructs web robots how to crawl pages in any website. Having a misconfiguration in robots.txt. file can cause big problems, such as your website being deindexed from search engine result pages (SERPs).
8. Check the Visibility Setting in WordPress
Besides the robots. Txt. file, if you want search engines to crawl your web pages, then you need to check the visibility section of your CMS platforms. WordPress is the most popular CMS platform, most companies use it for publishing website content using search engine optimization. To check whether you are not blocking search engines from crawling as well as accessing your website, go to the WordPress dashboard, check the reading setting, change the visibility setting, and at last save the changes. WordPress SEO guide will help you to understand how easily you can add all SEO best practices to your website.
9. All links From Comments Sections, need to be under "Nofollow Instruction"
It is important to check whether you use the "Nofollow" attribute for links in your comment section. To avoid Google penalties for 'unnatural links', all outgoing links need to be followed on your blog. Comments are good for SEO and should be enabled on your blog. A nofollow link gives the instruction to search engines not to pass any PageRank (or link juice) to your competitors. Use Google developers' tools' INSPECT option to check whether you use the nofollow attribute or not.
10. Focus on Website Structure
When you optimize your website for site structure, you need to keep that site structure to 3 levels in mind because, from homepages, you can access your website in three clicks or less. Make sure your website menu should be the reflection of your site structure.
11. Optimize Your XML Sitemap
To place the website on the search engine result pages (SERPs), search engines use a bot called "crawler". To find pages online, crawlers go to the World Wide Web. It takes time to find a particular page from your website for search engine crawlers because a large amount of content has already existed online and this is where the XML sitemap comes into play. The XML sitemap is the file where you add your website pages that you want to find by search engine crawlers. You need to properly optimize your XML sitemap and after checking the validation, you need to submit it to search engines like Google and Bing.
12. Add Schema Markups and Structured Data to Your Homepage
Most people usually ignore adding schema markups and structured data to their home pages which is the most important part of SEO. They help to enhance your website ranking on SERP and both are great for Voice SEO as well as Local SEO. When it comes to data structurization, make sure you use the following schemas: Person name if you run the personal blog, local business if you have a local shop, as well as organization if you have an online business.
13. Add Breadcrumb Menu on your Web Pages
The breadcrumb menu is used as a navigation aid which mostly is seen on top of web pages. It indicates the path you travel from the home page to the current page. It offers a better user experience and helps to enhance your SEO strategy. Google recommends using breadcrumbs on the website pages.
14. Use Hreflang Tag if Your Website is available in More than One Language
The Hreflang tag is used for international SEO. When businesses create websites in more than one language or location, they need to add hreflang tags to indicate to Google that your website has other localized visions. If you ignore the steps, you create issues for your website because Google gets confused if your website is available in more than one language. So, you need to use hreflang tags to avoid this kind of issue.
15. Optimize Your 404 Page
404 page refers to the page that is not found on your website. It happens because if you delete the page or users wrong type your website URL. It is also needed to optimize because it helps to offer a better user experience. 404-page optimizations mean you need to add an alternative option for users to see what they want to see.
16. Improve Your Website Page Loading Speed
Pagespeed is one of the crucial parts of technical SEO. Moreover, page speed is included in the list of Google ranking factors. If users find your website speed is slow they are more likely to folk to your competitors' websites. To keep your users engaged and offer a better user experience, it is important to check your website page speed.
17. Optimize your Website Logo and Favicon
Before jumping into the on-page SEO checklist, one last thing you need to check is whether you optimize your website logo and favicon or not. To optimize your website logo and favicon, you need to use an image, not text. If you want Google to show your website logo on Search Engine Result Pages (SERPs), then your logo has to be an image. Use alt text for your logo to make it recognizable as your website logo. When we talk about favicons, ensure that you add a custom favicon for your website that requires it to be in square size.
On-page SEO Checklist
On-page SEO is the whole process of website optimization using such SEO tactics in order to get a better ranking on search engine result pages as well as gain more organic traffic to your website. With on-page SEO techniques, you can easily make your target audience and search engines happy by producing quality and engaging content because on-page SEO is all about the content of your website. Here are some points you need to add to your on-page SEO checklist which is mentioned below:
18. Optimize Your Page Title
The most important step in on-page SEO optimization is to optimize your page title. Make sure you use the target keyword in your page title as it tells users and search engines what your content is about. Use different page titles for each page of your website. The title of each page should describe the content. Each page title should be within 60 characters.
19. Optimize Your Meta Descriptions
Meta descriptions are the summary of your content which appears below the page title on SERPs. Although it is not included in the list of Google ranking factors, but it plays a bigger part in getting more CTRs. Most users click on the website to read content after reading the meta description, so you need to optimize your meta description on your web pages.
20. Optimize Your Website for Google Sitelinks
Another way to make your position at the top of the search engine result pages (SERPs), is to get site links from Google. However, you can't decide or control which page you want in site links because it is automated by Google. You need some adjustments to your website to create Google Sitelinks for your website.
21. Optimize Headline Tags for Your All Pages
Optimizing headline tags is also part of on-page search engine optimization strategies. H1 tags have the same value as the page titles. So, when optimizing your H1 tag, you need to add the same words that you use as page titles or you could change them slightly. Make sure your H1 tag is visible and style it differently from other headlines.
22. Ensure that you use Your Target Keyword in the First Paragraph
If you use the target keyword in the first paragraph it makes your content more relevant to the searcher's intent. It is used as the most basic ranking factor for SERP rankings. But while putting keywords to avoid keyword stuffing, it drops your website ranking on SERP.
23. Optimise Your content for E-A-T guidelines
E-A-T guidelines stand for expertise, authority, and trustworthiness. Google follows this guideline while ranking websites on SERPs. If your website is the expertise in that particular industry, earns backlinks from authority websites and gains trust from users, and builds a positive relationship with your users, then your website gets the top spot on Search Engine Result Pages (SERPs). If your website falls under this guideline, it means you have a good online reputation and Google helps you to get a better ranking on SERPs.
24. Optimize Your Content
Content optimization is the most essential part of on-page SEO. For optimizing content for search engine optimization, write good quality, useful information or solutions that your target audience searches on Google. Use Images and videos to make your content more engaging. While optimizing content, you need to keep styling and user experience in mind.
25. Optimize Your Images and Videos
For image Optimization, you need to check whether you add alt text for each image you use on your website content. Make sure you use the target keywords in your image alt text and make it short. For video optimization, in order to help Google understand what a video is about, you must also add the right schema when you upload or embed it on your website.
26. Use Internal Links
Internal linking is the most crucial part of the whole SEO puzzle. The concept of internal linking refers to building links from one page to another page of your website. Google prefers websites with plenty of internal linking and places them on the first page of SERP. During internal links optimization, you need to add relevant anchor text. You can also look into how to optimize anchor text for SEO.
27. Keyword Research
To get noticed by users and search engines, you need to use relevant keywords. To find relevant keywords, you need to do keyword research. The first step in keyword research optimization is to search for those phrases or terms that users mostly use for searching your brand or brand-related information. Now, most businesses are focusing on long-tail keywords in hope of getting a better ranking on SERP.
Off-Page SEO Checklist
With on-page SEO and Technical SEO, you can optimize your website fully, there is more than that. To make your website trustworthy and authoritative you need off-page SEO, The process works outside of your website which helps your website to improve rankings on SERP. Off-page SEO techniques convince Google algorithms to give your website a higher ranking on SERPs. Once you get a higher ranking, it will lead to more organic traffic and moreover, more sales. You can't ignore off-page strategy, it is a necessary component of SEO. Here is the off-page checklist which is mentioned below:
28. Link-Building
Links are very crucial elements because it has the ability to influence rankings on SERPs and Google prefers websites with high-quality backlinks to rank higher on search results because Google thinks having good-quality backlinks means the website has a positive online reputation. So. It is important to have a strategy for link building for SEO.
Local SEO Checklist
Local SEO is the process of optimizing websites based on location, which is aimed at ranking higher on Search Engine Result Pages (SERPs). Above all the points will be included in this local SEO checklist. However, there are some other steps you need to follow for creating a strong local SEO strategy.
29. Add NAP Information
On different channels across the web, it is important to display your address, name, and phone number in the same format. For example on Google My Business page, your website, Yelp, Facebook, etc. It is one of the most important parts of local SEO strategy. If you don't optimize your website's NAP information, your website will never get noticed by users and search engine crawlers and moreover, your website never gets a place on map pack rankings.
30. Register Your Business on Google My Business
It is another essential part if you want to rank your website on Google maps. To optimize your business account on Google my business, you can add detailed information about your business, verify your account, add images or videos, manage customer reviews and more.
Conclusion
Having an SEO checklist will help you to create a proper SEO strategy as per your business requirements. We as a leading digital marketing company hope this article on the ultimate guide to SEO checklist will help you to understand it better. If you are struggling with website ranking, we are here to help you with our SEO services. If you like to read our articles, keep your eye on our blog page.