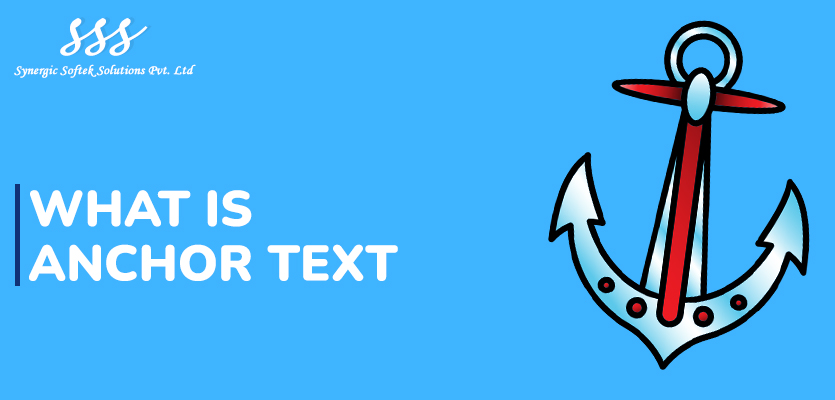 Latest Tips On Anchor Text Strategy For SEO
October 14, 2022
|
8

min read
By: admin
Here, you can learn about the most essential part of SEO and also link building- Anchor text refers to a link to another web page, which you put on current content. You can link to a text and get access to another web page. Here we are going to discuss the anchor text strategy briefly. If you want to know which anchor text will be right for Search Engine Optimization (SEO), and all the different options you will get when you will follow anchor text SEO practices are connected to your link-building strategy, we will guide you here.
Overview of Anchor Text
The text you can see in a link on a website is called the "anchor text." To move from one online web page to another, readers click on the links in the anchor text. It logically joins two different websites. We see anchor text always highlighted or coloured differently from other text. According to the web, the anchor text colour has always been blue. But if you want to change the colour and remove the underline, you can do it through HTML code.
A ranking factor is anchor text. It enhances user interaction with your website and helps search engines determine how relevant the anchor text links are. You can improve your content's on-page SEO by using anchor text that contains lots of keywords. The anchor text SEO you use when linking to a page lends authority to the linked page. You should therefore utilize appropriate anchors for the web page to which you are sending your viewers.
Importance of Anchor Text in SEO
If you implement descriptive and relevant anchor text in your content, it will help you to rank your article or blog on the first page of search engine result pages(SERP) and it also helps you to enhance the user experience. When you put anchor text on content, readers and search engines both are curious about what the link is about.
The right anchor text helps to get noticed by search engines, and the Google algorithm can understand your content structure properly. Content with anchor text also offers more content when you link your current article to another relevant article.
For example, we have already uploaded an article on Google Word Coach, where we use "Google Word Coach" as an anchor text and link it to the main google word coach page. So, it helps users or readers to find Google Word Coach" easily. When we use anchor text basically because we want to describe it more properly.
Different Types of Anchor Text
There are several types of anchor text, but 8 types of anchor text which we commonly use for our website, are mentioned below:
1. Exact Match
The exact anchor text is mainly the main keywords which you wrote about. Now you want to use the same main keyword on recent content and link to it which you wrote before. For example, if you write about Digital Marketing, now you use digital marketing in a different article where you can put a link to the digital marketing article.
In the early days, when businesses did SEO on their website, they used exact match anchor text so many times just thinking of ranking their articles, but the Google algorithm refused the whole article to rank on the first page on search engine result pages (SERP). Still, you can use it with a mix of other anchor text types.
2. Branded Anchor Text
Then there are branded anchor texts, which build authority by using the name of a brand. This is an excellent technique for an outbound backlink. As it tells Google that you're pointing at other top-notch tools and services, this is an additional security method for enhancing your anchor profile. Of course, you should also look for more businesses that will support your attempts to develop links in this manner.
Never be hesitant to connect to another company, especially if it has a relevant keyword. Due to the fact that you are not overlinking with that brand, Google views this as a good practice.
3. Naked Anchor Text
When you put any image or video on your content and put a URL below the image or video, that is called naked anchor text. You don't need any text to link it, just need to put the URL. It is very easy to use but not too effective.
4. Partial Match Anchor Text
Your keyword is included in partial match anchor texts together with other words. Using "test my SEO tool" as the anchor text for a link to Ubersuggest is an illustration. These are often the ones we use the most on websites. It's a particularly helpful technique for anchor text because we can use my keyword efficiently without sounding obnoxious.
Without Google suspecting us of attempting to influence its algorithm, it can still follow links and gain a better understanding of the content on the webpage. This method of enhancing your page's authority is strongly advised because it isn't regarded as a manipulative linking technique. You shouldn't use them excessively though, just like other tactics.
5. Related Keywords as an Anchor Text
It is most similar to partial match anchor text. Here you don't have to put main keywords, you can use related keywords to link to another webpage. This is a more effective way to put this type of anchor text for not to overuse the same keyword as anchor text in the article.
6. Generic Anchor Text
The anchor text for generic pages lacks any keywords or references. Users must read the surrounding text to ascertain its subject matter. For example, you see the " click here", "more info" and "view more" kinds of text, this is called mainly generic anchor text.
How to Optimize Anchor Text for SEO?
Now you know about the anchor text, but still, you wonder how you can optimize anchor text strategically for ranking your content on top of search engine result pages (SERP). Here are the best practices to optimize anchor text for SEO. let's get started:
1. Use Relevant Words for Anchor Text
When you create content, also try to use anchor text but just remember to use relevant words to link it to another web page. A relevant anchor text helps the Google algorithm to analyze your content structure better and it might help you to rank on top of the search engines.
You need to add relevant anchor text which seems natural to readers, and might push them to click on it and read another web page. That's because users and Google click on anchor text to know about it. So need to think about which word you are going to use as a relevant anchor text and which must create a natural experience.
2. Don't Use too Exact Match Anchor Text
In contrast to the metadata provided by the pages, Google employs anchor texts to obtain a more impartial description of a link. In truth, anchor texts assist crawlers to examine information to determine whether it can be indexed, and as a result, they once significantly influenced SEO rankings.
But don't use too many exact match anchor text, It creates an issue of getting penalized for spam. You need to restrict yourself from using the main keyword too many times. It might be overusing your article, google will not help to rank on the top of the first page on search engines.
3. Give attention to Surrounding Text
Readers can better comprehend the context of what you're connecting to by reading the text that appears around your anchor text. Additionally, it gives search engines more context. In order to give realistic search results based on how users really speak and type, Google's algorithm now favours natural language.
It is crucial to pay attention to the terms that are used in conjunction with your anchor text. When considering whether or not to click the link, you consider other factors in addition to the anchor text. If not the entire paragraph, you'll most likely read the entire sentence that contains the anchor text.
4. Image Alt Tags Are Essential
There are 3 main reasons why you should use image Alt tags. One, They enable readers who are blind to understand what an image is about. They provide information about the image to Google's bots. Google will consider the text in an image's ALT tag whenever you link to it on your website when determining your site's rank. Pick one core keyword and include it in a descriptive text about the particular image to make sure you don't tip off the algorithm.
Conclusion:
By ensuring the effectiveness of your link-building activities, anchor texts are crucial for SEO. When maximizing your anchors, there are a few technical considerations, but the fundamentals are simple to grasp and put into practice. We hope this article helps you to understand the Anchor text better. If you want to know more, you can contact us, also keep your eye on our blog page.