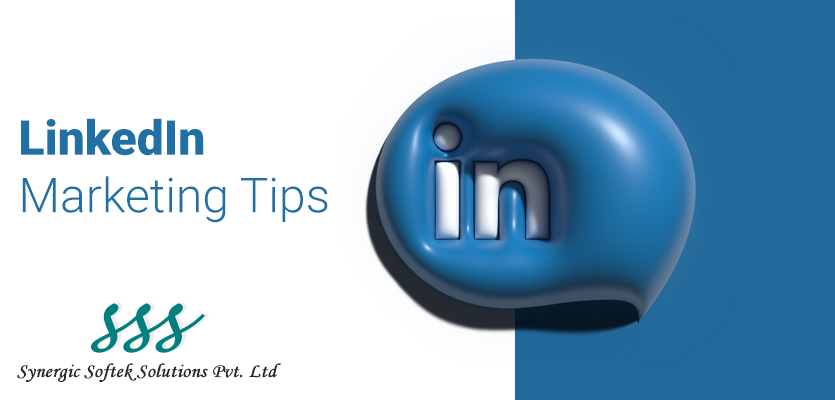 Latest LinkedIn Marketing Tips for Your Brands
November 21, 2022
|
6

min read
By: admin
Everyone knows about LinkedIn, but who knows that LinkedIn is a great place to promote your brands to audiences, that is the main question. According to social media specialists, LinkedIn has more than 850 million users over the world. Today this is one of the popular platform businesses or companies trying to engage their audience with their website. With LinkedIn Marketing Tips, you can get full potential on improving brand awareness, boosting the number of followers, increasing sales, and building your own network.
We see that now everyone wants to be on social media, This is a goldmine for audiences for growing your business or company. You may put all marketing strategies on main three powerful social media platforms such as Facebook, Twitter and Instagram for finding your target audience but LinkedIn turns your business into a new dimension. If you wonder how to implement marketing strategies on LinkedIn, then don't worry! Here we are going to discuss LinkedIn marketing strategy briefly.
What is LinkedIn Marketing?
LinkedIn Marketing is the procedure to boost leads, make followers, build networks, improve brand awareness, build connections between business and their followers, share content, and increase traffic to your websites. It is a great place to implement your LinkedIn marketing strategy to grow your business.
If you want to be successful, then you have to adopt LinkedIn marketing which is now an important part of social media marketing. When you are up for LinkedIn marketing, then you need to use some tools to build networks, analytics, and connections.
Importance of LinkedIn Marketing
There is no doubt, LinkedIn is one of the most effective platforms for businesses or companies. It helps your business to establish itself as an industry leader. One of the main benefits of LinkedIn is that you can join any networks and groups with key influencers and personalities within your industry.
To ensure that your business page is thoroughly optimized and helps it rank higher on Google search results pages, make sure it is filled out completely. By utilizing pertinent, thoroughly researched keywords and internal linking across content pages, you can improve your chances of appearing in higher rankings. LinkedIn marketing provides your business with large audiences.
Compared to other social media sites, LinkedIn is less about promoting and selling your goods and services. On LinkedIn, overtly promoting your company, spamming, and outright hard selling is strongly discouraged. This is why it's crucial to have a platform-specific marketing plan. To get the desired outcomes with LinkedIn marketing, a different strategy is needed because the network caters to a completely different audience.
Latest LinkedIn Marketing Strategy for Your Brand
If you are looking for LinkedIn Marketing strategy tips to grow your brand on LinkedIn, then here we are going to discuss on Latest LinkedIn Marketing Strategy Tips for Your Brand:
Publish Original Contents
Having an Idea of the target audience
Use Hashtags
Promote LinkedIn Ads on Campaigns
Build Email Marketing Listing
1. Publish Original Contents
When you post on your website, you always have to post original content. Users share their experiences and ideas through LinkedIn. According to LinkedIn, in a week, more than 40,000 thousand posts are published by users. Creating long and original content is a win-win situation for brands. You are able to stretch networks, and increase followers. People in your network are able to like, comment, and share your post. If you get more likes, comments, and shares you are able to reach out to more audiences.
2. Have an Idea of the Target Audience
In terms of digital marketing and advertising, LinkedIn offers the most effective alternatives for customer targeting. When choosing your target market, attempt to be as detailed as possible about the business, organization, or individuals you believe could be interested in your goods or services.
For example, if you want to offer expensive factory equipment, you need to get the management's attention. On the other hand, if you own a corporate travel agency, your target market could be any level of management who occasionally travels for work. Because you wish to hire professionals with a particular degree and type of education, another organization might be searching for specialists in that field. It is important to know about the target audience
3. Use Hashtags
Because there are so many other ways to distinguish material on LinkedIn, the majority of us don't give hashtags any thought. But since they can direct users to your company page and its content, hashtags are a crucial component of any LinkedIn marketing plan. With the appropriate hashtags, finding a construction company in your neighborhood, for instance, becomes considerably simpler.
4. Promote LinkedIn Ads Campaigns
It's unlikely that applying your brand to LinkedIn's free offerings will increase your possibilities. Without a doubt, organic content and other tactics can help you gain free visibility, but occasionally, paying for PR is the best course of action. LinkedIn advertisements enable you to connect with audience segments that have never heard of your company.
People who don't follow your LinkedIn account and are frequently aware of your company but are unfamiliar with your items are another incentive to use LinkedIn Ads. With advertising, you can locate these audience members without having to make a guess because the targeting data you enter into the ads dashboard will do the work for you.
5. Build Email Marketing Listing
From LinkedIn, you can boost your email marketing listing. You can write a letter to anyone who you want to ask to connect with you via LinkedIn and you can invite them to join your email marketing listing. There is a unique feature on LinkedIn, with that feature you can send messages to 50 people at once. When you send the message, you can provide the link where users can directly sign up to your email marketing list and offer them something in return.
Conclusion:
We hope the article on LinkedIn marketing helps you to understand it better. Now, Today every business needs to implement a LinkedIn marketing strategy for growing their business. LinkedIn is a great way to improve brand awareness and connect with audiences. If you need a service for LinkedIn marketing, we are here to help you and If you want to read more articles like that, then you should keep your eye on our blog page.