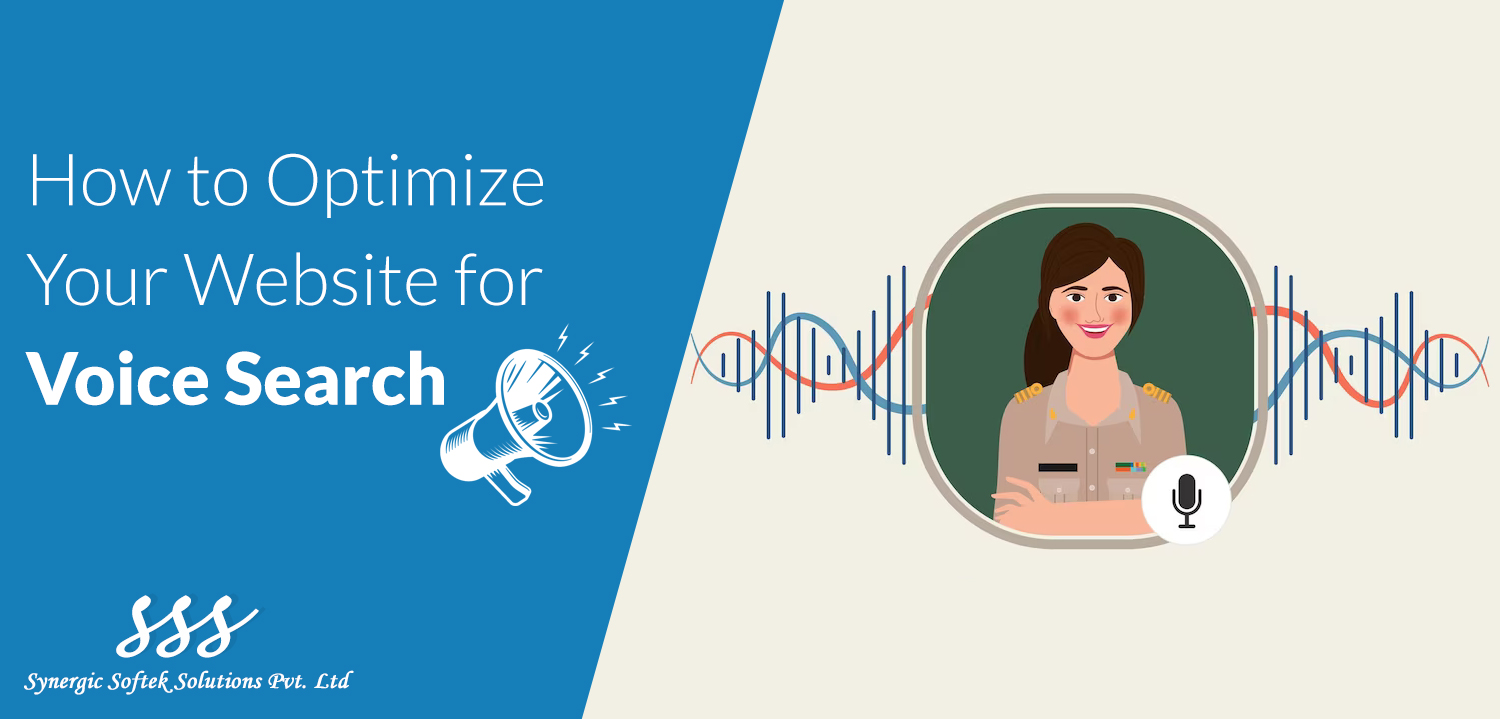 How to Optimize Your Website for Voice Search
June 14, 2023
|
9

min read
By: admin
Voice Search may start its journey as a small concept, but now in the search industry, it has gained lots of popularity as an essential topic. Decades ago, voice search seemed like science fiction to us, now you need it for local searches like finding a coffee shop near you, a day spa, an ice cream parlor and more. For conducting web searches, we use voice search in every gadget we use from smart TV to smartphones, because most users find it easy and more convenient rather than typing it on search engines.
Voice search has been a hotbed topic in the digital marketing world for a while now. With over 20% of all searches being voice searches and the trend of this percentage rising, it is clear that there are many benefits for businesses to invest in voice search marketing.
What does this mean for businesses? Well, with more people using voice search queries, it has become more important for companies to optimize their content for audio-first consumption. This is where Voice Search Optimization (VSO) comes into play. VSO focuses on optimizing websites and videos with voice recognition and speaker identification capabilities. The benefits of VSO include an increased number of visitors to your website, better customer engagement, higher conversion rates and improved SEO rankings.
What is Voice Search Optimization?
Voice search optimization refers to the process of ranking a website by using some SEO Strategy. Voice search optimization is aimed at addressing common elements in your content and showing your page on the first result page when someone asks for your products or services. Voice-activated assistants like Siri, Google Assistant, and Alexa are also popular in households because they can answer questions about anything from recipes to theater times.
Voice search is only an extension of the traditional typing form, just that voice search is dictated by sound waves. Voice search can be accessed on internet-connected devices with a microphone and speaker, making it easier for people to find content that is related to their needs.
Importance of Voice Search Optimization
Voice search is not just an invention, now it is becoming a habit. According to a recent survey, more than 40% of US users use voice search to find their answers daily via smartphones. Voice search optimization is an important task for any business – big or small. It helps drive higher customer satisfaction and improves conversion rates on the website.
Voice search optimization is a process of optimizing search engine results to better suit spoken queries. It highlights content that matches what the user has said in voice commands and gives them quick, easy access to the information they need. The objective of voice search optimization is to use content to make a brand more visible and relevant, generate leads, and increase conversions on the website.
The first point that needs to be made about voice search optimization for business growth is that if you are not optimizing your content on the web to be found by users through Google or Alexa, you are missing out on an important opportunity to reach your audience. If you want your business to grow, then making sure that your content can be found and interacted with through voice search is essential.
The Best Voice Search Optimization Strategies for Business Growth
Here are the top 6 voice search optimization strategies for business growth which are mentioned below:
Use Long Tail Keywords or Question Keywords
Use Conversational language for Content
Focus on Local SEO
Utilize Schema Markup
Claim Your Google My Business Listing
Create Mobile Friendly Website
1. Use Long Tail Keywords or Question Keywords
The words used in voice searches differ from those used in text searches. Simple keywords tend to be shorter and more general than full questions. It's more natural to speak in full sentences than to type them. It is more likely when you have a conversation with another person. People find it easy because sometimes they feel like typing something with proper phrases is a little more difficult than speaking it out loud.
Due to the physical and cognitive demands of speaking, voice search queries are longer. To optimize voice search, the first step is to target long tail keywords or question keywords. Because they are more likely to ask questions while they use voice search. By doing it, you will be able to gain more traffic from voice searches when people search for your products or services with specific, longer keywords.
Long tail keywords consist of more than two words which are a major element in search engine optimization. This is used for more specific searches. Users with high intent are more likely to click on them because they cater to their specific needs. Long-tail keywords tend to have low volumes and it is easy to outrank your website with long-tail keywords rather than short-head keywords. Find questions related to your brands with "what," who," "where," "when," and "how". You can also use it as sub headlines. Your initial response can also be expanded upon in the body of your article. To find long tail keywords, you can use various keyword research tools like keywords everywhere, keywords planners, Google Ads and more.
2. Use Conversational language for Content
When you think of conversing with Google Assistant or Siri, do you picture a conversation you would have with a human? You might have a voice or video conversation with them to get information or complete tasks like booking tickets. But the reality is that these are AI-powered chatbots created by companies to respond to your queries quickly and efficiently. They get smarter every day and many people now prefer using them instead of talking to humans, since the process is faster and more convenient.
Businesses need to use conversion language for content when optimizing for voice search. Use a tone that is more casual than the established voice of your brand if you must follow it. Content quality shouldn't be lowered, however. Ensure your content delights users and provides value while keeping a more casual writing style. The search engines still value this kind of content – just write it in a way that sounds like it was being said out loud.
3. Focus on Local SEO
Local SEO is the process of optimizing content to increase the visibility of local businesses on search engine result pages (SERPs). Using local SEO, users who search for nearby businesses will be easily found on search engines. Mostly, local searches happen for purchasing any products or services. And voice search is mostly used for local searches. For example, users search for going out places or purchasing any products when they use voice search for quick answers.
There are many ways you can improve your local SEO ranking such as adding your business to Google My Business listing, focusing on customer reviews, gathering local backlinks, ensuring NAP, and making the most of social listening. As a result of voice search results pulling information from Google Business profiles, your Google Business profile is relevant here. Due to this, a complete listing will increase your chances of ranking for these local voice searches.
It's an especially important step if you're a brick-and-mortar business, especially if you're not already doing it. Often, searchers can only find information about your business by looking at your Google Business Profile. Keep it updated at all times.
4. Utilize Schema Markup
Another tactic that helps your site's on-page SEO in general, not only for voice searches, is schema markup. A sort of structured data called schema markup is essentially HTML code that you add to your website in order to help Google and other search engines return more comprehensive results.
Schema markup often contains important details about your company, such as its hours, address, customer reviews, pricing, contact details, and more. Human visitors cannot see schema markup. By doing so, you improve search results visibility and get more clicks because you help indexing bots better understand your content. You will also be more likely to appear in voice search results since search engines will consider your site more relevant.
5. Claim Your Google My Business Listing
As part of your local SEO and voice search efforts, you must have a Google My Business listing. Voice search is mostly use for brief details like address, timings, contact number and more, So, It is important to index this information for Google. Google has to provide the right and accurate information to their audience. That's why Google My Business listing is important. This provides information about your business and what you offer to Google. This same information users ask in voice search to find your products or services. This is only the best way to get quick responses from the voice search.
6. Create Mobile Friendly Website
Most voice search happens from mobile, most users use mobile to get quick replies. So, it is important to create a mobile-friendly website. Make sure you create your website with a responsive design. Today, mobile devices bring over half of the global online traffic. According to research, over 27% of users use mobile devices for voice searches. According to Google, a quality website always considers mobile-users' needs and presents quality content to optimize it as their major ranking factor.
Conclusion
In the last decade, we have seen an astronomical rise in voice searches. Voice search optimization is one of the most important steps in your digital marketing strategy. Google's voice recognition technology has become so sophisticated that it can understand regional accents, different speeds of speech and various levels of articulation. We hope this article on how to optimize your website for voice search will help you to understand it better. If you are struggling with optimizing your website for voice search, we are here to help you. If you want to read more articles on trending topics, keep your eye on our blog page.