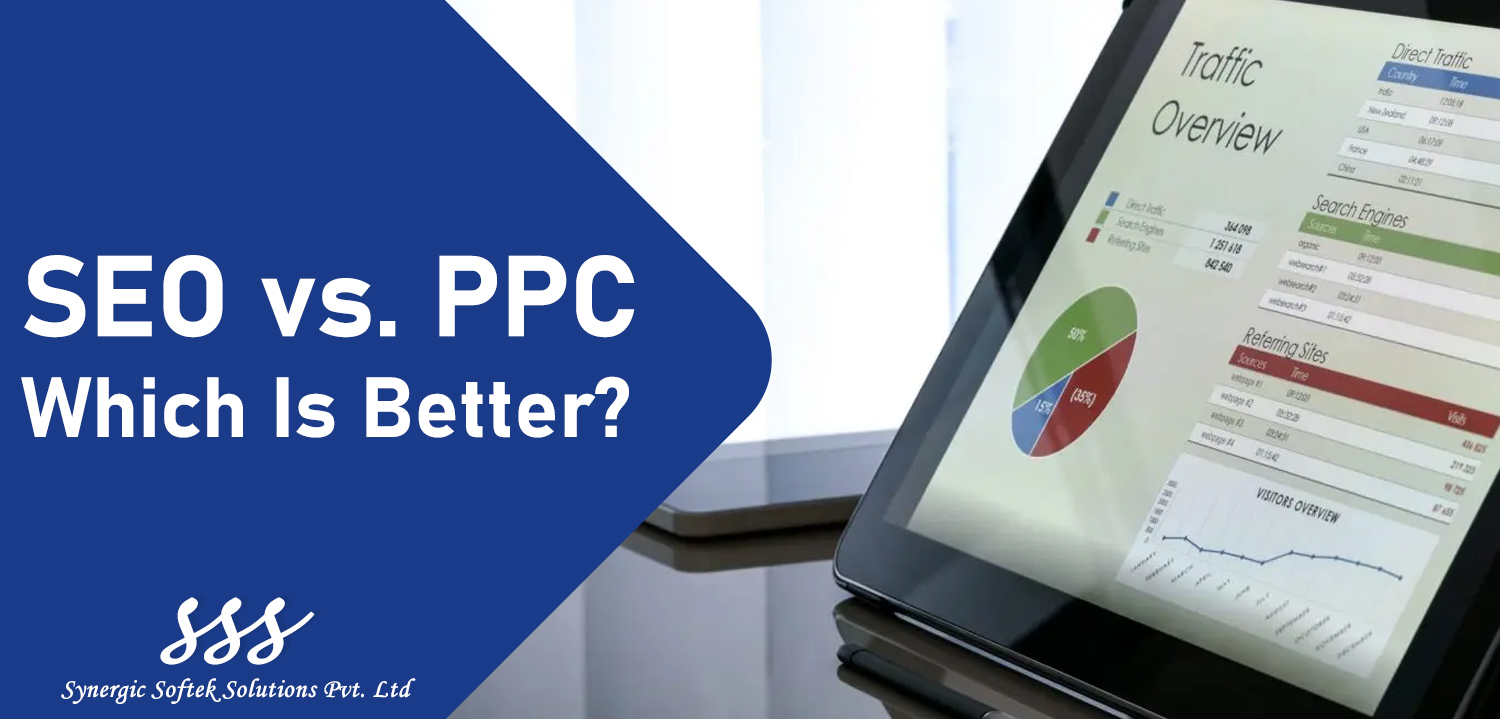 SEO vs PPC – Which Is Better For Your Website?
February 20, 2023
|
8

min read
By: admin
Many Business owners are still confused about SEO and PPC which they choose for their website. But the answer depends on which type of company you have, the current marketplace, and new updates. SEO is always up for the organic search result and PPC refers to pay-per-click which means that you pay the publisher for advertisement when someone clicks on your website.
But these two concepts will go well when you do it with proper digital marketing strategies. Having a better understanding of user experience, and what users actually need, then you can get the opportunity to implement both in a strategic way which might help you to increase traffic and boost sales. But if you want to choose one between SEO and PPC, then you need to know all about it. Here we are going to discuss SEO vs PPC which is better for your website.
What is SEO?
Search Engine Optimization (SEO) refers to the process of ranking articles on search engines and gaining organic traffic to your web page. When searching on search engines, you can find numerous search results you get from websites. But all websites are not on the first page of search engine result pages (SERP), because some websites implement SEO properly on their website and get noticed by Google algorithm and which helps the article to rank on the first page on Google.
For SEO, you need to choose the right keywords and have deep knowledge about which you are searching, link building and input some images or videos. Once you successfully rank your article on the forest page on Google, you are able to increase traffic and which turns into sales that make you stand out from your competitors. Just remember, SEO is only used for the organic search result.
Advantages of SEO
Here are some advantages of SEO which is mentioned below:
Stable Traffic Result
Cost-friendly
Provides Better Customers Experience
1. Stable Traffic Result
Once you rank your article on Google, you need to just update your article regularly. You can get organic traffic as long as you optimize your article. If you want to be on Google in the long run, then SEO is better for you. But in PPC, when you stop paying Google for your article or website, you can't stand up with other competitors. Basically, SEO is owning organic traffic but with PPC where you have to rent it.
2. Cost-friendly
It is obviously true that SEO is more cost-friendly than PPC because you don't have to pay Google to rank your website on top. You get organic traffic which is more effective than PPC traffic. With PPC, you need to pay Google after every single click your website gets. If you don't have any budget to pay for ranking.
3. Provides Better Customers Experience
Building customer trust helps you to increase organic traffic to your webpage. Customers' experience is mainly the leading element when you try to provide any services or products. If you provide high-quality content with proper SEO, it will help you to gain more traffic and get noticed by more customers. The organic search result is more into those websites that don't pay for PPC. Many websites rank their articles on the first page of search engines. They implement SEO strategically and get a better customer experience.
Disadvantages of SEO
Here are the disadvantages of SEO you may face when you implement SEO which is given below:
1. Changes to Google Algorithm
We see that Google has changed its algorithm many times over the years. Reasons for changing algorithms, marketers or business owners have faced many issues with organic results. So, you need to have knowledge about every new update on Google Algorithm.
2. Take Times Showing Result
If you launch a new website or create a new domain name, it takes time to show results on search engine pages after you implement SEO properly and strategically. There are several reasons behind it. It is not easy to rank any website on Google just with SEO.
3. Need to Optimize Website Regularly
After presenting content from your website on google, you need to update your website regularly. If you think, you rank an article on Google, it is not going to maintain the same spot every month, If you don't optimize your website regularly.
What is PPC?
PPC refers to pay-per-click, which means business owners pay publishers to publish ads on Google. When someone clicks on that ad, you have to pay that third-party publisher. This process supports brands to pay when users want to interact with your website. With PPC ads,you have opportunities to attract users and that is how you gain traffic to your website.
PPC advertisements always coexist with organic search results. Some companies use these search advertising for targeted marketing initiatives with established beginning and ending dates. Others, like HelloFresh, bid on their own brand name as part of their entire marketing plan. In any case, this technique is primarily connected to search engines since marketers bid on terms that are pertinent to their target markets.
PPC advertising allows you to always stand out from the competitive market and you get your target audience more easily than others with organic results.
Advantages of PPC
Run A/B Testing Easily
Get Quick Results
Easily Point out Target Audience
1. Run A/B Testing Easily
You are able to run two different ads on the PPC campaign for checking which ads are better than another one for gaining traffic. You just need to change some elements of ads such as ad copy and run for a while. After running A/B testing, you are able to decide whether you cancel the ads or optimize ads for better-improving results.
2. Get Quick Results
With SEO it takes months to rank any website on the first page of search engines. But with PPC ads, you can see your website on the top of search engines and it only takes a few hours to rank any website on top of search engines.
3. Easily Point out Target Audience
When you run a PPC campaign you will get an opportunity to choose who you want to target with your ads. This is the most essential element you get when you set up a PPC campaign for gaining traffic easily without any worries.
Disadvantages of PPC
Expensive than SEO
Less Effective
Low-Profit Margin
1. Expensive than SEO
Without paying a publisher, you can't run any PPC campaign, you always need money for that. So, you need to have a high budget because you need to pay the publisher for everything you get on your website. Once you stop paying for customers' clicks, you stop getting traffic from search engines.
2. Less Effective
People begin to notice your advertisements too frequently when your campaigns run longer, decreasing their effectiveness. It becomes obvious what is being said, and novelty effects do exist. PPC is not something you can just set and forget. To make your current ads effective over time, you'll need to update them frequently.
3. Low-Profit Margin
The PPC campaign is not for the long run. It gives you short-time wins. For that, you usually give a low-profit margin. Due to the "pay to play" nature of PPC, your customer acquisition costs (CAC) would keep rising even if you didn't significantly raise the prices of your services or products.
SEO or PPC: Which is Better?
When it comes to which is better, SEO or PPC? The answer always depends on you, which website you have. If you have a budget to pay for ads, then you can set up a PPC campaign. It will help to show the fastest result, you can choose your target audience easily. But It takes much time to select which ads are best for your website.
If you want your website to stay for a long run on search engines, and you have an unlimited timeline, then you can go for SEO. But it takes time to rank any website with SEO. In return, you get the best results and increase unlimited traffic to your website. You don't have to pay for every click you get on your website.
The best way to promote your brand is by applying two of these, you will give an outstanding result. From PPC to SEO, you can leverage keyword and conversion statistics. Prior to utilizing a keyword approach in long-term SEO tactics, you can test it in PPC. You can remarket with tailored messages after making the initial connection through an organic search to stay top-of-mind. The best way to get noticed by customers is to apply PPC and SEO strategically.
Conclusion:
Between SEO and PPC, which you want to choose is always up to you. We recommended applying both strategically. Now you already know what the Pros and Cons of SEO and PPC are. We hope this helps you understand SEO and PPC which is right for you. If you want to know about trending topics, then keep your eye on our website.