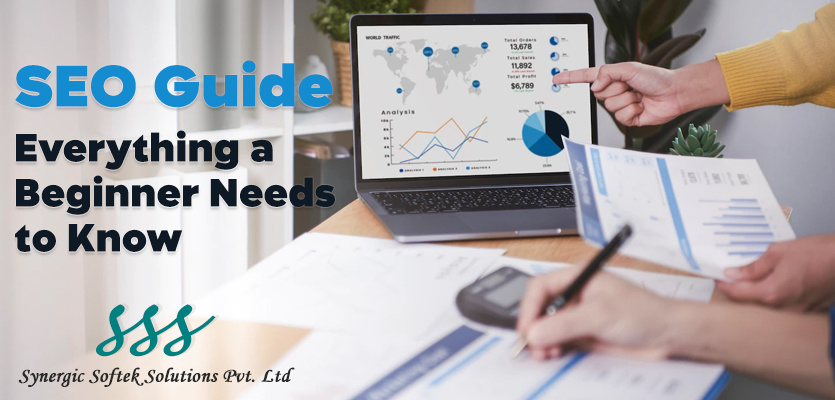 The Complete SEO Guide for Beginners
January 27, 2023
|
7

min read
By: admin
Do you want to know how to learn SEO on your own? This is not a big issue, here we are going to give you a beginner's guide which will help you to know and learn about SEO.
Today, somehow everyone who is about to write their content online or thinking of starting to write their blogs or articles online, all meet with the term "SEO". Still, they wonder what SEO is. For that, you don't need to do any SEO Course. Here we will give you full details about it and how you can apply SEO in your article. SEO is the main trick that helps you to rank your article or blog on the first page of search engine result pages (SERP). First You need to know What is SEO with detailed information.
What is SEO?
When we search for something on search engines, we always look for the first-page result on search engine result pages (SERP). You don't even think to check the results of the other pages because you already get the answer or information that you need on the first page. Why not every content of search engines on the first page of SERP? That is a question everyone wonders. The answer is that all content is not properly SEO-built.
SEO or Search Engine Optimization is the process which is mainly used for ranking articles on the first page of SERP. For that, you need to optimize your website properly. If you successfully rank your article on the first page of search engines, you also get traffic on your website, which helps you to gain more sales or more popularity than other competitors. You need to keep in mind that Search Engine Optimization is only used for organic search results. Here is the link to why SEO is important for your business which helps you to know why everyone builds SEO Strategy for ranking articles or blogs.
Top 6 Steps to Learn SEO
Here are the top 6 steps to learn SEO for free which help you understand SEO better:
Having Knowledge of the Goal of SEO
Do Keywords Search
On-Page SEO
Link Building
Content Optimization
Understanding of UX Signals
1. Having Knowledge of the Goal of SEO
A company or a business always wants to get noticed by the people or boost their sales, that is the main purpose of using SEO. But how can you fulfil your desire by using SEO? First, you need to rank your articles or blogs on the first page of search engines. Then You will get the user's attention and gain more web clicks, which will help to get more traffic to your website. That's why you can boost your revenue.
When someone puts a keyword related to a website Google or other search engines will show users a list of websites of content. If you Strategically use SEO for your content You will be able to get into the list.
2. Do Keywords Search
In SEO, keyword search is the main thing to do. You need to research which keywords you can use or which keywords fit your website or business. You can put that keyword to present your business to a larger audience. There are two types of keywords you will search for. The first one is the "head keywords' ', which mainly consist of one or two words and the other one is ' Long Tail keywords' ' which consist of more than two words.
For example, "Digital Marketing" is the head keyword. If you search for " Digital Marketing Company in Kolkata", this is the long tail keyword which is mainly with less volume. You can use the long tail keyword for specific answers or want to purchase something.
There are many Keyword tools, you will find on search engines such as Soolve, Keywords Everywhere and more. You can use keyword tools for searching keywords. With the keyword tools, you can also know keywords which are used by other competitors.
3. On-Page SEO
You can do SEO on-page. Now you have to know what is on-page SEO. On-page is where you can change or edit something for ranking your article or updating your articles or blogs and off-page SEO is where you can't do anything. It is always up to other sites.
On-Page SEO is a lot easier than off-page SEO. In on-page SEO, you can set H1, and H2 headlines, add meta descriptions, use keywords by maintaining keyword density, and use URLs, images and videos. You have to do all of this carefully and strategically. A proper On-Page SEO can improve your website traffic and you can get noticed by the user. In on-page SEO, you can do internal linking and use quality web hosting. You need to check page speed and whether your page is working right or not.
4. Link Building
In SEO, link building is another essential thing that helps you get noticed on your website by the users. Build links to other websites in your content which give hints to search engines that your website is useful and trustworthy to users. There are some types of link building that are usually used by websites such as white hat link building which means adding links to other websites for getting more traffic to your website. Guest blogging and requesting links to prior mentions are other natural link-building methods.
If you have great content, but you don't get the rank on the first page of Search engine result pages, then you need to get a link to the other authorized and trustworthy websites, this will help you to get noticed by Google how authoritative your website is. Link building helps you to take down other competitors in the long run.
5. Content Optimization
Content optimization is a mandatory thing to do when you upload articles or blogs on your website. SEO and content both are interconnected. You need to write articles or blogs properly. Then you can apply SEO to your content. For writing content, you should research topics. You have to check whether the topics are related to your website or not. We should also need to find the right keywords that can suit your website or content. You need to check the length of your content. Google always rank original content without any plagiarism, as fresh and SEO-friendly content. You need to research your keywords before putting them in your content. Properly optimized content can get more traffic.
6. Understanding of UX Signals
Search engines always support the user's needs. User experience always plays a crucial role in SEO. You need to prioritize your user's needs when you optimize your content. Algorithms of search engines analyze user satisfaction and preference. Dwell time is one of the SEO signals that refers to how much time a user spent on one website before returning to search engine result pages. If you give importance to UX signals it helps you to build a proper SEO Strategy for your website.
Conclusion
There is everything to take you to learn SEO is worth it because it is all about ranking articles on search engines and that will boost your revenue. With Synergic Softek Solution you can take your website responsive into our hands. We are here to help you by giving you our SEO marketing service. We hope this article will help to learn SEO better. If you want to know more about it, then keep your eye on our website.