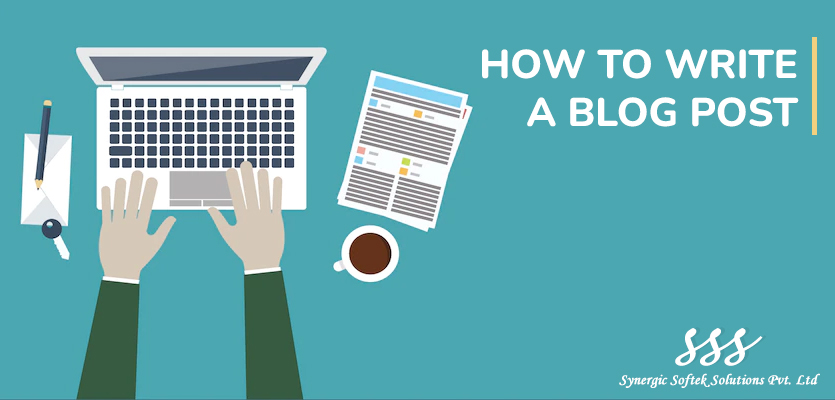 How to Write a Blog Post in 10 Steps
October 13, 2022
|
8

min read
By: admin
A business or company needs to stand out from other competitors by presenting some digital content or attractive blogs. Writing a blog post is a little like driving. For that, today every company or brand needs an online presence. Help with a website, you are now free to write about your products or services and promote them to your customers.
Digital media platforms are the home of a massive amount of audience with the concept that you want to present to them. Here, Brands can write short and attractive blogs on their website for audiences. If you never write any blog posts and want to start writing, then don't worry! We are here to guide you on how to write a blog post.
What is a Blog?
A blog post refers to writing individual content for the audience. An author or writer can add images, videos, texts, and infographics to their blog post. Creating a blog means writing on your own favorite topics. You can highlight your expertise and create a community of followers who love to read your blogs.
For increasing online visibility, the blog is perfect for interaction with the audience with your words and whatever you want to say. For business, you need to bring insight into operation from customer testimonials. You need a proper business strategy to share ideas and missions through your blog.
Importance of a Blog Post
We know It is very hard to promote any business on digital media platforms. You need to write about something which is a trending topic or people like to talk about those topics or where the audience can connect with you through your writings.
You can write content for increasing your sales, and traffic or get noticed by customers, but when you write a blog, just remember a blog does not write like a sales post. Blogs are fantastic exposure tools. Your website hosts blog content, which encourages visitors to click through and interact with it more. Your blog entries can help you rank for significant keywords or become eligible for a featured snippet if they are correctly optimized.
High-quality and helpful blog content is also crucial because it gives users more reason to believe in you. They'll be aware of going to your website for solutions to their issues or questions. Every blog entry you make is a new invitation for search engine spiders to visit and index more of your website. It's crucial to change the titles, meta descriptions, and photos of blog articles so that you may optimize them like individual web pages.
How to Write A Blog Post
Here are the top 10 steps which will guide you to write a blog properly, which are mentioned below:
1. Choose a Topic for the Blog
2. Understand your Audience
3. Create an Outline
4. Pick Blog Templates
5. Optimize for SEO
6. Select a Relevant Image
7. Select the Domain Name
8. Edit the whole Blog
9. Publish Your Blog
10. Promote Your Blog
1. Choose a Topic for the Blog Post
When you decide to write a blog for your company or write a blog for other companies, you need to choose a topic where you can connect with your audience. Every blog writer wants to cover a proper topic and present it to their audience. But before start writing on any topic, you need to choose where you want to start:
1. If you want to write about a food blog, then search on google on the food blog, you can see that many websites are writing about it. You are able to see your competitors and what they are writing about.
2. If you want to write about the online course you can search for LinkedIn Learning, Coursera, and Udemy which are the best online course providers.
3. You can use Google Trends to identify and learn about new trendy topics which people must search for.
After researching Topics, if you finally find what you want to write, now you have to think about how unique you can present it on digital media platforms.
2. Understand your Audience
After deciding on the topic you are going to write about, now you have to find out who will be your target audience. Connecting with your audience who will be readers of your blog posts, will help to create interesting, shareable blogs. Your target audience depends on what type of content you will write.
For example, if you write about a Food blog, then you should be writing for those people who love to eat and find new places to eat. So how can you figure out who will be your target audience? For that, you need to check your other competitor's websites and look for who they target to present their blogs and what kind of tricks they apply to gain readers' interest.
3. Create an Outline
The secret to writing a blog post successfully is performing extensive research and preparing before writing the actual piece. You must create an outline for your content after selecting the blog topic and format. It is essential to create an outline since it guarantees that your article will have a solid foundation upon which you can build as you compose your blog post. The need to create subheadings is a crucial part while you are making an outline. It helps you break down your article into small specific phases and helps to avoid posting a monotonous blog.
4. Pick Blog Templates
Writing a blog is a priority for every writer but you need to properly organize and design your whole article and present it to an audience. Keep in mind your blog should be interesting and shareable which helps you gain the audience's interest. For that, you need to customize your blog with blog templates. Blog templates offer edit options, and customize options. You can easily customize your blog through these layouts. Many writers or websites use various blog layouts for their blogs which help to build attractive insights.
5. Optimize for SEO
Strong SEO strategies for bloggers include content optimization both before and after the blog article has been written. This involves conducting keyword research before the outline stage, as well as employing those keywords to enhance your final product. You need to put an attractive headline, write a 60 word meta description, make an easy URL, add images or videos, and backlinks and internal links.
6. Select a Relevant Image
You can add relevant images to your blogs for enhancing the quality of your blog. Your images must enhance the topic rather than act as simple placeholders. You should pay extra attention to your feature image while putting it because it will appear on top of your content. For example, if you write on a travel blog then you need to put some pictures of the areas which you write about. You can get your featured images from various image editing software like Photoshop, Canva and more.
7. Select the Domain Name
You can see many websites have blog sections on their website and every blog has its domain name. Consider how your domain name and blog connect with the subjects you plan to address in future posts. Ensure that the subject, and niche of your blog are reflected in the name. When you choose the name of the blog, then you should choose your domain name. For example, if you write a blog on any topic, then your domain name should be www.yourblogname.com.
8. Edit the whole Blog
After writing the whole blog, don't forget to edit it and fix all the errors. For that, you can use Grammarly, for checking grammatical errors, punctuation in compound and complex sentences, word choice, unclear sentences, wordy sentences, misplaced words or phases and more. Before publishing, you need to check everything whether the SEO implementation is perfect or not.
9. Publish Your Blog Post
When you are ready to publish the blog, upload the whole blog on any CMS platform. We recommend WordPress for that, WordPress is the best and most popular CMS platform in the world. It is also affordable and easy to use, you don't need any technical language for it. In WordPress, you can do SEO strategically. After checking everything, you are able to publish the article. You just have to click on the publisher and after some time you can see it on your website.
10. Promote Your Blog
Today the blogging market is very competitive. You see how good you write, it is not showing on the first page of search engines. You need to promote your blog to the audience. For that, you need to open accounts on Social media platforms and share them on Facebook, and Instagram, and mail them to your colleague or share them with family and friends. For that, you need digital media strategies to manage your social media account.
Conclusion
We hope this article will help you understand better how you can write a blog post. Blogging is a trending market because anyone can write a blog about their favorite topic and this is the best process to connect with an audience. If you want a writer who can write a blog, you can contact us and if you need more articles on popular topics, then keep an eye on our blog page.