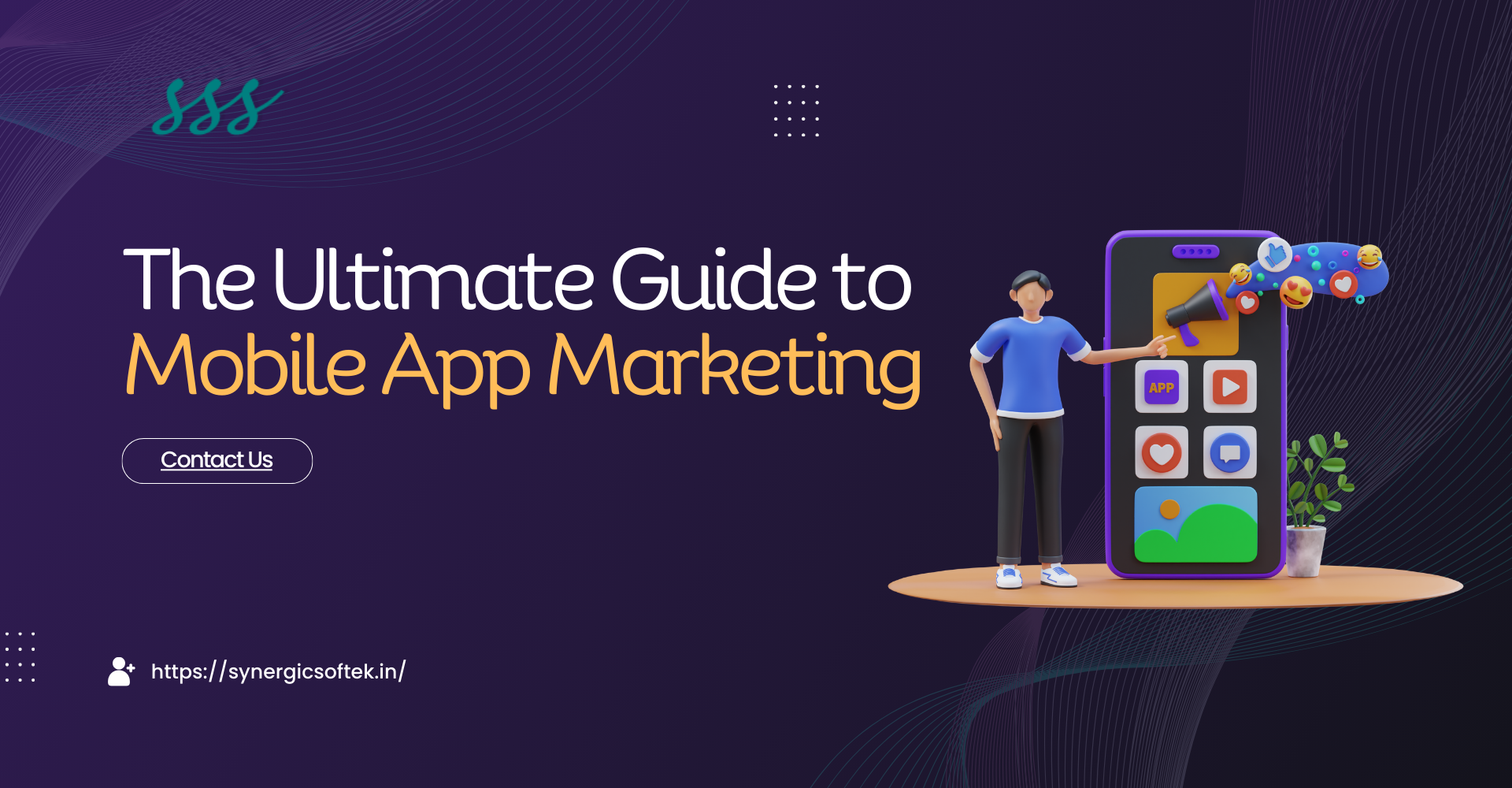 The Ultimate Guide to Mobile App Marketing in 2023
September 11, 2023
|
11

min read
By: admin
Most of the time, entrepreneurs are just most interested in building mobile apps without having any plan for mobile app marketing- this is why most apps are drowning whereas some earn millions every year.
Developing a mobile app requires a good marketing plan to reach its target audience in the midst of ever-changing trends and technologies. Did you know that the mobile market size is calculated at USD 206.85 billion in 2022 worldwide basis? There exist over 8.93 million mobile apps in this world along with 1.642 Million apps in the Apple App Store and 3.553 million in the Google Play Store.
With so many apps, how do you think your app will get the attention of your target audience? The answers we are trying to find are in this article. We are going to discuss the ultimate guide to mobile app marketing strategy in 2023. Let's wrap it up:
What is Mobile App Marketing?
Mobile app marketing refers to some methods of building an image of brands on the global market. According to mobile marketing experts, downloading mobile apps is estimated to be 85 billion in 2022. Moreover, most of your competition including small and large companies have their own mobile app. So, it is crucial to make your app stand out.
Getting users' attention is not easy. That's why you must consider a good mobile app marketing strategy that includes target market research, how to promote your mobile app, and even how your promotional content can reach your target market.
App Marketing is not similar to any product or service marketing. It requires the most essential method, called mobile engagement loop. In simple terms, the process includes keeping your users engaged with every new upgrade.
Introducing Mobile Engagement Loop
"Loop" is the word you use to describe a process that is repeated continuously until it reaches a certain stage. Similar to this theory, the mobile engagement loop refers to the process surrounding a continuous cycle. This process has four core key stages: awareness, acquisition, re-engagement, and retention. Now we will go through these four stages and explain them elaborately.
Awareness Stage:
It is the first stage of the mobile engagement loop. This is the stage from where you start your journey as a newly launched mobile app. From the beginning, people start to get to know your app name as they browse, ask many queries, and in fact, make searches about your mobile app.
You can start working on this stage while your app is under development. So, it would be easy for people to learn about your mobile app. This awareness stage requires some strategies like target market research, creating user personas, and even selecting the launching data.
Conduct Market Research:
In order to make a successful mobile app marketing plan, you need to consider market research. This process enables you to identify your target audience, along with their goals and interests. Conducting marketing research requires some strategies which are mentioned below:
1. Look into the Content:
First, you need to observe and consume content that interests your target audience. Read everything such as blogs, articles, forums, and website content, from several well-known apps to learn more about how you can target users and engage them with your mobile app. In order to read content from different places, we have mentioned some most renowned places where you can find content:
Questions and answers from Quora
Industry Related Blogs, articles, e-books, podcasts, and also you-tube channels
Reddits
Other Apps content
However, you can use various market research tools like Google Trends, keyword research tools, Google Ads and more to process the process.
2. Understand Your Audience in Person:
It is essential to understand your audience in person because you can't run a campaign on the basis of some imaginary characteristics. But it doesn't also mean, you need to go door-to-door to discover and understand your target audience. Instead, you can organize some interview sessions, or attend some webinars and events that your audience might be interested in. However, you can also explore review sections on Clutch, Glassdoor, Trustpilot, and more.
3. Focus on Competitor Analysis:
In order to make your mobile app stand out from the competition, you need in-depth knowledge about your competitors. This is where competitor analysis enters into the scene. You can use various mobile app analytics tools to get a sneak peek at what your competition uses as their marketing strategy. However, you can also catch the keywords they are using.
Pre-Launch Mobile App Marketing Strategy
If you are sure about your mobile app launching and you have done some market research, now there come some vital stages which are very important as pre-launching mobile app marketing strategies.
1. Build a Landing Page:
Creating hype about a new-launching app is a top-notch marketing strategy. But how? The solution is building a landing page, also known as a coming soon page. It is also like the movie teaser.
Through this kind of landing page, you can easily build a buzz around your mobile app before even launching the app. The page should be covered with new and unique features your mobile app has and new offerings your audience will get with the mobile app. These pages enable you to build a network and build your potential conversions.
2. Content Marketing:
Content is such a thing that helps to reach your target audience and they also can get to know what your mobile app has to offer. So, content marketing should be considered as the most crucial part of mobile app marketing strategy. The more useful content you provide, the more power your app will have.
Try to answer the common questions people mostly ask about any newly launched mobile app. This will help your audience to know about your mobile app and also create detailed guides related to your mobile app. This is mainly for target audiences. So that they frequently look to you for advice, and any kind of information. In B2B and B2C both kinds of marketing, content can help you to build trust and discover new potential customers. Moreover, you need to have an idea of the SEO checklist.
3. Influencer Marketing:
Influencer marketing is referred to as one of the most important pre-launching mobile app marketing strategies. Business teams need to find social media influencers who provide them access to their audience. Influencers promote the mobile app on their social media profiles in exchange for money. Businesses receive $5.20 for every $1 spent on influencer marketing, according to recent data.
Acquisition Stage
The next stage of mobile app marketing is the acquisition stage. This stage covers two main areas: App SEO and post-launching promotion of the mobile app. Let's get started:
App SEO or ASO:
ASO or App Store Optimization is very similar to SEO, but the difference is you need to rank your app on the App Store by using some optimization strategies for your mobile app. As we have suggested, there are millions of apps, so it is important that the target audience see your mobile app first on the search return list. ASO also helps you get more downloads which leads to a boost in revenue. Here are the most strategies you'll need as your ASO strategy which are mentioned below:
Keywords:
You need to be aware of what are the related keywords for your mobile app because it will give you the chance to get higher rankings on the search return list. But choose relevant keywords for increasing your mobile app awareness.
Voice Optimization:
Searching for apps (or anything else) is now possible with voice commands. It is less robotic and more natural to conduct a voice search than to conduct a written search. Optimize your app descriptions and about sections with relevant keywords for voice commands.
Include Compelling Visual Content:
Now people are more likely to see the visual content. So, it is essential that in order to increase the app visibility and downloads, you need to include compelling visual content. If you provide app features as visual content, people will understand it better and be more likely to download and install the app.
Public Relations (PR):
Your app will not be completed without a press release. In the press release, you need to add what is your app, who can use it, what are its features, and how users can get access to the app. You need to send this to the press by adding a reason why they should write about your mobile app.
Advertising:
Advertising can be the most important strategy after you launch your mobile app. Advertising online about your mobile app enables you to increase visibility and awareness. The paid ads should be for the target audience. Use various social media platforms like Facebook, Instagram, LinkedIn, and more to promote your mobile app through paid ads.
Retention Stage
In order to engage your existing customers, you need to have some strategies. The retention stage is about keeping your existing and potential customers engaged with your mobile app. The strategies are given below:
Apply Notification Feature:
Once your target audience downloads the app, now what? The campaign is over? Not yet! To keep your target audience engaged with your mobile app, you need to apply the push notifications or app notification strategy.
For example, Zomato, the app always sends notifications about their offerings, latest updates, reminders, and more with various content to keep their users entertained and engaged with their brand.
Communications:
Use email marketing here to communicate with existing customers like sending them newsletters. However, you can send emails to get to know about what problems they're going through these days. Moreover, you can provide them with some general information about your mobile app. Besides this, you can also respond to your customer's reviews.
Reengagement Stage:
Now all marketing steps are completed. But still, what is the re-engagement stage? Sometimes, users suddenly decide to stop using the mobile app. It doesn't mean that you can't make them engage with your app again. The re-engagement stage is all about winning back the existing customers.
A/B Testing:
A/B testing is an essential component of any successful mobile app marketing strategy. By testing different variations of your app, you can determine which features and designs are most effective at engaging users and driving conversions. This helps you make data-driven decisions about how to optimize your app for maximum impact.
With A/B testing, you can easily identify areas for improvement and make changes that will have a positive impact on user engagement and retention. In today's highly competitive app market, A/B testing is a must-have tool for any mobile app marketer looking to stay ahead of the competition.
Updates and Improvements:
If your app was unsuccessful in the past, focus on re-engaging users based on their feedback. Using notifications and emails you can inform your users about the updates and improvements.
Use Exciting Offers:
Using offers as a mobile app marketing strategy is a no-brainer. It's a great way to get people interested in your app, encourage them to download it, and keep them engaged. Offers can come in many forms, such as discounts, promotions, or free trials.
By offering these incentives, you are giving users a reason to try out your app and see what it has to offer. This can lead to increased downloads, more user engagement, and ultimately, higher revenue.
Additionally, offers can help you stand out in a crowded market and differentiate your app from the competition. So if you're looking to boost your app's visibility and drive user engagement, using offers is definitely worth considering as part of your marketing strategy.
Conclusion:
Mobile app marketing is a theory that needs to be sophisticated and precise in terms of planning and marketing that involves these mobile app marketing strategies from the pre-launching stage to post-launching promotion.
As a leading mobile app development company that offers not only app development services but also digital marketing services, can provide you with a seamless app along with marketing insights. We hope this article helps you understand it better. If you need any help, contact us now.