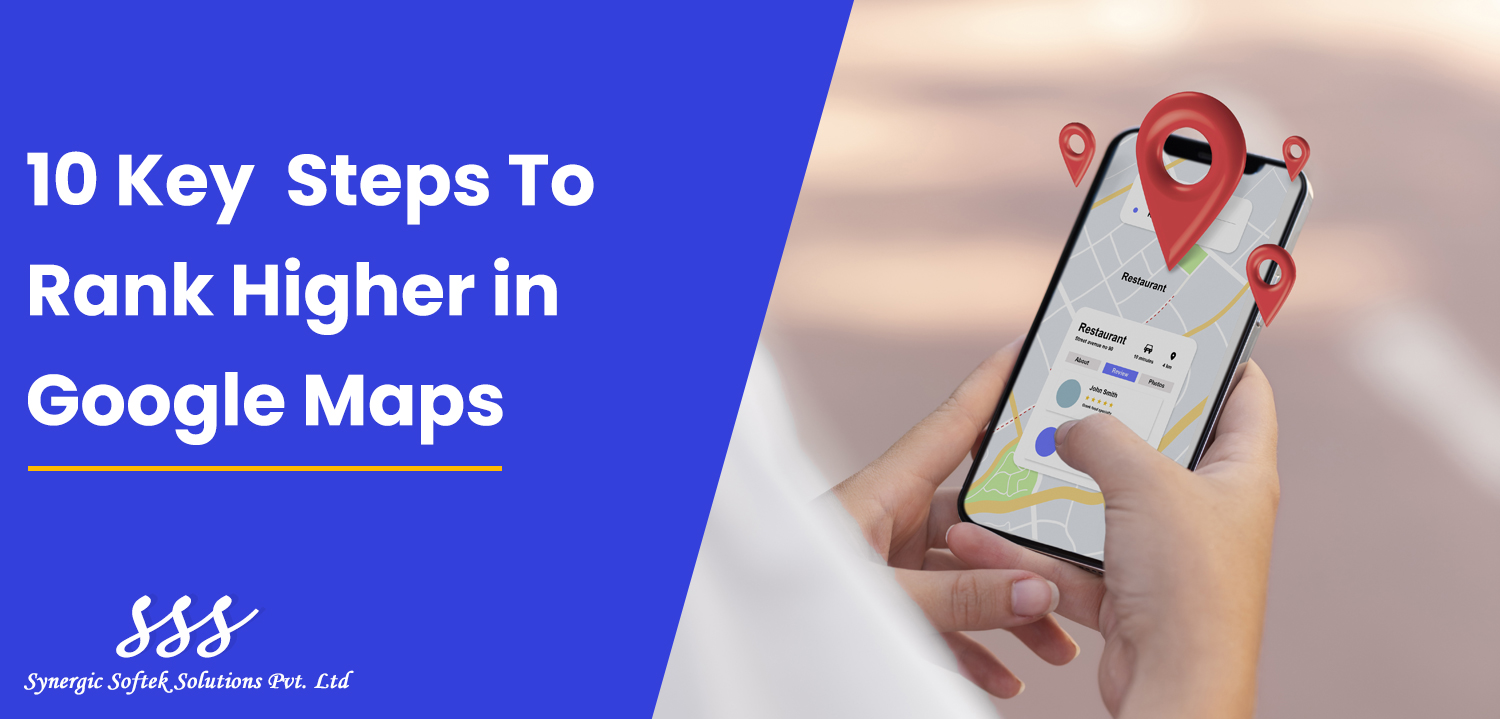 10 Key Steps To Rank Higher In Google Maps
May 30, 2023
|
8

min read
By: admin
For any Local business, Google Maps listing is the crucial part when it comes to attracting more target audiences online. The more you get the higher rank on Google maps, the more you get new customers and stand out from your competitors. Having an account in Google Maps will offer you a better opportunity with Google Local ranking. Ranking higher in Google Maps would be possible through Google Maps Marketing. But first, you have to list your business in GMB or Google My Business which helps you with your ranking on local search results. Here, one question has been raised, which is " How to rank higher in Google Maps?".
It is very hard to stand out from the fierce competition because Google maps offers local 3 packs for getting more exposure. So, It is important to have strong visibility in Google Maps listings. Having a business in Google Maps does not mean, Google will rank your business in that particular area search results. To improve your ranking on Google maps, we are going to discuss the top 10 tips to run higher in Google Maps in 2023.
Importance of Ranking Higher on Google Maps
According to research, 67% of people use Google Maps as a navigation app. Most users don't look further into the second-page results when they are in a hurry, mostly for go-to searches. So. it is essential to be in the first-page result.
Users mostly search with specific terms or phrases on Google maps rather than search with business names. So, make sure your business comes up on the first page results on Google Maps when someone searches with specific search terms related to your business on Google.
Ranking on Google Maps also benefits your business because the top three listings appear in regular Google Search results. The "Local 3-Pack" can greatly increase your business's visibility on Google since 46% of searches on Google have local intent.
Another reason why it is important to rank higher on Google Maps is that the effects you put to rank your business higher will enhance the quality of your business listing and increase customer engagement. According to a recent survey, over 86% of users search on Google Maps for looking into a business. Having a rank on Google Maps listing will bring more customer engagement.
How to Rank Higher on Google Maps
So, "How can you rank your business on Google Maps?". It is not just about Local SEO, You need to implement Google Maps Marketing which is the method of ranking higher on Google maps by including the required information about businesses in their Google My Business profile. It is aimed at driving more traffic to the website and boosting conversion rates. Here are the top 10 tips for ranking higher on Google Maps which is mentioned below:
Add your Business to Google Maps
Claim your Google Maps business listing
Make Sure You use Responsive Design for Your Website
Add Local keywords to Your Website
Use Local Business Schema
Embed a Google map on your website
Get Google reviews
Build Local Backlinks
Update your Local Listing with Your NAP
Tracking results and GMB analytics
1. Add your Business to Google Maps
The first step is that you need to add your business Google Maps listing. If you don't have a profile in Google maps, then first, go to Google search for Google maps or go for Google Maps apps from smartphones and type your business name on the search bar and search for it. If your business appears in the results with location then you are already in the listing. If your business does not appear in the results, then look into the drop-down menu and click on "add a missing place". After clicking it, it will allow you to add your business name, category and location. It's only the person who claims ownership of the business who has control over the listing.
2. Claim your Google Maps business listing
It is essential to claim your business listing on Google Maps because when you create the profile all you can do is just add the name, category and location but when you claim your business listing, you'll be able to add more details on Google Maps to get better ranking. Also, you can't do any other following steps if you are not claiming your business listing on Google Maps. To have a free Google My Business profile, you must claim your business listing on Google Maps. So, you'll see an option required as " Own this business?" or " Claim this business", you just need to click on it.
3. Make Sure You use Responsive Design for Your Website
You need to check whether your website is responsive or not. Using responsive design means, anyone can able to see your website from any device without facing any glitches. Nearly 60% of Google searches occur on mobile devices, and Google Maps business listings contain links to your website. Google Maps ranking will be affected if your listing takes users to a web page that requires zooming and pinching, has broken links or not or takes a long time to load.
4. Add Local keywords to Your Website
Adding local keywords to your website is one of the essential stages for ranking your business higher on Google Maps. It is obvious that it will help your website to rank higher on Local search results but it may also give your business some opportunity to get a better rank on Google Maps. Don't just include location-based keywords in the title of the pages, but also in the headings, captions, images tags, body text, and URLs of the main pages of your site, including the homepage, contact us, about us, products and services, and even blog posts.
5. Use Local Business Schema
Schemas were developed by Google and other search engines as a way to standardize the structuring of content, especially business details. Local schema allows you to add code to your website content which helps search engine crawlers to index your website. It will help Google to check whether your location is valid or not and push your ranking higher on Google Maps.
6. Embed a Google map on your website
Most businesses embed a Google map on their contact us page to rank better on Google Maps. Your listing can be verified by embedding a map from Google if it is located in the location your listing claims. Your Google Maps business listing address should be the same as your website address.
To embed a Google Map on your contact page, you need to search for your business name in Google Maps. Go to "Share" in your listing and click on the "Embed a map" tab. Just need to copy and paste the link on your business's contact page.
7. Get Google reviews
Google maps always focus on businesses with positive reviews. When you create your profile in Google maps, it automatically opens the review section for users but does not intend to get reviews. You need to ask for reviews and offer quality products or services. You need to respond to all the reviews whether it is positive or not. Additionally, the way you respond to reviews from potential customers and how considerate and competent you are at handling problems.
8. Build Local Backlinks
Inbound links, also known as backlinks, are essentially an extension of our NAP strategy, which calls for you to seek out relevant links from nearby third-party websites to your main website pages. Backlinks can support your company both locally and in terms of goods and services. If local directories offer category options, you should make sure that any listings you maintain with links are in the appropriate categories.
9. Update your Local Listing with Your NAP
On your GMB listing, you need to add three more information about your name, address, and phone number. It's crucial that your NAP be exact and consistent across all of these sources for Google and your visitors. Citations are another name for these mentions of your company that appear on outside websites. You may start by simply Googling for your company name and noting all the locations where your company details can be accessible to identify and confirm that your NAP is up to date.
10. Tracking results and GMB analytics
When it comes to ranking websites, tracking results is a very crucial stage to check. You can find GMB analytics in your GMB account. After entering your profile in the GMB listing, go for "insights". Here is the following information you can see in the GMB analytics:
How frequently has Google searched for your listing?
Which particular search terms led to your listing?
Where do clients go to ask for business information?
The days of the week that you receive the most calls?
How frequently do Google Maps display your listing?
What type of client behaviors were displayed?
Conclusion:
We hope this article on the 10 Key Steps To Rank Higher In Google Maps will help you to understand it better. If you are struggling with ranking your website on Google Maps, we are here to help you. If you want to read more articles on trending topics, keep your eye on our blog page.