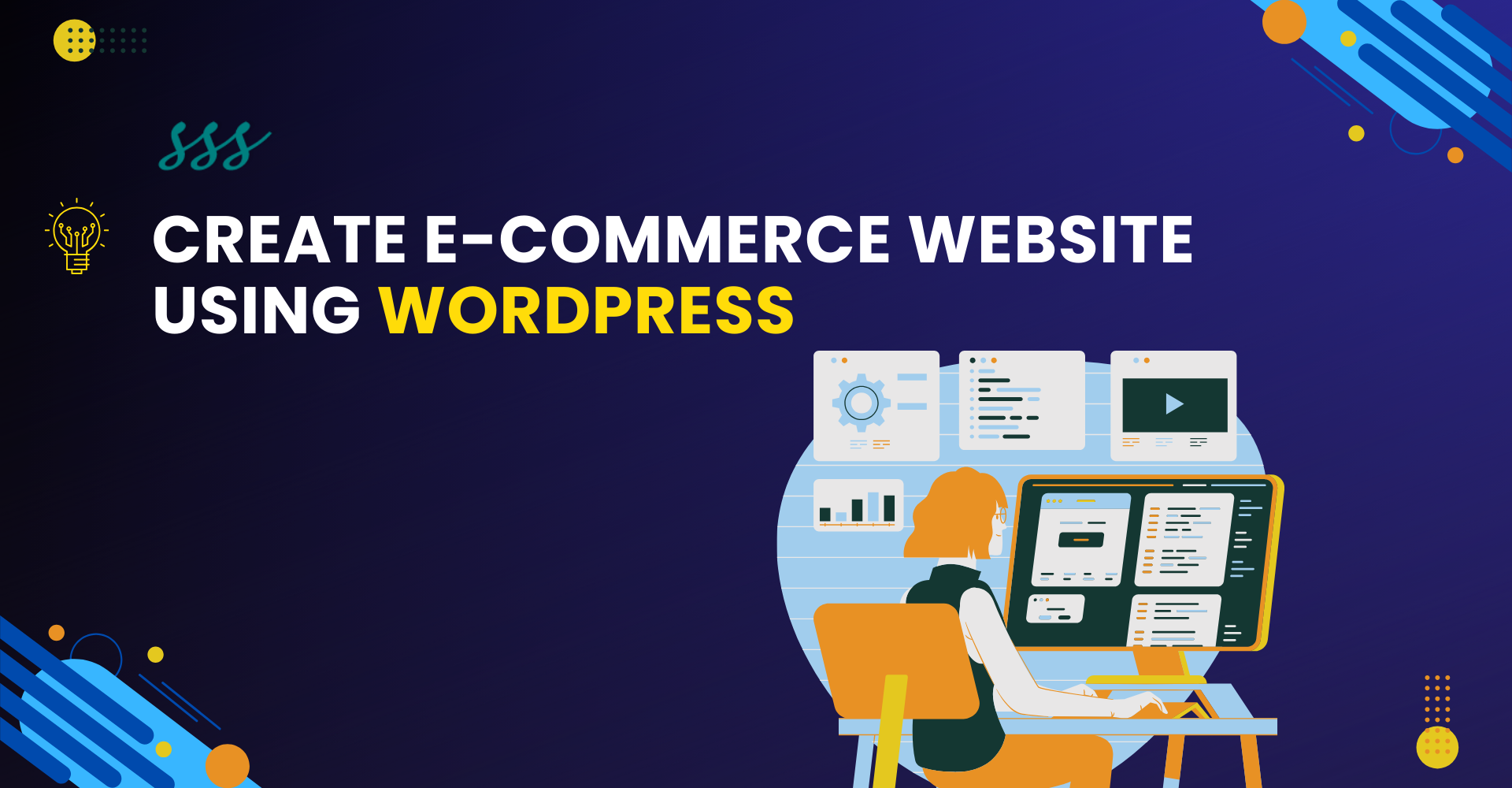 How to Build an E-commerce Website Using WordPress
September 5, 2023
|
9

min read
By: admin
Whoever is involved with the digital marketing niche, WordPress is one of the most common words we all get to hear. But did you know it can also be used in e-commerce? If you're in shock, this article about building an e-commerce website using WordPress is for you.
It's been a long time since WordPress has updated itself into one popular website-building software from one blogging tool. In Fact, It is the best way to build e-commerce websites. According to Adam. J Humphreys, creating e-commerce websites using Shopify can offer you satisfactory results but all e-commerce website designs do not have a high search performance approach as WordPress designs. That's one reason why business owners don't want to invest in Shopify.
When it comes to selling products with WordPress, the first step would be to install one of the most popular content management systems, WordPress. After that, you need to buy domains, set up web hosting, and even install a reliable plugin- this article will guide you through building an e-commerce website with WordPress. No more wasting time, let's wrap it up!
Why Use WordPress for Building E-commerce Websites?
Over 43.1% of websites are built by WordPress on the internet. From optimizing websites with SEO or creating a whole website, all can be done in one place, called WordPress. This open-source platform consists of a structure of codes that indicates a basic framework of a website.
And with one basic website framework, several unique sites can be created using WordPress. All thanks to various WordPress plugins, themes, templates, and more. With the help of all these tools, a full-fledged storefront can be built within just a few times. We have made a list of some benefits of using WordPress which are mentioned below:
1. Flexibility:
WordPress is a highly customizable platform, which means that it can be tailored to meet the specific needs of your e-commerce website. Whether you want to add new features, integrate with third-party tools, or change the design of your site, WordPress makes it easy to do so.
2. Scalability:
As your e-commerce business grows, you need a platform that can keep up. WordPress is highly scalable, which means that it can handle large amounts of traffic, products, and orders without slowing down or crashing.
3. Cost-effectiveness:
Compared to other e-commerce platforms, WordPress is a cost-effective solution that won't break the bank. With a wide range of free and premium plugins and themes available, you can create a professional-looking online store without spending a fortune.
Step-to-Step Guide to Creating E-commerce Website With WordPress
Now here it comes. The ultimate guide to creating an E-commerce website with WordPress. There are both paid and free options available for you. You can hire a developer who helps you to build websites using coding. But with WordPress, without investing any penny and coding, you can easily develop an e-commerce marketplace.
When you can do it for free then why spend such money? With WordPress, you just need to invest in web hosting and domains. But, you need to follow the steps to build an e-commerce website in the right way.
1. Choose a Domain Name and Web Hosting Provider
Whether you start to build a clothing online storefront or any other kind of online store, the first and the most important steps will be to buy a domain name and web hosting provider.
But first, you need to understand the basic concept of a domain name and web hosting service. Web hosting refers to the place where your e-commerce store will be live on the internet. On the other hand, a domain name refers to the address of your online storefront. For instance, when you give people an address, they can visit your e-commerce store just by clicking on the link. "www.facebook.com", and "www.google.com" are examples of the domain names.
There are several web hosting providers in WordPress such as Bluehost, Hostinger, HostGator, and more. But we recommend you choose Bluehost for e-commerce websites because it is well known as the top host in WordPress and even offers high-performance, and cost-effective features than other hosting providers.
All you need to do is choose a Bluehost subscription plan. The basic plan costs you overall $2.75 per month and includes a free domain for one year. Then your next step will be to choose a domain name.
First of all, you need to click on create domain names and add a domain name whatever you want to put. Once you put the name on, Bluehost will automatically show you several domain names that are available as domain extensions. It would be best if you choose .com because it makes your e-commerce store more professional, so you can gain some extra attention from your target audience.
2. Install WordPress:
Now we are talking about the hosting account, Bluehost, and this is where you start your WordPress journey. You don't have to pay any installation charges for WordPress. In fact, because you choose Bluehost, it will do the installation for you.
After you complete the sign-up with Bluehost, you will receive emails that include logging credentials. Once you log into Bluehost, first go to the Bluehost dashboard and click on the create site where the installation process will begin.
Once installation is completed, you need to add your e-commerce website name along with the username and password. So, now your website is created but it's blank. So, now it is time to make a fully functional website.
3. Get E-commerce Plugins:
What do you think, what would the main difference be between building an e-commerce website or another kind of website using WordPress? It is the former that lets e-commerce websites sell the product directly from websites.
There is no built-in e-commerce feature for it, which is why you need to install a plugin to get better functionality in your website. And for e-commerce website building with WordPress, Woocommerce would be the best option.
Here are some steps to install Woocommerce on your e-commerce website which are given below:
In order to extend the functionality of the website, you need to click on plugins, where you find an option called "add new", and click on it.
You will see a search bar in the right upper corner. Type "Woocommerce" to locate the plugin.
Click on the install button next to the "Woocommerce" plugin. Click on it to install the plugin.
Now you can follow the rest of the setup process using WooCommerce's on-screen launch/setup wizard. There are also other e-commerce plugins you will get to see on WordPress such as Easy Digital Downloads, WP e-commerce, Yoast SEO, and more.
4. Set Up Woocommerce:
When it comes to setting up Woocommerce, this step comes with several tasks like selecting payment methods, understanding sales tax implementation, creating store pages, elevating a locale, and more.
Create Customized Store Pages:
If you don't set up customized store pages, your customers will get lost while browsing through your e-commerce store. That is the reason why after installing Woocommerce, the first step will be creating customized store pages:
Shop page where all products should be displayed.
The cart page where your customers can able to adjust their preferred products before making a purchase decision.
The checkout page where your customers can choose the payment methods to fulfill the purchase.
Setting the locale is another important part of your e-commerce store. In simple words, locale implies where your store is placed. In fact, every online store needs to have this kind of information for setting up. Setting up a locale refers to the country of origin, favorable language, and preferred currency. You can choose various kinds of payment methods using Woocommerce.
5. Add Products or Services for Sale
For publishing the e-commerce store, you need to add products or services to your product page. Here are some steps you need to follow which are given below:
Go to your WordPress dashboard and you will see the product option where you will discover the add product, click on it.
A WordPress content editing screen will appear with product titles, product descriptions, product data sections, product categories, short descriptions, product images, tags, and product galleries.
Now add the all products on your website by following this step.
6. Select a Suitable E-commerce Theme:
Design and customization are crucial aspects of building an e-commerce website using WordPress. They directly impact the user experience, brand identity, and overall success of your online store.
Choose a WordPress theme that is specifically designed for e-commerce. There are many free and premium themes available. Look for themes that offer features like responsive design, WooCommerce compatibility, and customization options.
Installing a Theme from the Official WordPress.org Directory:
Click Appearance and then Themes from the WordPress dashboard.
To browse the theme selection, click the Add New button. Demonstration versions can also be used to see what your store looks like.
Select the theme you like and click the Install button. Activate will appear after a few seconds. It's yours once you select it.
Most themes provide demos or previews. Take advantage of these to see how your website will look and function with different themes. Pay attention to layout, typography, color schemes, and the overall aesthetic.
Customize the theme's color scheme to align with your brand colors. Consistency in color helps in brand recognition. Upload your logo and ensure it is prominently displayed. Customize fonts and typography to match your brand's style.
Adjust the layout and structure of your website to suit your products and content. This might include arranging product categories, adding featured products, and deciding on the number and placement of menu items.
In today's mobile-centric world, it's crucial that your e-commerce website looks and functions well on various devices, including smartphones and tablets. Choose a responsive theme that adapts to different screen sizes.
Conclusion:
Congratulations! You've just embarked on an exciting journey towards building your very own e-commerce website using WordPress. We've covered a comprehensive range of steps and strategies to help you create a successful online store that caters to your audience and fulfills your business goals.
Building an e-commerce website is just the beginning of an incredible journey. With dedication and the right support, your online store can thrive and grow beyond your expectations.
If you ever need assistance, have questions, or want to explore how a leading e-commerce service provider company can further elevate your e-commerce experience, don't hesitate to reach out. We're here to partner with you on your path to e-commerce success.
Thank you for choosing us as the best e-commerce solution provider as your trusted e-commerce service provider. We look forward to witnessing your online store's growth and celebrating your achievements together.