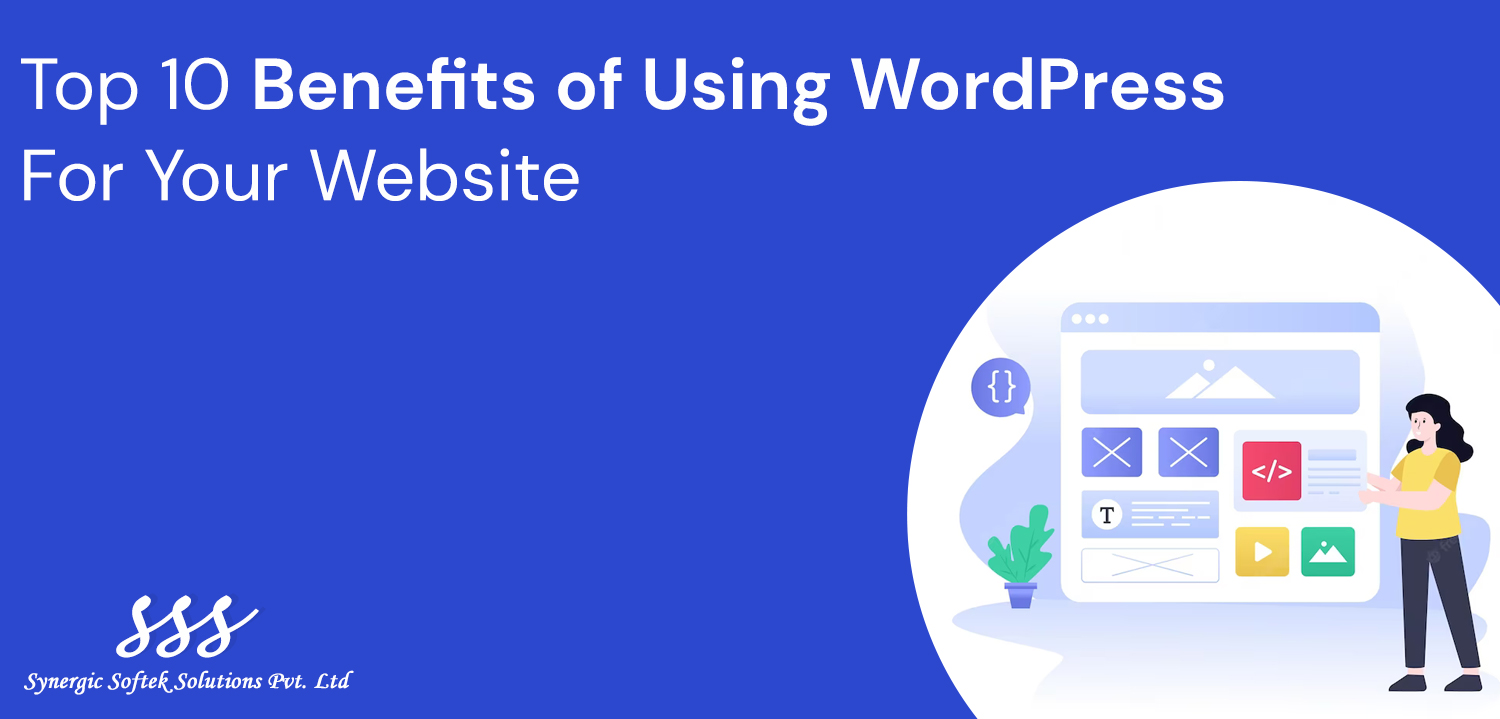 Top 10 Benefits of Using WordPress For Your Website
June 21, 2023
|
6

min read
By: admin
In recent days, many businesses or companies use WordPress to power up their website and want to get noticed. If you wonder what are the top 10 benefits of using WordPress in website development and why you also should use it for your website, then you are in the right place.
What is WordPress?
You can say that WordPress is the backbone of your website development. It is the most used Content Management System(CMS), which is used by most companies to build their website and get back to competition with other companies' websites.
WordPress was launched in 2003, and since then they maintain its position as number one of the best content management systems, hijacking the 76.4%CMS market.
It is not only a blogging platform anymore, here you do everything for your website such as creating a company's webpage, writing blogs, publishing articles as many as you want, SEO, and helping to rank the article on google.
Why is WordPress the Most Popular Website Builder?
WordPress is the most popular website builder due to its presence in the market for too long. They deeply and fully understand the fact that what the user needs. The popularity of the self-hosted WordPress is going up because of its features, anyone can use it.
You can control your website 100% without the involvement of any third party. And also it is free to use, you don't have to pay for it. Over around 45% of websites in the article are built by WordPress. There are many popular and renowned companies such as CNN, Microsoft, New York Times and many other firm's websites powered by WordPress.
Benefits of Using WordPress
Here are some benefits of WordPress which make it popular as a Content Management system(CMS), which are mentioned below with detailed information about it.
Free to Use
Flexible to Use
Get Various Themes for Web Page Design
Easy to Use
Easy to Do SEO
Wide Set up of WordPress Plugins
Provide High Security
Support Multiple Users
Plenty of Functionality
Updated Constantly
1. Free to Use:
WordPress is totally free, anyone can use it without spending any money. When you download it from WordPress.org, you don't have to pay for it. But there is two-option which might help to understand better how you can use it.
First, Self-hosted, if you can manage your own website, then you can handle your website anywhere anytime by using WordPress. But If you don't know how to use it or You don't have time to use it, then there comes managing hosting, which means that you take that position to someone else to control and manage your website on WordPress. Then you have to pay that person for it.
2. Flexible to Use
If you have already installed this app, then you know that it is browser-based. You can use it anywhere anytime if you have an internet connection.
If you want to build your webpage, then you should use WordPress. Here you not only create your website but also you can add pages and content here. You can write articles, do SEO, and publish it directly on your website. You have full control over the website.
3. Get Various Themes for Web Page Design
In WordPress, you will find tons of various themes that you need for your website. There are one, two and three-column layouts available. You can find many styles that you need for your website. But there are two different themes available there, one which is free and the other one is Premium based. You have to pay for the premium themes. You have to pay around $30 to $80 per premium theme.
Both Free and Premium themes are very good for use on the website but premium themes are made by Professionals, so don't have to worry about SEO or it will work on your mobile as well as laptop and desktop. Here are some of the premium themes: Extra, Business Pro, Ultra, Uncode and more. Free themes are not as good as the premium ones. Here are some of the free themes: Neve, Sydney, Enigma and more.
4. Easy to Use
For beginners this is the best content management system. It is very easy to use. Anyone with limited technical knowledge can use it. You install it very quickly without paying for it. In WordPress, you will have an option, named "dashboard" where you will find other various options. With those options, you can customize your own webpage.
5. Easy to Do SEO
It is the best website for SEO. It will help you to do SEO very easily. You need to add a title, write a meta description, use keywords, maintain the keywords density, and use images and videos. Then You see that your article is ready to publish. WordPress helps to rank the article on various search engines such as google, yahoo and more. Doing SEO on WordPress helps to gain traffic to your website.
6. Wide Set up of WordPress Plugins
There are over 58, 570 plugins in WordPress. With plugins, you can run and customize WordPress. You can install a plugin for the payment gateway, for enhancing the contact form and more. There are free and paid plugins available in WordPress.
7. Provide High-Security
WordPress offers you high-quality security for your website. In WordPress, you will find a secure login procedure. You can also scan your site for malware. Users need to follow login, possess and add a strong password for their website.
8. Support Multiple Users
Many members of your website can handle your web page in WordPress. WordPress requires multiple roles such as Super administrators, Administrators, Authors, Editors, Contributors and Subscribers.
Administrators have ownership of the website. He or she can do anything with their website. The Author can manage and also publish posts. Contributors don't have access to the website but they can edit and delete posts.
9. Large Community Support
WordPress now has 1,2 billion followers on Facebook and 631,000 followers on Twitter. WordPress has a large community so If you need help with your website, you definitely will get help. And Follow the community and ask the question if any, someone will answer your question definitely.
10. Updated Constantly
WordPress updates constantly. They always focus on their user needs. The Team of WordPress is always working on their performance. For that, you always get the latest update for him. So you need to upgrade your website for that.
Conclusion
WordPress has everything that you want for your website. You just need to login into it. In recent times, everyone uses WordPress for its plenty of features, ease to use, and free of cost. There are many advantages of using WordPress. If you want to build your website on WordPress, then contact Synergic Softek Solutions. We are always here to help you.