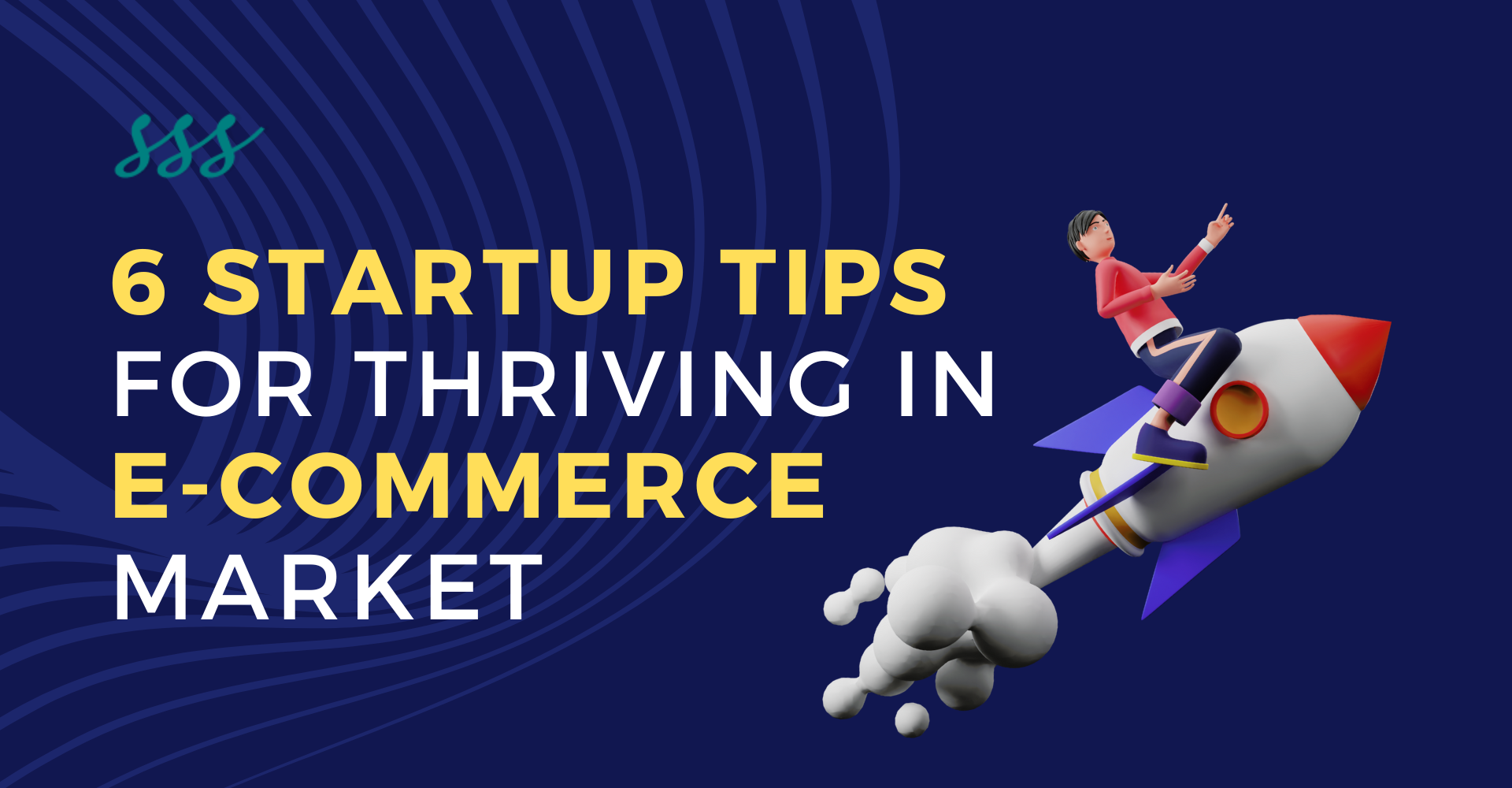 6 Startup Tips for Thriving In E-commerce Market
August 18, 2023
|
7

min read
By: admin
As we are familiar with the most common phrase "Time changes" and the e-commerce industry is one significant example of it. During the pandemic phase, e-commerce has been a bulletproof jacket for businesses and customers as they coped with digital media-driven change.
Most retailers and consumers start searching online. Even now, all people are back to normal life, but the burgeoning growth of e-commerce is not going to drop off, not after 12-24 million e-commerce websites have made their place on the internet.
But what do you think, among the 12-24 million e-commerce is it too easy to stand out a startup from your competitors? It's not! Because now the advanced technology of digital marketing all e-commerce stores are well aware of all e-commerce features. It is very hard to achieve limelight as an e-commerce startup but not impossible.
How E-commerce Startups Can Stand Out in Competitive Markets?
To bootstrap your startups in this competitive world you need to know the steps in a way that gains more returns and reach. The steps to make your e-commerce startups stand out are mentioned below:
1. Produce Quality and Improved Products:
In order to stand out, using your quality and improved products can be the one. If you sell products the same as everyone does, then the competition is going to be challenging. In this situation, price is the way that can be a reverse card of uno for you.
However, if you produce products that are unique and improved, emerging with advanced technologies and developments, you will be able to stay on top of the e-commerce trends. New and unique products help you to dominate the market and you will be able to get the new identity.
2. Branding Uniquely:
Your e-commerce business might not be able to compete with products and prices, but still, you have a chance to get more reach and popularity. Once you launch new and unique products, your competitors start producing the same kind of products as soon as possible. If that's the case, then branding is the essential way to give your brand's voice a recognition that your competitors can't duplicate. Make your branding unique so that if your competitors try to copy your products on every side, still your branding remains your own.
To make your branding unique, you need to look for ways to highlight some aspects of your brand that are unique. For example, is your product environmentally friendly? Is your product hand-made? Do you produce better-quality products than your competitors? Can you introduce branding with a touch of humor to break the seriousness of the market? How much unique and custom packaging do you have?
Try to find the questions of these kinds of questions so you can easily make your branding remembered.
3. Use Guest-Posting Marketing:
Whether you are in the e-commerce industry or digital marketing industry, as a startup standing out is very crucial to boosting sales and brand awareness. If you want to market your business by presenting your sites on other people's sites to get more links, then guest posting which you need. Achieving links from an authoritative site not only improves your SEO but also makes your website expert, authoritative, and trustworthy.
Once you start guest posting on third-party channels, your e-commerce online site is able to attract more new customers and drive more traffic to your website.
4. Social Proof:
To maintain the credibility of your site, you need to leverage social proof on your e-commerce website. It's a very essential way to convert your visitors into new customers. There are many ways to include social proof on your websites.
For instance, If you see any celebrity using your products, you can use these for your product promotion. However, you can also encourage your customers to put reviews of products on your site and reply to all the reviews whether it's good or bad. You can also put your customer's photos wearing or using your products to promote your brand.
5. Have Knowledge of Online Marketplace:
You can sell on online marketplaces such as eBay or Etsy as well as your own website and social media accounts. There are a few key differences between these two heavy hitters you should be aware of:
1. eBay:
eBay refers to an auction-style listing platform where sellers start bidding and buyers with higher bidding can gain the product they want. Here, the user base is vast, if you sell products on eBay you can have access to customers worldwide.
2. Etsy:
As an online marketplace specializing in handmade and vintage items and crafts, Etsy has carved out a reputation for itself. It is one of the best places for artists, independent sellers, and small businesses to sell their products. A niche clientele is attracted to Etsy because it emphasizes the importance of community and support for small businesses, artisans, and crafters. Having the knowledge that their money is going toward ethical practices and individual sellers might encourage them to pay a little more.
6. Monitoring Competition and Adapting Strategies:
Regularly research and analyze your competitors' products, pricing, promotions, and marketing strategies. Observe emerging trends in your industry and see how your competitors are capitalizing on them.
Continuously gather data on customer preferences, pain points, and unmet needs. If you offer something your competitors don't make sure it's prominently featured in your marketing and branding efforts. If your competitors have weaknesses or gaps in their offerings, position your products as solutions to those shortcomings.
Monitoring your competition is not just about copying their strategies, but rather about learning from their successes and failures, identifying market gaps, and adapting your approach to create a unique value proposition that resonates with your target audience.
How Can E-Commerce Startups Stand Out Using Digital Marketing?
If you want to keep your e-commerce business up with digital marketing trends, you must have knowledge about digital marketing as it is the only affordable and easiest way you can reach a wide range of audiences.
Digital media is just not for creating e-commerce businesses but also promoting products using paid online platforms. So, without wasting any time, let's discuss the ways to start your e-commerce business with digital marketing services:
1. Identify The Market:
In simple terms, you need the right digital marketing strategy to make a basic digital presence on digital media and as a digital marketing expert, understanding your target market will be the first step. In order to identify consumer behavior and category trends, you need to invest time in in-depth research in your sector.
2. Have Knowledge of Your Competitors:
Being an e-commerce store, you need to know about your competitors. You can look through social media and the first page of search engine result pages (SERPs) to discover your competitors and identify what strategy they use.
3. Get to know Your Target Audience:
As a digital marketing strategy, knowing your target audience will be the most essential step. On the basis of location, age, gender, and more you need to segment your audience. But this conventional segmentation is not only based on demographic criteria but also some specific details like interests, web browsing behavior, social media channels that your audience mostly uses, and more.
4. Build SEO Strategy:
To stay at the top of search engine result pages in the long run, you need the right SEO strategy. In simple words, to make your online presence effective the secret lies in implementing an SEO strategy. From the technical part to on-page optimization all you need to include in your e-commerce website.
5. Include Social Media Marketing:
An excellent way to create an online buzz without investing a significant amount of money is social media marketing. Creating engaging content and conversation can make your e-commerce brand stand out from your competitors.
Conclusion:
Standing out in the competitive market it feels like you break the line and watch the whole program. For that, you need a master plan. We hope these steps will help your e-commerce startups to stand out in this competitive marketplace.
If you don't want to do it yourself, you can get help from us, one leading e-commerce solution provider. Our e-commerce solutions help you to break through all obstacles in your path and give you the top position as the leading e-commerce store. If you love to read our articles, keep your eye on our blog page.