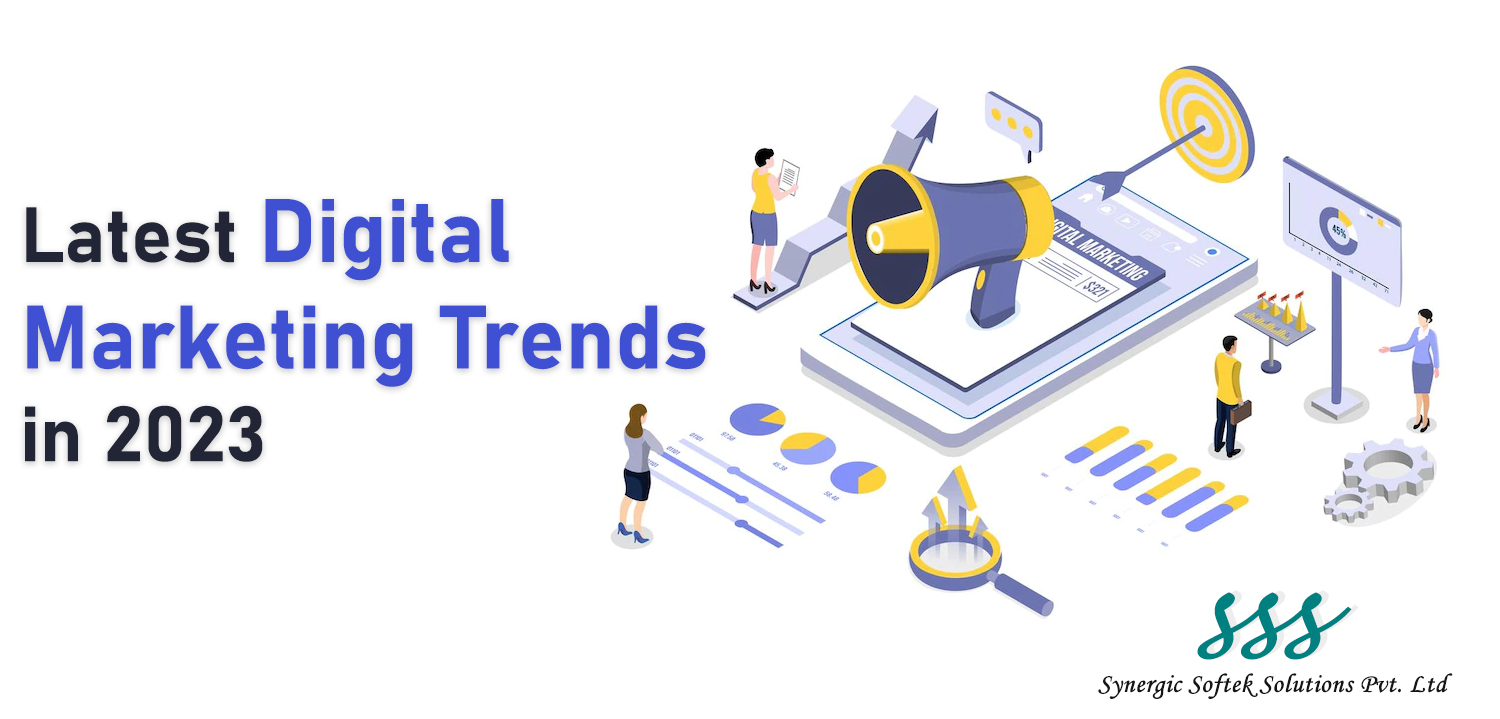 Latest Digital Marketing Trends in 2023
February 8, 2023
|
5

min read
By: admin
Digital World never disappoints us with unexpected and latest digital marketing trends. Now digital marketing strategies require creativity which customers and users always search for. Today Brands and customers both are looking forward to social media platforms like Facebook, Instagram, Twitter and others. Brands need their product to get noticed by the customers and customers check new better products and services.
As digital marketing trends 2023, we see that Tik Tok is getting so popular as a leading social media platform. Everyone in Gen Z is attracted totally by the features of Tik Tok. NFTs and Cryptocurrencies are now a hot topic for 2023 new trends in digital marketing. That will bring an epic change in the Finance sector. Also, there are many developments we can see in digital media which here we are going to break down with detailed information as the latest digital marketing trends in 2023.
Top 5 Digital Marketing Trends in 2023
Here are the best 5 digital marketing trends in 2023 which are given below:
1. Short Forms Videos
Tik Tok is taking in-charge of creating short video content channels in 2023. Influencers of Tik Tok create an impact on Gen Z people. Now you can also earn money by creating viral short video content.
From research, we get to know that Tik Toks are downloaded by 2 billion people and it's most of the Gen Z people. It has a strong understanding of social connection. But now, Instagram introduces us with a feature named "Reel" which seems to be the same as Tik Tok features. In Reel, you also post your short video content and earn money by getting a large number of views on it.
2. Tell a Real Story
Customers are really sick of hearing about how your product is and whether it is a no.1 product or not. Customers have bent towards hearing a story. They love to see how your product creates an impact on people by telling a story. It helps your product to get noticed and by making it more attractive, you are able to gain popularity.
It also helps you to push down all your bad reviews and gain more sales of your products. Here you can call it, Online Reputation Management(ORM). With reputation management service, you will be able to monitor and also manage all your social media platforms and maintain your brand's image.
3. Effectiveness of Artificial Intelligence in Digital Marketing
Artificial Intelligence is playing a main role in digital marketing. Now we are getting dependent on Artificial Intelligence. With AI, the world gets smarter by using automated marketing tasks.
Here are some examples which help to understand better such as when you drive a car, you always get stuck in traffic and you waste your precious time there. By using direction mapping software you can easily avoid traffics, and accidents, and find short roads. Now we all use the ride app which is a core example of Artificial Intelligence. AI has the ability to analyze more data than humans usually do.
With AI, You are able to know what customers exactly need and provide them with the exact product. Advancements in Artificial intelligence will be at such a point where you can sense customers' needs without targeting them by showing them products.
4. The Metaverse
We see Facebook now a part of "Meta" and It is a huge announcement for people that the metaverse is now going to be part of our life. It would become " the next internet" for people according to Mark Zuckerburg. The metaverse refers to a virtual digital world, where users make avatars, buy properties, play, work and socialize with other people and more.
Metaverse is going to be a great opportunity for brands to buy and sell products. Brands need to think of the virtual world as a part of digital marketing strategy 2023. They will be able to show ads for their products. You have to understand that " the Metaverse" is going to be a Future in the Digital World.
5. Voice Search Optimization
We see that 55% of Gen Z use voice search every day. This is a massive success for voice search. First, we introduced voice search in 2014 still then it slowly is gaining popularity day by day. Now a maximum number of households carry smart speakers such as Alexa, or Siri. These tools are totally voice-controlled. This indicates how people are going to be accustomed to new technologies.
Conclusion:
So here are our latest 5 Digital Marketing trends 2023 which you can't ignore. From metaverse to Alexa everything is now going to be a part of our future. New technologies never disappoint to give us surprises. Digital Marketing is full of opportunities that we are always looking for. Now in digital media, if anyone wants to make a career in digital marketing, there are lots of opportunities you will get.
We hope this article gives you all information about emerging trends in digital marketing in India. It has been an interesting read for you. To know more updates keep checking our blogs.