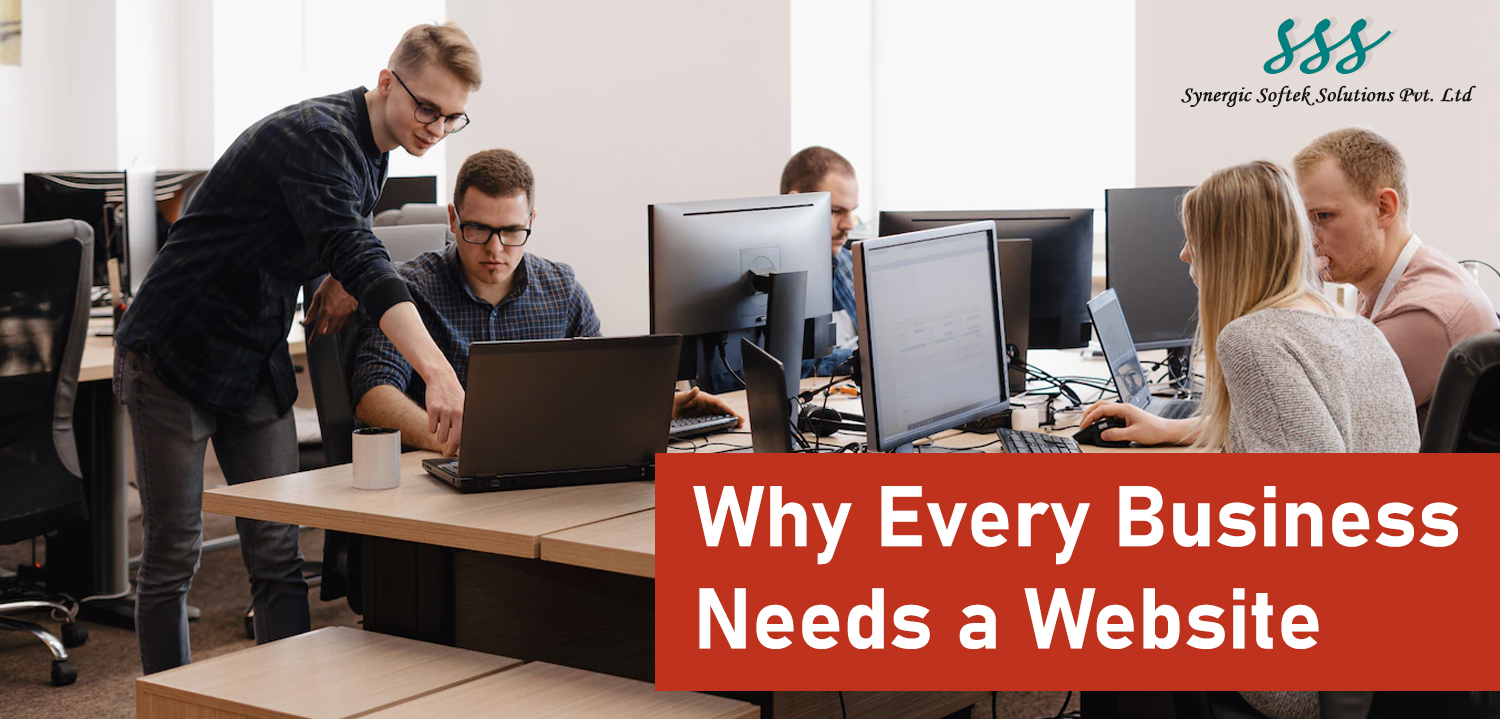 Why Every Business Needs A Website
February 28, 2023
|
6

min read
By: admin
Despite having a great offline acknowledgement, does a business still need a website? What are the benefits you get from being on the internet? No more worries about it. Here, we are going to discuss the top 6 reasons why every business needs a website.
After the invention of the internet, the world feels like a smaller room to us. Whatever we need. We find it at our fingertips. Most of the people on this earth are now on the internet and share their stories or communicate with people who might live far from them. All dreams come true because we live in an era where the internet has become a basic need for us. So, why would business owners be far behind in promoting their companies on the internet? So, don't waste time overthinking it. Here, we will give you a proper guide on how you can run a website successfully all over the internet.
Importance of a Website in Digital Marketing
A website is the most important part of digital marketing because it is the foundation of your online presence. Your website is the online home of your business and it is the first place target customers will go to learn more about your products or services. A well-designed website will give your business a professional appearance and help to stand out from other competitors.
Your website is also the best place to showcase your brand identity and control the message you want to share with your customers or users. Through your website, you can share your brand story, highlight your selling offers, and provide visitors about the information they need to purchase your products or services. An effective digital marketing strategy will make use of all your channels available to reach your target audience and engage more customers to your website.
Reasons Behind Why a Business Needs a Website
Here are the 6 reasons why a business needs a website, which refer to the benefits of a website for business which is mentioned below:
Increase Brand Awareness
Create a Professional Image
Notice by More Users or Customers
Drive Organic Traffic
Cost-Effective
Boost Sales
1. Increase Brand Awareness
A website is a powerful tool for creating brand awareness. It helps to create trust and familiarity with the company, as well as generate interest in its products or services and brands. So, for example, if you run a company that sells candles, people visit the company page to know a little about the company before making a purchase.
They might read about the products or services your company provides and learn more about the people who run the company and might check the reviews about your products or services. All this information helps to build a healthy relationship with customers and encourages them to come back and buy products or services again.
2. Create a Professional Image
It is no secret that a website can create a professional image on digital media. A website can help to improve search engine ranking, which can give people the first impression of your business. But more than that, having a good website can also help you to promote your products or services and generate additional revenue for your business. Today, anyone can create their business on social media in a jiffy.
So, it is very easy to start a business, but it seems difficult when you want to promote your business. Believe it or not, every user checks the quality of products or services you are provided before buying them to check the credibility of your business. Having a professional and trustable business online will help to improve the credibility of your business.
3. Notice by More Users or Customers
Before, many people called the company many times with their own queries. Sometimes, the staff of your company weren't able to pick up the calls. For this particular reason, businesses lost many customers. For attending calls, the staff miss their other work. It created a big problem for a business.
After having an online presence, businesses don't need to stand by the phone table and answer calls all the time. And it also helps to increase the productivity of the team members of a company and it allows you to build better customer engagement and experience.
For increasing user engagement, you can create survey reports, quizzes, poll surveys, games and more with these things the user gets interested in and attend those surveys which create more user engagement.
4. Drive Organic Traffic
There is a very high chance that your website will be ranked well in Google search results if you have developed an effective website using various search engine optimization techniques. The higher your website ranks in the search engine results, the more likely it will be that people will find your website when they search online for a product or service like yours. As a result, you will get more traffic to your website.
5. Cost-Effective
Many businesses still think that creating a website is very expensive. But it is not true. The cost of creating high-quality websites has never been lower or easier. But you can hire a company to create a website for your company in the easiest and most cost-friendly way. It is fairly straightforward to set up a website and host it.
6. Boost Sales
One most important reason to have a website online is to boost sales for your company. When people find your company then if they find it attractive they will click on it and learn about your company and the products and services you provide.
A website is the easiest and best way to know about any business. Customers can get the contact details about the company which is an opportunity to boost sales. If you sell products or services only online then you can use plugins to increase sales more.
Conclusion
Today, it is very important to have a website for business. If you have a professional and trustworthy website, you will gain more customer engagement on your site. We hope this article helps you to understand why a business needs a website better. But if you are still struggling with creating a website, don't hesitate to contact us. Our expert team is always here to help you. And if you want to read more trending topics, then keep your eye on our blog page.