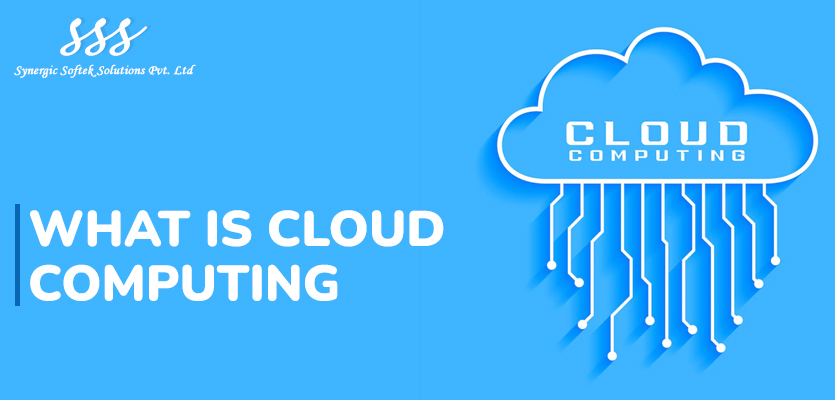 What is Cloud Computing – Everything You Need to Know
October 11, 2022
|
7

min read
By: admin
In simple words, cloud computing is the process of delivering various services such as servers, software, networking, data storage and databases through the internet. Cloud computing services offer flexible resources, excellent accessibility, and a scale-up economy.
Now don't need to save your file on local storage or hard drive, help with cloud-based storage you can make file saves in a remote database. You can able to run it through your system. It is a popular and secure option for any business and company. For any business or company, everyone looking for big space storage, and that's why the popularity of cloud storage is increasing rapidly. Cloud computation offers two types of services such as public and private. Public Services provide online to everyone and private service is for a specific person.
What is Cloud Computing
Cloud computing gives you the accessibility to files or private large amounts of information which is mainly found remotely in the virtual space (cloud), via the internet. Companies which offer cloud computing services share all data or files in a remote database and then work through the internet. Users can able to handle their data anywhere anytime via the internet, they don't need to require any specific space to access it.
With the help of cloud computing, you may process data without having to sit down at a computer or carry around heavy equipment. Your data, files, and applications are accessible from any device that can connect to the Internet, wherever in the globe, as soon as the Internet turns into the cloud. This is the simplest cloud computing definition.
Top benefits of Using Cloud Computing
Cloud computing brings huge changes to businesses or companies and IT resources. Here are the top benefits of using cloud computing which is mentioned below:
1. Reduce Cost
2. Flexibility
3. Powerful Security
1. Reduce Cost
You are not the only one if you are worried about the cost of switching to cloud computing. However, those who are willing to balance the drawbacks and benefits of using cloud online computing need to take into account more than just the primary cost; they also need to take ROI into account.
If you're using the cloud, you can able to quick access to your company's data will let you launch projects more quickly and affordably. That means if you don't take any advantage of cloud services, then you won't have to pay for it.
2. Flexibility
Cloud Computing provide great flexibility to businesses or companies. It provides extra bandwidth and storage space and you easily access files or applications over the internet. This flexibility and freedom will bring a huge change to your organization.
3. Powerful Security
The security of a company's data is one of its top priorities. The cloud has various security technologies that ensure data is handled and kept safely. By limiting access to critical information to those employees who need it, features like granular permissions and access management through federated roles help reduce the attack surface for unscrupulous actors.
Providers of cloud storage adopt fundamental security measures for their systems and the data they handle, including access control, encryption, and authentication. The majority of businesses then apply additional security measures of their own to these safeguards to further strengthen cloud data protection.
Types of Cloud Computing
Not all cloud computing is not everyone. There are various types of cloud computing to provide customer satisfaction with what they need. Here are the three ways to provide cloud computing which are given below:
1. Private Cloud
2. Public Cloud
3. Hybrid Cloud
1. Private Cloud
Third-party providers provide private clouds with a company that hosts their own data centre and accesses their data on the remote database. A private cloud can be located physically in the data centre of the company of business. Many companies pay the third-party provider to host the private cloud for maintaining the private network such as IBM, Vmware, Elastra private cloud and Ubuntu.
2. Public Cloud
With the public cloud, could computing services can deliver computing resources such as software, server, networking, and hardware via the internet. You can access this data or files via the internet.
3. Hybrid Cloud
Public and private clouds are combined in hybrid clouds, enabling data and applications to be transferred between them. A hybrid cloud allows your organization better flexibility, and additional deployment options, and helps you optimise security, your current infrastructure, and compliance by enabling data and apps to flow between private and public clouds.
Types of Cloud Computing Services
There are three types of cloud computing services provided by third-party service providers. Here are the all types of cloud computing services which are mentioned below:
1. Platform as a Service (PaaS)
2. Software as a Service (SaaS)
3. Infrastructure as a Service (IaaS)
1. Platform as a Service (PaaS)
Platform as a Service is mainly for developing, managing, and delivering applications. It makes it for developers easier to create mobile apps, you don't have to worry about managing the underlying infrastructure of storage, servers, network and databases. PaaS services enable higher-level programming and can speed up application development. Micro Azure platform is a perfect example of Platform as a Service.
2. Software as a Service (SaaS)
A software programmed is license to clients as part of the software-as-a-service (SaaS) model. Usually, licences are made available on-demand or on a pay-as-you-go arrangement. Google is a suitable example of Software as a Service (SaaS).
3. Infrastructure as a Service (IaaS)
IaaS is a technique for supplying anything through IP-based connectivity as part of an on-demand service, including servers, operating systems, and storage. Clients can obtain software and servers through an on-demand, outsourced service rather than having to buy them outright. Could computing example is Amazon Web Service (AWS) as an Infrastructure as a Service.
Advantages of Cloud Computing
Cloud Computing is storing data and programs on remote servers instead of on a hard drive or personal computer. The purpose of this service is to save space for data and programs that can be accessed anytime from anywhere with an internet connection. With Cloud Computing services, people can access their files from any location – their office, home or while they are travelling abroad. It also helps keep high-end security.
Cloud-based services make it easy for you to store your files in one place, access them from anywhere, share them with others with ease, as well as edit them from any device.
The cloud also stores data in remote servers so that there's no need to worry about hardware failures or data loss on the local device anymore. This way if something happens to your machine or if you change laptops, you won't have to worry about transferring all those files again. Just log into your account and everything will be right there waiting for you.
Disadvantages of Cloud Computing
The first disadvantage is a security problem. The data centres that store your information are not owned or managed by you but by a company you have entrusted the data to. This is an issue because the company has access to your information and might not secure them properly. Cloud computing may also be too restrictive for some individuals depending on how much privacy they need.
The major disadvantage is that data is not as safe in the cloud as it is on your own devices. When your data is stored on a server, an Internet connection, and a power supply are required so hackers can easily get to your information. This means that if you lose your password or someone hacks into your account and changes it, you could lose everything. On the other hand, when you store your data on a personal device like a laptop or smartphone, it's much more difficult for someone to break into it even if they know how to do so because you can lock and encrypt files with passwords which are much harder to crack than those of most servers.
Conclusion
Cloud computing has been a popular topic in the past decade, but it is not fully understood by many people. This is because, unlike traditional computer systems, cloud computing deploys in a pool of computers, and the user accesses it from anywhere through an internet connection. This article will discuss the significance of cloud computing and what are the advantages of cloud computing for users.