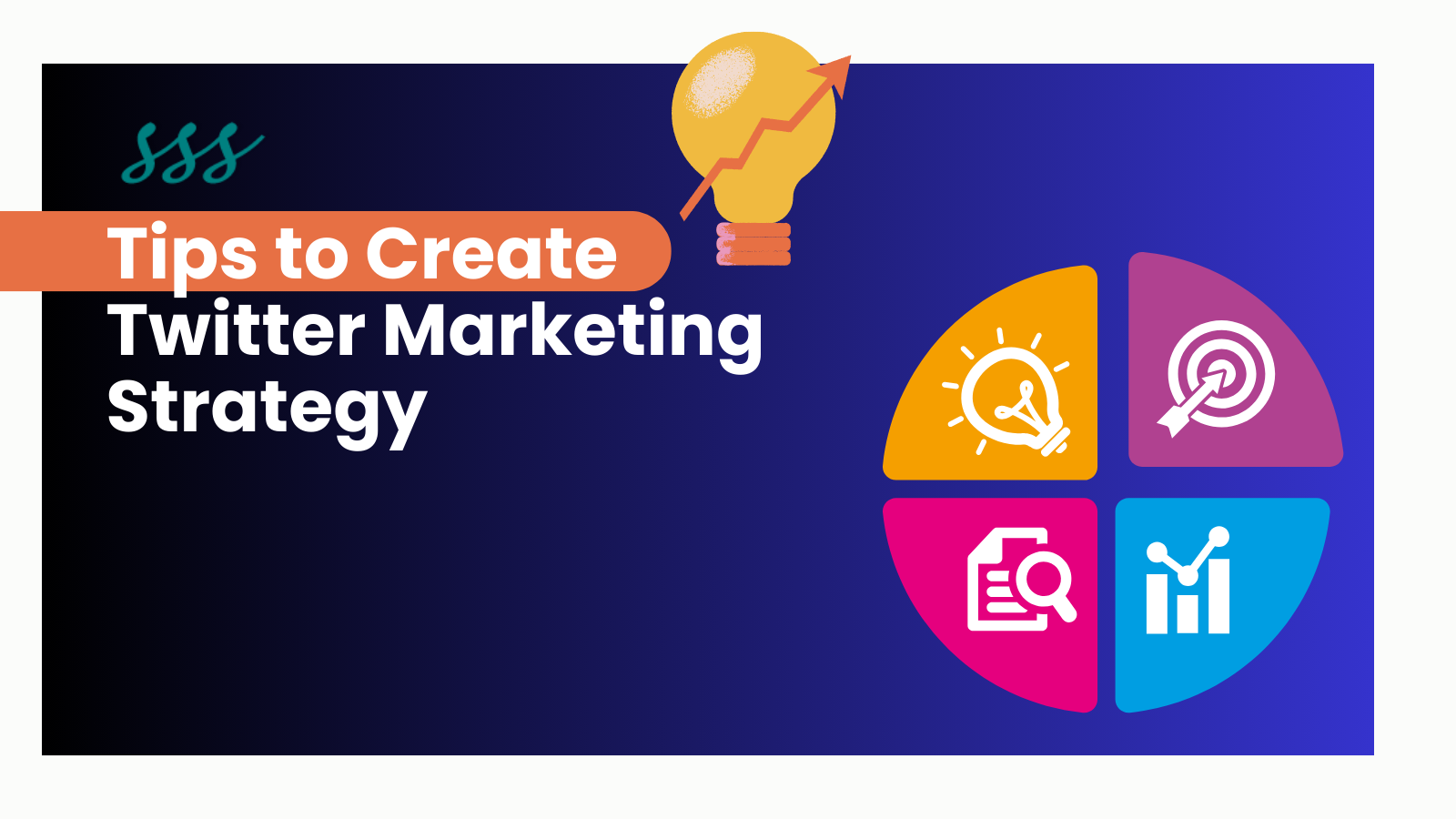 Latest Tips on Creating A Twitter Marketing Strategy for Your Brand
September 22, 2023
|
9

min read
By: admin
Every business wants its presence on every social media platform to reach out to a massive amount of customers. Twitter is now growing rapidly over the internet with more than 145 million users. It is the fifth most popular social media platform but it is an excellent platform for businesses and brands to build a strong connection with customers. But if you are new to Twitter and you need your business to grow on Twitter, then you need to be strategic while creating a market for customers. Here is our guide which may help to create a Twitter marketing strategy for your brand.
What is Twitter Marketing Strategy?
A Twitter marketing strategy refers to a process of creating, distributing and publishing content on Twitter to reach customers and aimed at increasing traffic, clicks and sales on your website. The main focus is to attract customers, and bring new followers, leads, and brand awareness through marketing campaigns, and tweets. While creating a Twitter marketing strategy, you have to maintain all steps the same as you do while social media marketing strategy.
Research on Audience Needs
Create a Unique Content
Organize a Schedule
Analysis of data and result
Top Benefits of Twitter Marketing
When you start your Twitter marketing, you will achieve several benefits. The platform allows you to interact with your customer, knowing about their needs and perspectives, and it will help you to increase awareness of your brand, keep yourself up with new trends, and develop things happening over the internet. There are some advantages of Twitter marketing which are mentioned below:
Build brand awareness
Increase website traffic
Brand sales
Customer research
Having ideas about new trends
How to Create A Twitter Marketing Strategy for Your Brand?
It seems very easy when you start creating a Twitter marketing strategy. It is not just about creating an account and tweeting something, you need a proper plan to implement your marketing strategy on Twitter. While you want to implement strategic Twitter marketing, you need to stand out from your competitors and use all its advantages. Let's discuss the latest tips on creating a Twitter marketing strategy for your brands.
Customize Your Brand Account on Twitter
Research on Audience Move on Twitter
Check the Competition
Use Trends and Hashtags on Twitter
Create Twitter Ads
Schedule the content Calendar
Host Chat on Twitter
Engage with Your Audience
Budget and Resources
Measure and Analyze
1. Customize Your Brand Account on Twitter:
A professional customized business profile always attracts customers or followers. If someone looks at your profile, how does someone know it's your profile? For that, you need to customize your brand account on Twitter. There are some tips you must have to check while customizing your brand Twitter account:
Profile Picture: You need to set a profile picture for recognition. A Twitter profile picture refers to every move, every interaction, and every success made by your company or business. You can set your company's logo or photos of the CEO of your company as a profile picture above the bio.
Handle: You can use your username as a handle on Twitter. This should be your company's name which helps to search and find you on Twitter. After signing up for your business account, you are able to create your handle on Twitter.
Bio: A Twitter bio is a representative of your business. It is an attractive short description of what your business does, and what you sell. A bio is so Followers can understand you when they see your bio.
Website URL: Under the bio and profile picture, there is a location where you can add your website URL which helps to gain more traffic to your website.
2. Research on Audience Move on Twitter:
After deciding on your target audience, you need to Look into what they want. Discover their Twitter schedule and the accounts they follow most frequently. You can develop a cohesive blueprint for your marketing approach by investigating how your audience interacts on Twitter. It enables you to begin making choices, such as when to publish and which tweets you want to take inspiration from.
You may see other pages that your followers like using Twitter analytics. Additionally, it can reveal information about your followers' ages and occupations. You may see your competitors' engagement data with the aid of tools like Twitonomy.
3. Check the Competition:
When you are on a social media platform to sell your products or services, you need to look for your competitor's profile. You need to analyze why they have many followers, what their marketing strategy is and how they sell their products or services. For Twitter, you need to follow these steps while checking out your competition:
Identify your competitors
Make a List of them
Check out their business Profile
Analysis of their target audience
Look for their content
Analysis of their Twitter marketing strategy
4. Use Trends and Hashtags on Twitter:
A Tweet with a hashtag creates more engagement with the audience than a tweet without a hashtag. The hashtag is a feature that everyone uses on social media platforms, but Hashtag, an excellent statistic, was born on Twitter. It is not about poring over your tweet with all the hashtags you see, It is about how relevant hashtags you use on your tweet. This is an outstanding way to attract an audience and make new followers on your Twitter brand profile. It is very important to understand where you utilize your hashtags to make an impact on audiences.
The trendy topics and hashtags are shown on Twitter's Explore page. Participating in these discussions will increase the number of people who see your posts. Just make sure you are aware of the context to prevent any awkward blunders.
5. Create Twitter Ads:
Creating paid Twitter ads gives you more followers to grow your business or company. You don't have to wait for the organic search results to show your brands on that first list. If you use different types of tweets for one goal, then Twitter ads are the best option.
If you promote your tweets, it automatically shows on timelines of users who don't even follow you. When you want to promote your tweets or create Twitter ads you have to pay a monthly fee for it. Users can interact with you the same as when they interact with you on organic content.
6. Schedule the content Calendar:
Instead of manually posting each tweet one at a time, schedule your tweets in advance to advance your Twitter strategy. You can keep on top of your content calendar and streamline the time you spend on social media by scheduling. You won't ever forget to send a crucial tweet as a result of a tardy afternoon meeting.
You may increase engagement by posting at the most effective times by scheduling your tweets. These timings are based on Twitter's overall activity; your specific audience may be more engaged at various times. You can determine the optimum times to post by tracking your activity with analytics and modifying your posting schedule as necessary.
7. Host Chat on Twitter:
To connect with followers, you can host a Twitter chat where you can discuss something or ask your followers to take their opinion which helps you to engage with your audience. For hosting a Twitter chat, you need to pick a topic, set a timetable and date, and create an attractive hashtag to get noticed by audiences. You can announce it on Twitter and invite them to participate.
Everyone who likes to join a Twitter chat is able to see all the comments, chats, questions, pictures, and more. Twitter Chats help you to promote engagement on your account. It is also a forward step to making a bond with your audience.
8. Engage with Your Audience:
Don't just follow accounts passively; actively engage with their content by liking, retweeting, and commenting on their tweets when appropriate. This interaction can help you get noticed by the accounts you follow. Respond to mentions and direct messages promptly. This shows that you're attentive and willing to engage in conversations, which can encourage others to follow you.
Retweet and share valuable content from your followers and other accounts in your industry. This can lead to reciprocal followers and increased visibility. Participate in discussions, and offer insights or solutions to problems within your niche. This positions you as an authority and attracts followers interested in your expertise.
9. Budget and Resources:
Determine how much you are willing to allocate for Twitter advertising campaigns. Twitter offers various advertising options, including Promoted Tweets, Promoted Accounts, and Promoted Trends. Your budget should align with your advertising objectives, whether it's increasing followers, driving website traffic, or boosting engagement.
Allocate a budget for content creation. This includes expenses related to creating visuals (graphics, videos, images), hiring content creators, or acquiring tools and software for content generation. Content is at the core of your Twitter strategy, so investing in its quality is crucial.
Invest in social media management and analytics tools to monitor your Twitter performance effectively. These tools can help you track engagement metrics, schedule posts, and gain insights into your audience's behavior. Consider popular options like Hootsuite, Buffer, or Twitter Analytics.
10. Measure and Analyze:
Start by revisiting the marketing objectives and goals you defined in the earlier stages of your strategy. These goals could include metrics like increasing followers, boosting engagement, driving website traffic, or generating leads.
Identify the key performance indicators that align with your objectives. Common Twitter KPIs include engagement rate (likes, retweets, replies), follower growth rate, click-through rate (CTR), conversion rate (for website traffic and lead generation), and social share of voice.
By consistently measuring and analyzing your Twitter marketing efforts, you can make informed decisions to refine your strategy, improve engagement, and ultimately achieve your marketing objectives. Remember that Twitter is a dynamic platform, so staying agile and adaptable based on the insights you gain is essential for long-term success.
Conclusion:
We hope this article will help you to understand why to need a Twitter marketing strategy and how to create it better. Today Twitter is one of the biggest marketing platforms when you want to promote your brand, then Twitter is an excellent option. It has the ability to gain more traffic to your website and increase your sales. If you want help with creating a Twitter marketing strategy, we as a leading digital marketing company are always here for you. If you are looking to read more content on trendy topics, keep your eye on our blog page.