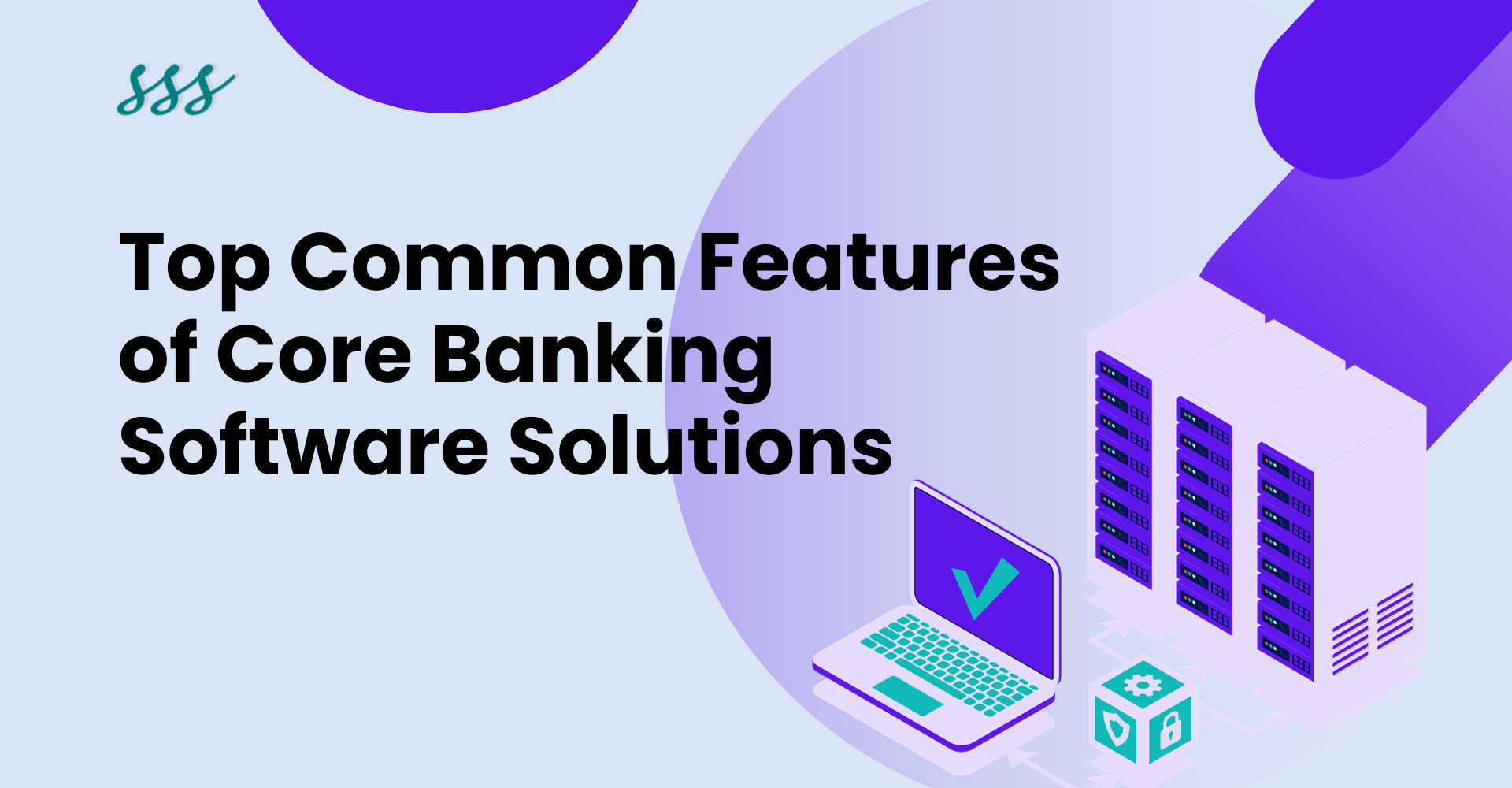 Top Common Features of Core Banking Software Solutions
November 9, 2023
|
8

min read
By: admin
With the advancement of Internet technology, banking sectors have seen some drastic changes in the last decade. Banking systems have been through an immense transformation which has introduced some new methods in banking activities. After the invention of neo-banks, the competition has increased up to the next level significantly. Modern and sophisticated banking methods have replaced traditional methods due to technological advancements.
In the world's economy and financial system, banks have evolved from simple places to lend and deposit money. This huge change has occurred because of the revolution in banking technology. Banks are now introducing us to customer-friendly core banking software solutions that help with reducing time, 24/7 accessibility, and improving performance to increase customer experience and gain customer trust. If you are wondering whether you adopt core banking solutions or not. Here, we are going to discuss the features of core banking software solutions to give a clear idea of core banking systems.
Definition of Core Banking
Core banking refers to a back-end system that connects various branches with the main banks and delivers the same quality operations such as withdrawals, deposits, loan management, and payments in real-time as the main branch does. It is an integral part of banking technologies which provides the best services to their customers. In simple words, core banking is a business that is conducted through banks to various retail businesses. It allows customers to look into their accounts and their transfer of funds anytime anywhere.
If any updates of any customers' accounts take place, the notification is automatically posted. These kinds of advantages offer customers more freedom. The first word in Core Banking, core refers to a Centralized Online Real-time Environment which indicates that the software can be accessed by various bank branches from one centralized data centre. Wherever a transaction or payment is made, it is updated immediately on the bank server. For example, when any customers withdraw money from the ATM, a short notification request comes up in the bank server and then they process the request to run a successful withdrawal. Most of the services are conducted through mobile banking, internet banking as well as ATMs.
Types of Core Banking Core Banking Software Solutions
Based on hosting, there are two types of core banking systems which are mentioned below:
1. Cloud-based Core Banking Software:
As it sounds, the software is hosted on the cloud. How many cloud vendors offer the core banking application on a pay-per-use and Cloud-as-a-Service (CaaS) basis. However, if a company wants to move its local servers to the cloud, it can take advantage of core banking software.
2. On-premise Core Banking Software:
First, you need to know about "on-premise", which refers to local hosting software that is installed and runs on the computers of a company maintained by the company's own IT experts.
Features of Core Banking Software Solutions
Here, we have gathered the most common features of core banking solutions which are mentioned below:
1. Bank Account Management
With the advent of core banking solutions, users can easily access their accounts, make cash transactions and withdrawals, and check their transaction history and deposits. A user can use this feature without having to open a web browser to use the app. You also enjoy other subfeatures with this bank account management feature which is mentioned below:
Make a repeat Payment
Set a Goal
Invest
2. Mobile Deposit
Recently, the remote mobile deposit has been known as the most searched feature, and customers have become generally advanced with that feature. For mobile deposits, you need to scan and transmit the picture of a check to a bank digitally which helps to save lots of time. You don't need to travel to the bank institution and line up in a queue for a cash deposit. But with the mobile banking app, it just takes some minutes to click pictures of the cheque through the MICR band.
3. Strong Security
When it comes to core banking solutions, it offers strong security for each customer. Confidentiality and protection are immensely emphasized in banking systems. To gain customers' trust and loyalty, bank institutions need to ensure that information about their customers is secured and safe with the system and that all feedback can be seen through the app. Most core banking solutions required two-factor authorization to boost security for customers' personal data. The system can be tracked if any cheating has happened during any transaction. You'll be the first to know if any suspicious action is detected.
4. Live Chat
Live chat needs to be on the system to help their customers whenever they need to contact any support agent as their assistant to solve the problems they have faced. Automated chatbots provide answers to their customers' questions whenever they ask. A chatbot can maintain hundreds of customers at one time without waiting for answers for a long time.
5. Multi-Currency Features
Core banking software solutions need to be multilingual in order to support multicultural banking. Here is some attribute which is used in the system:
Base currency and balance sheets of multi-currencies
The choice of the base currency
Accounting for base currency and multi-currency accounting
Set up for multi-currency
6. QR-Based Payments
From banking apps, you can easily make payments by scanning QR-code features. Today, it is one of the easiest and most comfortable ways to pay for any service and you can only search QR codes from mobile.
7. Transaction Management
To ensure that their contact lists remain updated, clients can customize their popular payments and P2P transfers. The currency of their choice can also be traded on multi-currency exchanges.
Top Advantages of Core Banking Software Solutions
Once you have a better understanding of the features of core banking software, it is time to shift your attention toward the benefits of core banking solutions. Let's get started with the best benefits:
1. Improve the speed of the production process:
One of the most crucial features of core banking software is it has the back-end powers that maintain workflow between every branch. It helps to improve operational efficiency by reducing time. As a result, no matter what the user's location is, all transfer processes will be faster way.
2. Enhance Security:
With an advanced level of encryption model, core banking software can easily maintain security and safety from malware and hackers. Whenever any client wants to log in, the software offers a two-factor verification and bio-verification to make it more secure on the platform. These kinds of security features enable banks to continue with their KYC standards and maintain other banking regulations.
3. 24/7 Accessibility:
As we are already familiar with online payment methods, 24/7 accessibility is a vital service for the financial system. With core banking solutions, you can easily access your bank accounts and conduct any banking operations anywhere anytime. If clients face any kind of problems while operating their bank accounts or conducting banking operations, they can contact customer support at any time.
4. Less Operating Cost:
As these systems are less resource-intensive, banks can reduce operational costs using their core platforms. AI-powered infrastructures also increase operations' completion rates and reduce documentation errors.
5. Multiple Currency Feature:
Users can easily make any purchase decision with multiple currencies without paying any kind of charge for it at the currency exchange.
Major Disadvantages of Core Banking Software Solutions:
Despite having a lot of benefits of using core banking solutions, there are loopholes we can see: Some of them are:
1. Technical Issues:
As core banking software is technology-reliant, any technical issues can happen at any time at any moment. One technical disputation can bring a huge risk like halting any banking operations at that moment.
2. High-Cost:
CBS might make all banking operations easier and faster, but it is a little bit costly. It is one major disadvantage of core banking solutions for small or mid-sized banks.
3. Need to Prevent Cyberattack:
If the bank's central server is attacked, the entire operation can be halted. To protect against such attacks, the bank must be cyber detection software and resilient, incurring significant costs.
Conclusion
We hope this article on the top common features of core banking software solutions will help you to understand it better. If you need help with your core banking system, we are here to help you. We provide the best core banking solutions for cooperative banks in Kolkata. If you like to read articles on trending topics, keep your eye on our blog page.