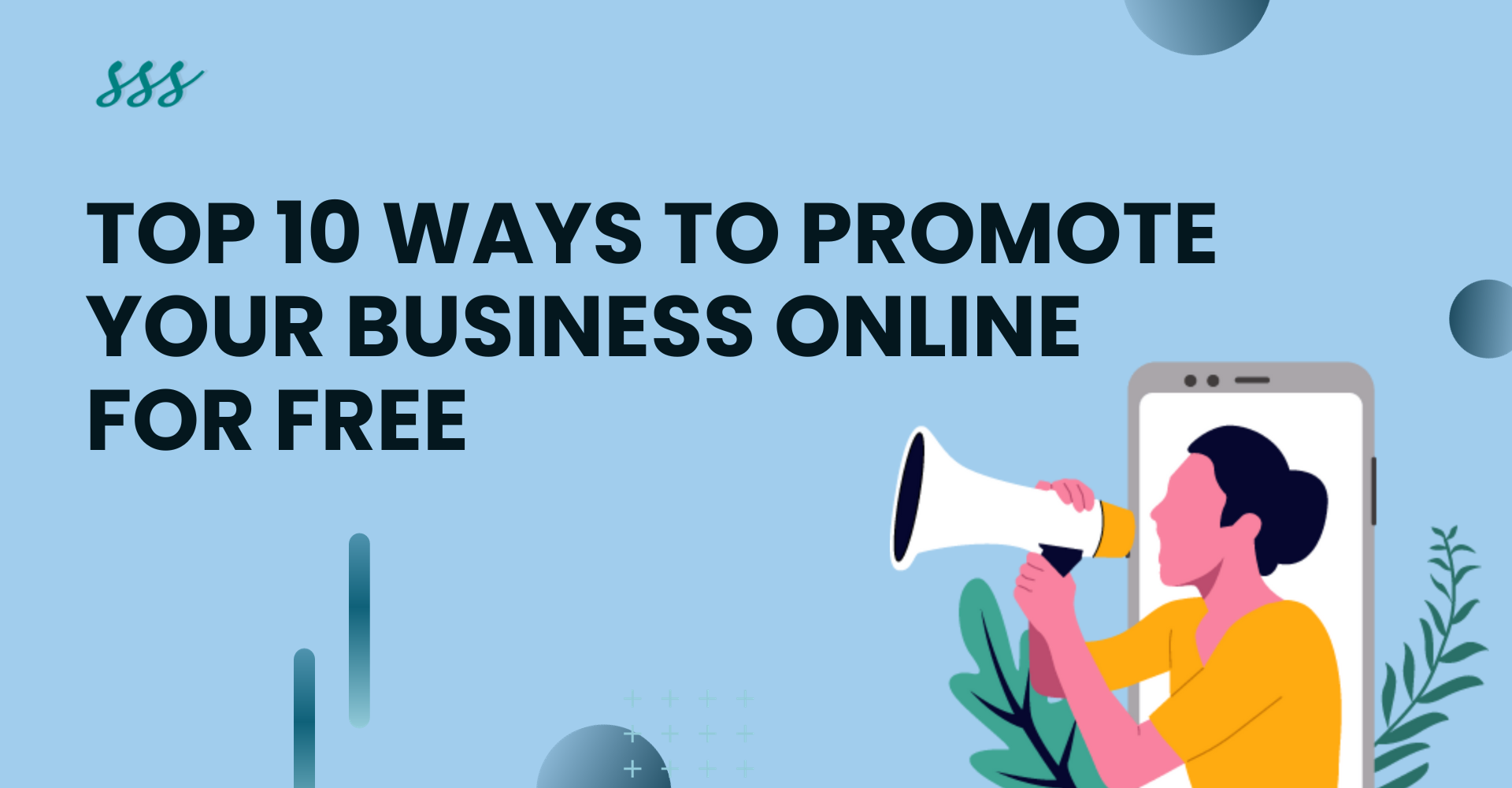 Top 10 Ways to Promote Your Business Online for Free
October 11, 2023
|
12

min read
By: admin
In today's hyper-connected digital landscape, promoting your business online is not just an option; it's a necessity. However, you don't always need a hefty marketing budget to make a significant impact. There are numerous cost-effective strategies and tactics that can help you effectively promote your business online for free. In this article, we will explore a variety of these methods, providing you with a comprehensive guide to boost your online presence, attract your target audience, and ultimately drive success without breaking the bank.
The internet has democratized marketing, giving businesses of all sizes an equal opportunity to compete in the global marketplace. Whether you're a startup entrepreneur with limited resources or an established business looking to diversify your marketing efforts, these free online promotion strategies can be the key to unlocking your brand' full potential.
From harnessing the power of social media and content marketing to optimizing your website for search engines and engaging with your target audience, there are numerous avenues you can explore. The best part is that many of these methods require more time and effort than financial investment, making them accessible to businesses with tight budgets.
Whether you have a B2B business or a B2C business, Today it is essential to promote your business online. However, it is not always easy to market your brand in the digital world due to the competition. There are numerous businesses that are already in this game because everyone wants to take advantage of the growing number of consumers online. Users search for local businesses online. According to Google, over 99,000 searches happen every single second. Therefore, Businesses are required to have an online presence today to grab user attention.
By implementing these strategies effectively, you can increase brand awareness, drive organic traffic to your website, build a loyal customer base, and ultimately boost your revenue—all without spending a dime on expensive advertising campaigns. Whether you're a seasoned online marketer or just dipping your toes into the digital realm, these free online promotion techniques will empower you to take your business to new heights in the digital era. So, let's dive in and discover the top ways to promote your business online for free, paving the way for your brand's online success.
Top 5 Benefits of Promoting Business Online for Free
Promoting your business online for free can yield a wide array of benefits, regardless of whether you're a startup or an established enterprise. In today's digital age, leveraging the internet to your advantage is not just a cost-effective strategy; it's practically a necessity. Here are the top five benefits of promoting your business online for free:
1. Cost Efficiency:
One of the most significant advantages of online promotion is its cost efficiency. Traditional advertising channels, such as print media or television, often come with substantial price tags. In contrast, many online platforms and tools are available at little to no cost. This means you can reach a global audience without burning a hole in your budget, making it an ideal option for startups and small businesses.
2. Wider Audience Reach:
The internet connects people from all corners of the globe, providing you with an unparalleled opportunity to reach a vast and diverse audience. Through social media, content marketing, and search engine optimization (SEO), you can extend your brand's reach far beyond the limitations of local or regional marketing efforts.
3. Enhanced Targeting:
Online promotion allows for highly precise audience targeting. Platforms like Facebook and Google offer advanced ad targeting options, enabling you to tailor your messages to specific demographics, interests, and behaviors. This results in higher engagement rates and a better return on investment (ROI).
4. 24/7 Availability:
Your online presence never sleeps. Your website, social media profiles, and digital content are accessible to potential customers 24/7, even when your physical location is closed. This continuous availability means you can generate leads and make sales around the clock, effectively expanding your business hours.
5. Measurable Results:
Online promotion provides access to an abundance of data and analytics tools. You can track the performance of your campaigns in real time, allowing you to make data-driven decisions and refine your strategies accordingly. This level of insight into your audience's behavior and preferences is invaluable for optimizing your marketing efforts.
Promoting your business online for free offers a multitude of benefits, from reaching a global audience to cost-efficiency and data-driven insights. It empowers businesses of all sizes to compete effectively in the digital age, making it a must-have component of any marketing strategy. By harnessing the power of the internet, you can unlock your business's full potential and drive growth and success.
How to Promote Your Business Online
If you are wondering about which are the best ways to promote your business, you are at the right place. Here are the top 10 ways to promote your business on the Internet which is mentioned below:
Have a Website
Create a PR Campaigns
Build an Email Listing
Create Content
Build SEO
Run Google Ads
Share Content on Social Media Platforms
Find Affiliates to Promote Your Brand
Add Infographics
Give Attention to Customer Reviews
1. Have a Website
Creating a website for any business with a top website development company that wants to market its products or services online, is the first thing to do. Businesses need to create websites with all the information that their target audience searches online for their products or services.
A website should consist of your company's name, address, mobile number, a short note about your company, what type of products or services you offer, what makes you different from your competitors, what achievements you have received in the last past years, and how users purchase your products or services. Having a website helps you to maintain your online presence over the internet. When any customers want to purchase any products or services from your website they want to go to your website to fulfill their purchase process. So, having a website is an essential thing for any kind of business.
2. Create a PR Campaigns
If you want your PR campaign to be successful, you should focus on something specific about your business. In the case of an official opening, a product launch, or a new initiative within your organization, you might start a public relations campaign around these developments. Your campaign should run for whom you want to attract to your business which means it helps you to identify your target audience.
For example, if you have a coffee shop and for your PR campaign, you can arrange a press release, publish ads, offer discounts, promote your website on social media platforms, use influencer marketing, and more. In the new location, every part of the campaign works together to let people know about the business, encourage them to visit the website, and see what the business offers.
3. Build an Email Listing
Email marketing is part of the digital marketing strategy which allows you to send updates about your business to your clients through the mail. It helps you to increase user engagement with your business. The main motto of any marketing strategy is to engage your customers by updating emails or SMS so that whenever they want to buy any products or services from your industry, they choose you first. For building email listings, you need to have all clients' addresses and mobile numbers. To capture emails of people who are interested in your business, you can create a sign-up newsletter, gather emails when they make purchases from your website, and host webinars for collecting mail.
4. Create Content
Content plays a vital role in promoting business online. Creating content is not just about writing blogs or articles, it is also about images, and infographics, creating social media posts, e-books, podcasts, videos, and more. It helps to engage more customers with your brand and provide them with the solutions or information that they search for on the internet.
It introduces customers to your brands but if only you can successfully rank your website content on search engines like Google and Bing. For those who do not own your brand, content marketing allows you to introduce yourself to your target audience, who you are, and what you offer and attract them to make a purchase.
5. Build SEO
Search Engine Optimization is orienting your online content with the particular search teams or phrases your target audience uses for searching your products or services. It helps to rank your content on search engine result pages (SERPs).
The more you get a higher spot on search engine result pages (SERPs), the more you'll gain more clicks, traffic, and even conversion too. The goal of SEO is to align your business's ranking algorithm with that of Google. Optimizing for search engines is really just optimizing for searchers, especially those searching for what you sell because these algorithms use machine learning and user behavior to provide the most accurate and quality results.
6. Run Google Ads
SEO is for getting organic traffic to your website, but it takes time to gain the achievement. But with paid Google ads, you are able to see quick results. But make sure you have the budget because, for a pay-per-click or PPC campaign, you have to pay for each click you get from search engines. Google ads are the best example of a PPC campaign. Google ads appear on the top of the result page, above the organic results.
7. Share Content on Social Media Platforms
Social media is another way to promote your business online to numerous target audiences. Today social media has become a gold mine of potential users, and it also allows businesses to introduce themselves to their potential audience. If you properly implement social media marketing strategies, you'll be able to promote your business to a larger audience and also, introduce you to more sales.
There are various social media channels such as Facebook, Twitter, Instagram, LinkedIn, Tik Tok and more which give you the opportunity to promote your business online. It is important to keep your product or service in mind when choosing the platform for your business. You can increase customer conversion rates with your social media accounts, monitor customer feedback, and cultivate connections.
8. Find Affiliates to Promote Your Brand
Consider starting an affiliate program if you would like to take product reviews to the next level. Like referral programs, affiliate marketing offers commissions for every sale made by other people. It helps you to get more CTRs, more traffic, and more leads to your website. If someone mentions your product's name or brand name in their blogs or articles, their followers will click on those links. This is how you gain more traffic. If they like your products, they might make a purchase.
9. Add Infographics
Adding designed infographics is the best way to boost traffic to your website which also helps in search engine optimization strategies. Today, users are more into visual elements, so quality infographics is the one way to attract more potential customers. In a proper infographic, you need to put the target keyword and information and solution that your target audience needs which helps to get noticed by your target audience.
10. Give Attention to Customer Reviews
Today, most customers read reviews before making purchases. So it is important to have positive reviews online. Also, if someone searches for your website on Google, and finds negative reviews on Google My Business, they might not be interested in opening your website.
The impression people have of your organization will definitely be impacted by whether your organization has a two-star rating or a five-star rating. In addition, if your business has a good rating, Google will show it to users when they search for businesses in your industry locally. You can maintain your online presence and attract more target customers to your business website if you gain positive reviews.
Conclusion:
The digital landscape offers a vast playground of opportunities for businesses to promote themselves online for free. From the power of social media and content marketing to the precision of SEO and email marketing, these cost-effective strategies can help your business thrive in the digital age.
Harnessing these methods not only expands your reach but also fosters stronger connections with your audience. The benefits are manifold: increased brand awareness, enhanced customer engagement, and the potential for exponential growth. Moreover, the internet provides a level playing field, allowing startups and small businesses to compete with larger counterparts, solely based on the merit of their online strategies.
However, it's important to remember that success in online promotion often requires dedication, consistency, and adaptability. It's not merely about broadcasting your message but also about listening to your audience, responding to their needs, and continuously refining your approach.
So, as you embark on your journey to promote your business online for free, keep these strategies in mind, and don't be afraid to experiment, learn, and evolve. The digital realm is ever-changing, and those who embrace its possibilities will find themselves well-positioned to thrive in the dynamic landscape of the modern business world. In the end, the effort you invest in promoting your business online for free can yield substantial returns, not only in terms of revenue but also in building a lasting, impactful brand presence in the digital sphere.