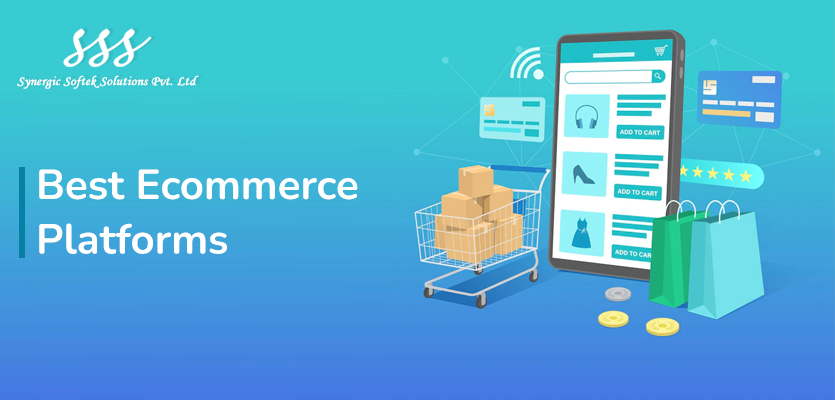 Top 10 Best E-Commerce Platforms in 2022
October 25, 2022
|
12

min read
By: admin
Choosing the right e-commerce platforms is always challenging. You need to keep in mind which e-commerce suits your needs. The right e-commerce platform requires proper functionalities and features that will help you to bring more traffic to your website. Today, there are many options which are very difficult to choose the right e-commerce platform. So, we are here to provide you with the top 10 best e-commerce platforms in 2022.
How Do You Choose the Best ECommerce Platform for Your Business?
With unlimited options in e-commerce platforms, it does make you confused to choose the best ecommerce platform for your business. But You need to analyze which features and functionalities are suitable for your business. There are some features you need to check before choosing the right e-commerce platform which is mentioned below:
1. Fix your Budget
Before choosing any e-commerce platform, you need to fix your budget. How much do you want to spend on an e-commerce platform? You need to keep in mind that expenses are over the license, maintenance, development, consultation and more. The E-commerce platform price rate always depends on the size of the e-commerce platform and revenue. 
For your online store, you need to choose an SMB solution to choose a perfect design and build your website. Maintaining Fees depends on which sector you need to fix such as SEO, marketing, security management, analytics and more. Transaction costs may differ between different e-commerce solutions. By going with the vendor's chosen payment option, you can wind up paying less. Look into each platform's integrated payments to determine if you can utilize any of their payment partners or if they integrate with the payment gateway of your choosing.
2. Having Knowledge of Your E-commerce Needs
Having knowledge of your e-commerce needs will lead you to the right choice of e-commerce platform which may suit your business. For that, you need to map down all the requirements that help you find an e-commerce platform for you. 
You need to understand what you want to do with your business, where is your business now, and What are the features your company offers? You need to think about the future. Where do you see your business in the future? Do you want to open more stores? You can also map down to think how users can find you to purchase your product. How do users find you? Which channels do they use to look for your business? You need to put it all together to get an idea of which e-commerce will suit your business.
3. Research on E-commerce Solutions
Before choosing the right e-commerce platform, you need to do proper research on e-commerce solutions where you are willing to spend money and which suit your business. You can also hire an e-commerce consultancy that helps you to choose the right e-commerce platform for you. To make things easier for you, here are some best e-commerce platforms which are going to discuss below:
Top E-commerce Platforms
Here are the top 10 best e-commerce platforms which are mentioned below:
1. Shopify
2. Big Commerce
3. Wix
4. Pixpa
5. Magento E-Commerce
6. 3D Cart
7. Elementor
8. Volusion
9. Quick eSelling
10. Yo!Kart
1. Shopify
Shopify is the world's most famous e-commerce platform. This platform is perfect for all kinds of businesses like B2B and B2C, online and offline. Around 4 million e-commerce websites are using Shopify, according to Builtwith. There are around 7,500 apps on Shopify App Store from where you choose.  With this amount of plug-ins and apps, you can build and grow your business easily. 
Features of Shopify:
The extensive range of tools and features that cover every facet of operating a business, from setting up an online store to multi-channel selling, shipping and fulfillment, payment processing, order administration, marketing automation, and more, is what sets Shopify apart from other platforms. The Shopify team even created a programme called "Shopify Capital" to make it easier and faster for retailers to acquire investment!
Given everything that Shopify has to offer, the notion that it is an all-in-one commerce platform is not overstated. We advise you to view it for yourself because we can't cover all of Shopify's features in one article and to maintain objectivity. To access their main landing page, click here. If you need more information, here are some features which you must check before choosing Shopify as the right e-commerce platform for your business. 
1. Free for everyone
2. Build an online store just in minutes
3. Fast-forward shipping methods
4. Around 100 plus payment gateways
5. Sell online and offline
Pros of Using Shopify
A fully hosted option that complies with level 1 PCI-DSS standards and has an SSL certificate

speedy loading

most user-friendly platform available. Shopify is skilled at accelerating and simplifying commerce for all users.

Unlimited bandwidth, storage, and product options

can support a variety of enterprises and is scalable

built-in blog CMS and marketing tools

beautiful themes that are customizable

extensive free learning materials to aid business owners in building a profitable enterprise

a sizable app marketplace with more than 7,500 apps
Cons of Using Shopify
Since some of the default capabilities are quite minimal, you'll eventually need to buy additional apps from the Shopify App Store. If you want to use Shopify to expand your business, that is unavoidable. It's similar to having to use plugins if your website is powered by WordPress.
Front-end customization is not difficult. The situation changes if you wish to touch the back end, though. Deep customization frequently calls for coding expertise, the purchase of an app, or collaboration with a Shopify partner (this is not a real problem with Shopify Plus. 
2. Big Commerce
BigCommerce is renowned for being the top open SaaS e-commerce platform in the world. The platform is also renowned for having a low total cost of ownership and extremely flexible APIs.
BigCommerce is what you need if you like how hassle-free SaaS is but yet want the adaptability and freedom of open source platforms. BigCommerce strikes a wonderful balance between the two. And as a result, the platform can simply adjust to meet the needs of growing and scaling for your organization.
Features of BigCommerce:
BigCommerce is the most featured e-commerce platform. It has its own customizability and Flexibility. You don't need to use any third-party apps and plugins, it has its own built-in features. BigCommerce offers you to control your own URL structure, edit robot.txt files, edit metadata and more. 
Other e-commerce platforms provide you with an ordinary analytic tool on the primary plan, if you want a more advanced analytic tool then you need an expensive subscription plan to get advanced analytic tools.  Big Commerce give you professional options of tools on all their subscription plans. Big commerce doesn't charge you any kind of transaction fees. 
Pros of Using BigCommerce
1. Flexible APIs
2. No issues with transaction fees
3. Built-in features
4. Great Scalability
Cons of Using BigCommerce 
It is not easy to use for beginners for its complex built-in features.

BigCommerce requires specific annual sales. You can make one for each plan. If you meet that requirement you will be automatically upgraded to the next plan.
3. Wix
Wix is very easy for beginners to use. IT offers some alternatives to building a website with hustle-free coding. If online brands need to build their website at an affordable price, then Wix is the best fit for it. With reasonable prices, 72 free themes, and an incredibly straightforward setup, it's the finest option for newly launched online stores.
You have the ability to design a website any way you want using the platform. Any element you wish to see in your business can be customized after you choose a template. You may always add additional features as your store expands to enhance its functionality.
Your store may be made mobile-friendly using Wix, which is advantageous to both you and your clients. To customize the mobile interface, switch to Mobile Editor. Get a tailored SEO plan by providing information about your website, location, and keywords if you want to increase your SEO performance.
Pros of Using Wix
1. Having a Good speed on Wix
2. Build your site easily
3. A lot of Templates Collections
4. Extend features of your site with Wix
Cons of Using Wix
1. For analytics and tracking you need a paid plan
2. Wix branding is forced by the Wix free plan.
3. Templates are not interchangeable
4. Pixpa
 Pixpa is a very easy-to-use e-commerce platform where users can easily sell their products or grow their online business. A massive range of templates, features and mobile-friendly platforms that are really good for beginners start with. You can use a no-code platform to build a fully functional, expert e-commerce website without writing a single line of code. E-commerce plans are reasonably priced, starting at just $7 per month. No extra fees. Templates A large selection of elegant, responsive, and mobile-friendly e-commerce templates.
Complete online store builder with cutting-edge e-commerce capabilities, including discount management, abandoned cart recovery, and inventory management. All in one spot, sell goods, services, or digital downloads. Ideal for creative enterprises Pixpa provides the best client proofing platform as well as choices for selling photographic and artistic prints to photographers, artists, and creative professionals looking for e-commerce and company management solutions. Through WHCC or Fotomoto, print orders can be automatically fulfilled or self-fulfilled.
Pros of Using Pixpa
1. Great Support System
2. Sell your product
3. Beginner's friendly
4. Massive range of templates
Cons of Using Pixpa
You can't publish anything in the trial period.

You can't use the same photos until you reload it. 
5. Magento E-Commerce
Magento is the most used e-commerce platform all over the world.  Mobile friendly interface, advanced SEO, flexible third-party integrations and other benefits make this platform most wanted all over the world.
Pros of Using Magento
1. Advanced SEO
2. Mobile Friendly
3. flexible third-party integrations
4. Versatile content management
Cons of Using Magento
1. Expensive
2. Less Developers'
3. Bad product service
6. 3D Cart
3DCart is the best e-commerce platform for online stores to rank their website and get more revenue. There are around 22,000 online stores in 20 years of service that use 3D Cart.  It is the most secure and powerful e-commerce platform in the world. It consists of SEO service, 100 plus payment gateways, 200 built-in features and over 50 free themes. 
Pros of Using 3D Cart
1. Secure e-commerce platform
2. User friendly
3. Scalability
4. Reliable
7. Elementor
The most popular CMS on the planet is by far WordPress. WordPress is the tool of choice for individuals wishing to build an e-commerce website because it produces websites that are both highly stimulating and technically complete. 23.5% of all online stores utilize WooCommerce, the leading WordPress e-commerce theme. But building a WooCommerce site can be very difficult if you can't code. Except if you use Elementor, that is.
Elementor is a potent website builder that allows users to create beautiful WordPress websites without writing a single line of code. Additionally, Elementor's robust e-commerce features allow for the code-free creation of extensive WooCommerce websites.
Pros of Using Elementor
1. Easy to Use
2. Outstanding functionality
3. Affordable
4. Unique Designs
Cons of Using Elementor
1. Slow Site Speed
2. Glitch Issue
3. Bad Customer Support
8. Volusion
A complete eCommerce solution with nearly 20 years of experience, Volusion makes it simple to start, run, and grow your online business. The platform gives consumers the ability to create online stores with a tonne of useful features and simple functionality.
With professionally created themes, a selection of navigational options, custom domains, a rich content editor, and more, you can start building your online store right now. You may build a website that offers fantastic customer purchasing experiences by utilizing all the features. This platform makes it simpler for you to start selling once you've finished designing your website. It provides attractive product pages, an elaborate ordering system, a flexible payment mechanism, strong security, and more.
Pros of Using Volusion
1. Professional Support
2. Good Customer Support
3. Secure
4. Good Site Speed
Cons of Using Volusion
1. Expensive
2. Third-party Plugin Support
9. Quick eSelling
A free online store can be launched by international business owners using the SaaS e-commerce platform Quick eSelling. More than 25,000 B2B and B2C businesses effectively use the platform worldwide. You may create, launch, and manage your e-commerce store to take advantage of the online & sales channel with Quick eSelling Ecommerce software without any coding knowledge.
It is a fully managed and hosted e-commerce platform with a potent CRM that allows for the management of orders, inventory, and customers from a single CRM. The platform also incorporates well-known third-party APIs and payment channels, like PayPal, PayU, QuickBooks, SAP, and others. Additionally, Quick eSelling offers a variety of customization options in case you wish to alter the appearance and feel of your online store.
Pros of Using Quick eSelling
1. Easy to Use
2. Secure
3. Good Customer Support
Cons of Using Quick eSelling
1. Expensive
2. Speed is not good
10. Yo!Kart
Yo!Kart is the most powerful e-commerce platform which helps business owners to build online stores. This e-commerce platform has served over 1000 businesses which includes enterprises, and startups. Every business owner has the opportunity to scale their business as their requirements. It is a self-hosted multi-vendor e-commerce platform all over the world. New version of Yo!Kart consists of numerous features such as pick up to store, geo-location, split payment and more. Yo! Kart offers one-year free technical support and free installation. 
Pros of Using Yo!Kart
1. Multi-vendor platform
2. Self-hosted
3. Powerful
4. Amazing Technical Support
Cons of Using Yo!Kart
1. Expensive
2. Site Speed not Good
Conclusion
We hope this article on the best ecommerce platform will help to understand it better. You may be able to choose an e-commerce platform for your business. These are the top trending platforms on e-commerce. These platforms are good to build your store or business. If you want to know more about it, then keep your eyes on our website. We are always here to help you.