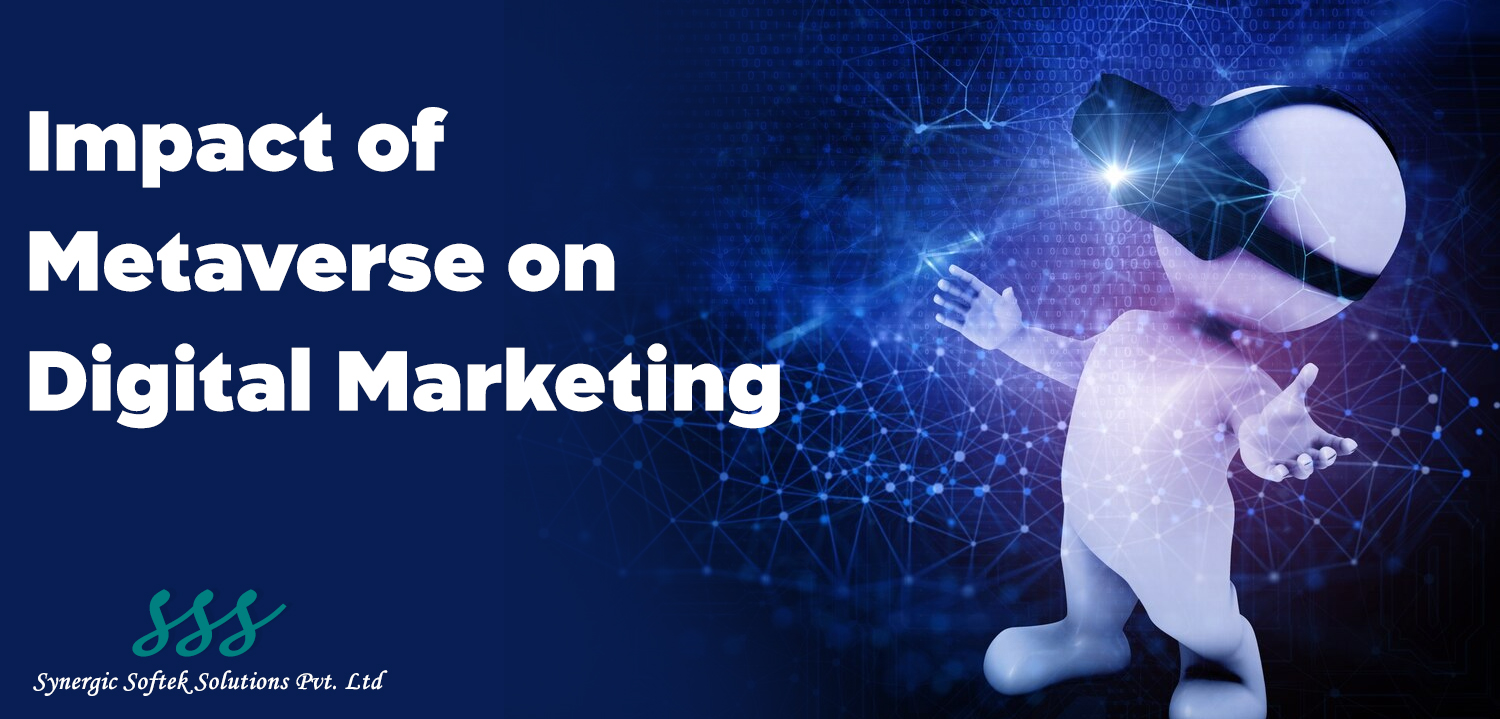 The Impact of Metaverse On Digital Marketing
January 10, 2023
|
6

min read
By: admin
Technology surprised us once again with a new innovation "Metaverse" , the most awaited invention. Over the last year, this term continuously gained popularity due to the announcement made by Meta, owned by Mark Zuckerberg. He announced bringing metaverse into life, connecting with people and helping businesses and communities to grow. But how does metaverse help to grow businesses? Even what does it mean? Many people are still in the dark about the concept of the metaverse. Here we are going to discuss the Metaverse and How it affects the digital marketing era.
Definition of Metaverse
You can't get a proper definition of metaverse anywhere, because still it does not present in the digital world properly. You see glimpses of the metaverse in some games like Fortnite, sandbox, Horizon Worlds, and Roblox. In the Metaverse, you create an avatar of yourself to present in the digital environment. In real-time, it exists as a self-contained universe with a huge collection of user-generated content. A metaverse is a space for spending your digital life that combines augmented reality (AR) and virtual reality (VR).
Many advertisements will be held on Metaverse. You can see local advertisements on the virtual roads. You can give ads for your products through Metaverse. There will be various sponsorship opportunities when any sport or music concert is held on the Metaverse.
Already many companies invest their products in the Metaverse such as Samsung and Coca-Cola. Samsung announced a treasure hunt in the Metaverse where if you win the game, you get Galaxy S22 and Coca-cola presents their limited edition drink on the Metaverse.
A variety of brands can leverage VR and AR to market their products. A virtual 3D model of a product is displayed in the metaverse before the product is purchased. Users can check out and purchase merchandise from Hyundai's virtual Motorstudio on the platform, where they can view informative videos and check out different vehicle models.
How Does Metaverse Work?
In words, Metaverse allows a number of people to connect with each other in real time through the virtual world, which is a three-dimensional virtual environment which helps to connect our physical world in a very flawless way. As a technological feat, it's difficult to accomplish. Technology advancements such as smartphones, gaming devices, and VR and AR headsets are required to accomplish this feat.
Virtual reality is being used to create increasingly sophisticated online worlds on platforms such as Minecraft, Roblox, and Fortnite. They can also interact with others, buy any products, sell any products and attend virtual events, all within a virtual world.
Latest Ways How Metaverse Transforming Digital Marketing
Here are the latest ways how Metaverse transforming digital marketing which is mentioned below:
Change Ways to Meeting Held Between Agency and Clients
Get Overwhelming Support from GenZ
Flawless Social Media Marketing with Metaverse
Allows Billboard Marketing in a Digital Way
Allows Advertisements on Metaverse
1. Change Ways to Meeting Held Between Agency and Clients
Many marketing companies already start to utilize Metaverse with Oculus' Horizon Workrooms where they can set a meeting with their clients. This application allows you to collaborate for discussing any business topics with clients within one room as virtual avatars.
While many marketers use zoom for meetings, with Horizon Workrooms you will get to experience 3D effects in the workroom. Here, you can write a note with the help of your avatars, speak, write, and look directly at each other. If any company wants to personalize their room for clients, they can do that and they also decorate or design their room as they like.
2. Get Overwhelming Support from GenZ
Roblox is known as the most popular metaverse gaming company in the world. We see that most GenZ people are engaging themselves with Roblox. More than 202 million people are active users of this platform. In Roblox, players can create their own avatars, and play thousands of games with their homies released under the Roblox community. Before the phrase "Metaverse" was released, Roblox created popularity among Gen Z and Millenials.
Now Facebook is starting to get into the Metaverse world with their new feature where you can create avatars and send them to friends and families. Now, 38% of GenZ users are fully involved with Metaverse through games, record labels, apps, features and more.
3. Flawless Social Media Marketing with Metaverse
By utilizing VR technology and 3D dimensions, the standard social media channels can be connected with the metaverse and the techniques can still be applied, but in virtual reality. Users will browse websites and make purchases using avatars and 3D pictures.
Making interesting and dynamic content, establishing a strong online presence, and using social media to communicate with potential clients and forge relationships are some suggestions on how to promote success in the Metaverse.
4. Allows Billboard Marketing in a Digital Way
You can't get bored seeing billboards in Metaverse anymore because it will be a unique experience with 3D graphics. For example, if you are on a boat in the middle of the ocean, you still have to cross the ocean. Suddenly you notice a billboard of Coca-Cola flowing on the water that says " scratch the code and chance to win iphone14 pro". This is the future of billboard marketing in Metaverse, you will be able to experience it in the virtual world.
Billboard marketing is one of the digital marketing strategies in Metaverse. You can put up Billboards when any sports and events will be held on Metaverse. Now, many companies start their campaign to make a billboard for the events such as Coca-Cola, Samsung and more.
5. Allows Advertisements on Metaverse
Businesses or brands can utilize Metaverse by promoting their products with advertisement strategies. Many fashion brands such as Gucci, Nike and more initiate these ideas and promote their products or clothes by creating virtual fashion shows for the audience. VR settings are a good way to advertise. The Metaverse offers brands a number of platforms for advertising their products. The Meta-world can conduct events similar to how the natural world does.
Conclusion
The effects of the metaverse have worked in the digital marketing world in a positive way. Metaverse is still in the development stage so it might be challenging at some point. But Metaverse still has an opportunity to grow any brands or businesses. We hope this article helps you to understand how the metaverse affects digital marketing. If you want to know more about trending topics, then keep your eye on our blog page.