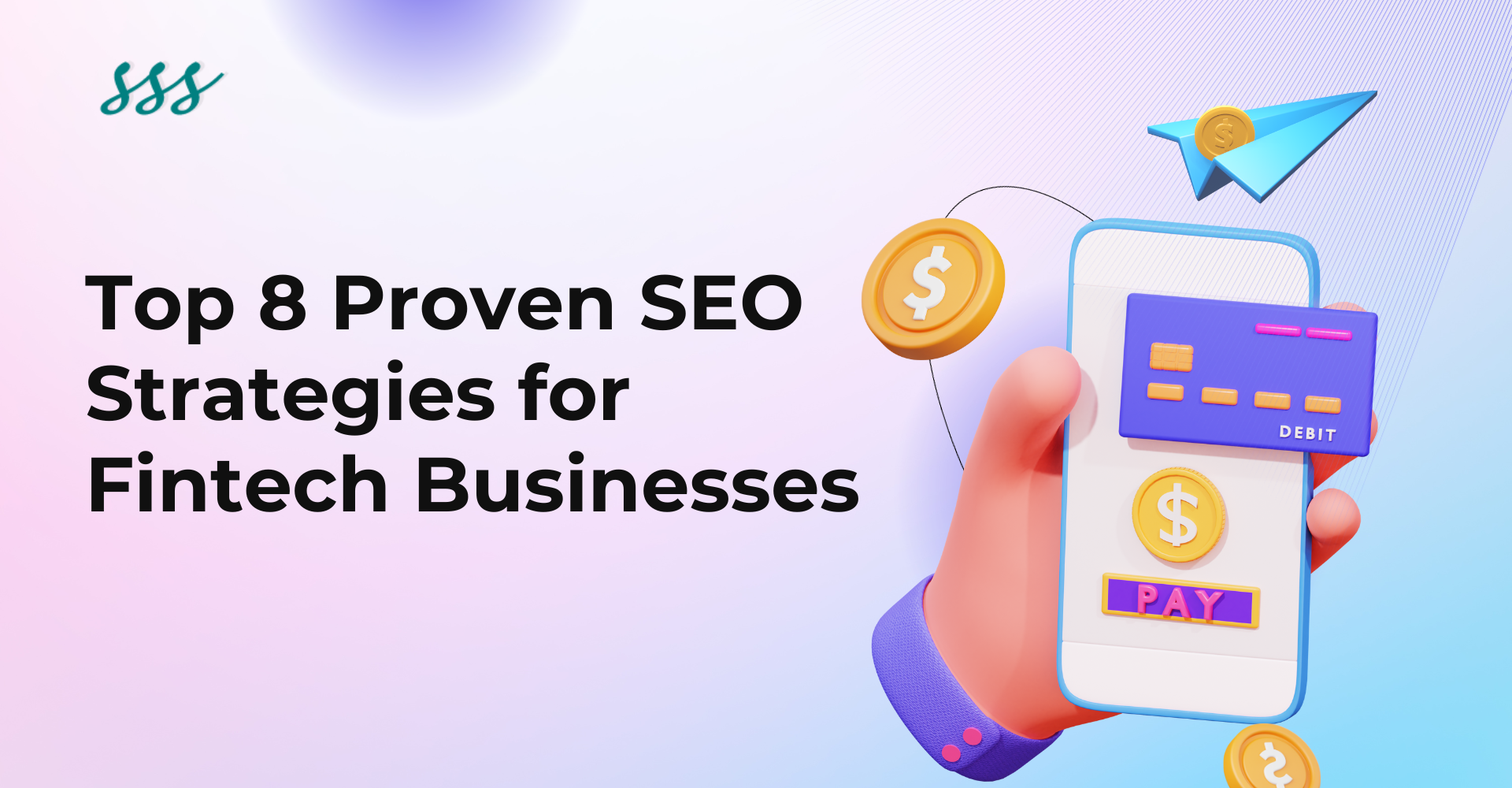 Top 8 Proven SEO Strategies for Fintech Businesses
November 21, 2023
|
8

min read
By: admin
Working on fintech SEO can be tricky at times but if you implement the right strategy in your website you will be able to shine higher on search engine result pages (SERPs). Because there is fierce competition going around in the fintech industry, it is becoming tough to attract more people for small fintech businesses, which is why search engine optimization is becoming more and more important for businesses that come into the limelight. To get results for a long period of time, you need to focus on on-page and off-page tactics, technical SEO as well and optimizing website content.
Now People are more likely to search for "bank near me" and "bank open today" on search engines. Because with ever-evolving technological advancements, now almost everything we get in our hands without lifting a finger. It is not a big deal for customers to have demands like this and it is high time for fintech businesses to understand the emergency. However, just being there doesn't help much if customers can't find a Fintech startup within the 2 Million results. That's why you need the right strategy.
With fintech SEO, you can achieve fintech KPIs such as increasing brand awareness, gaining website organic traffic, and generating more leads. Yes! There are some differences between normal SEO and fintech SEO but both strategies require focusing on content strategies that should offer solutions for the target audience that they are looking for on search engines Like Google and Bing. Since fintech sites belong to the YMYL industry, they need to provide a high standard of quality content. Here, we are going to discuss the top 8 proven SEO strategies for fintech businesses.
How Does SEO Help Fintech Businesses?
Most search engine optimization helps to rank your website on SERPs and get noticed by users. Here are some benefits of fintech SEO are mentioned below:
1. Helps Your Business to Reach Out to The Right People
Most search engine queries are conducted when users are looking for information at the point of time they are ready to buy. That stage is called " the buyer's journey". In simple words, they are looking for what you offer. Whenever they search for your products, your website needs to be noticed by them at first glance. To make it possible, you need to rank your website on the top of search engine result pages (SERPs) and by using SEO, this dream can be possible.
2. Helps to Build Trust
Financial services have all their customer's private data which they access whenever they need to. That's why they need to know whether they can trust you or not. To build their trust, you can provide quality, original, and relevant content that should be optimized.
3. Achieve More Organic Traffic and Generate More Leads
Fintech SEO helps to get more organic traffic and generate more leads by ranking your website for a long period of time. Once you successfully rank your website on the first page of SERPs, it will help you to get back all the potential customers as well as new ones in the future.
Fintech SEO Best Practices
To keep up with search engine algorithms, you need to create a strong fintech SEO strategy. Here are the top 8 fintech SEO best practices which are mentioned below:
Set Your Business SEO Goal
Conduct Keyword Research
Create Quality Content
Build Quality links
Establish a Social Presence
Create A SEO-Friendly Website
Keep your Content Up-to-Date
Measure Your Performance
1. Set Your Business SEO Goal
Before starting a plan for implementing an SEO strategy for fintech businesses, you need to set a business goal that you want to achieve. It helps you to take steps forward to success. Identifying your target audience, and their needs as well as looking into competitors' websites, helps you to set a goal. Here are some ideas on which can be your business SEO goals:
Increase Brand Awareness
Increase Organic Traffic
Get Attention From More Audiences
Achieve More Leads
Boost Sales
2. Conduct Keyword Research
One of the most important parts of SEO strategy is keyword research. It doesn't matter whether it's normal SEO or Fintech SEO, you need to research your business-related keywords and use them in your website content. While researching keywords, look for what phrases or terms your target audience uses to search your business or products or services in search engines like Google and Bing. This research leads you to those phrases which are mostly called " long tail keywords" which your target audience mostly enters whenever they search for your products or services.
As you know the finance field is one of the most competitive fields, so you are not only competing with financial companies but also with those companies which provide financial advice too. Therefore, along with FinTech keywords, you'll also need to determine the best way to include common finance keywords in your SEO campaign.
3. Create Quality Content
When a fintech business customer searches for something on search engines, they know exactly what they are looking for, so fintech websites need to publish connected, original, and business-related content. That's why they need to hire experienced content writers, editors, as well as content marketing strategists who are experts in this field.
After choosing keywords you need to put them on your blogs or articles without struggling with keyword stuffing. If you want to rank your blog or articles on SERPs, then you need to post quality and original content often on your website. Today, there are many different forms for posting your content such as Blogs, articles, e-books, whitepapers, infographics, images, videos, guides, social media content, and case studies. All you can use to get attention from your target audience.
4. Build Quality links
Link-building is the most crucial off-page SEO strategy for any business that wants to increase its website visibility online. To establish your website as an authoritative, trustworthy as well as expert product provider, you need to achieve more high-quality authority backlinks because once you start to gain high-quality backlinks, you'll notice that Google gives you priority and makes a spot on the first page of SERPs for you. Those backlinks refer to you as a reliable source of the particular content, and people like to see what is in your content.
5. Establish a Social Presence
Social media marketing is an integral part of digital marketing services, and to grow your business online, your social presence is mandatory. It will help to increase your brand awareness. Social media marketing refers to the process of promoting and marketing your brand and the brand's products or services on various social media platforms like Facebook, Instagram, Twitter, Pinterest, and LinkedIn.
While making a plan for social media marketing strategy, you need to know SEO is one of the essential parts there also. First, choose which social media channels you want to market your brand, identify your target audience in each platform, and post content according to your target audience's needs. In addition to the increasing amount of user engagement on social media, it can bring additional traffic to your website, which helps to get a higher rank on search engine result pages (SERPs).
6. Create A SEO-Friendly Website
It is important to have an SEO-optimized website because it can make or break your business down from making a spot on SERPs. To create an SEO-friendly website, you need to take advantage of on-page, off-page, and technical SEO strategies. Make sure you use meta tags, title tags, alt text, heading tags as well as sub-headings properly, look into your page loading speed, and design pages with responsive designs for mobile users.
While creating FinTech digital marketing strategy should also keep legal requirements and government regulations in mind. For the fintech industry, Google has announced some strict guidelines for some specific fields including the financial industry. These guidelines prioritize those websites that maintain expertise, authority as well and trustworthiness through their website content. To maintain these guidelines, you need to pay attention to your website about, contact, and management pages.
7. Keep your Content Up-to-Date
It is true that content is always king in digital marketing strategy but to become king, your content needs to be fresh and updated. It is crucial because the Google algorithm prefers fresh content for ranking on Google search results and it is often necessary to update financial topics to keep up with changes in this field. Users are more likely to know what is available now and what's new in that industry.
8. Measure Your Performance
It is important to analyze and measure your performance to look into if any correction is needed. If you find something isn't working for your website, you can change that immediately. To measure performance you can use Google Analytics which is a free tool that helps you to analyse your performance and suggest some changes if it finds any loopholes.
Conclusion
If you successfully build a fintech SEO strategy, it will be easy to gain more conversions by ranking your website on SERPs. We hope this article on the top 8 proven SEO strategies for fintech businesses will help you to understand it better. Our SEO services can help you rank your fintech business on the first page of Search Engine Result Pages (SERPs). If you like to read our articles, keep your eye on our blog page.