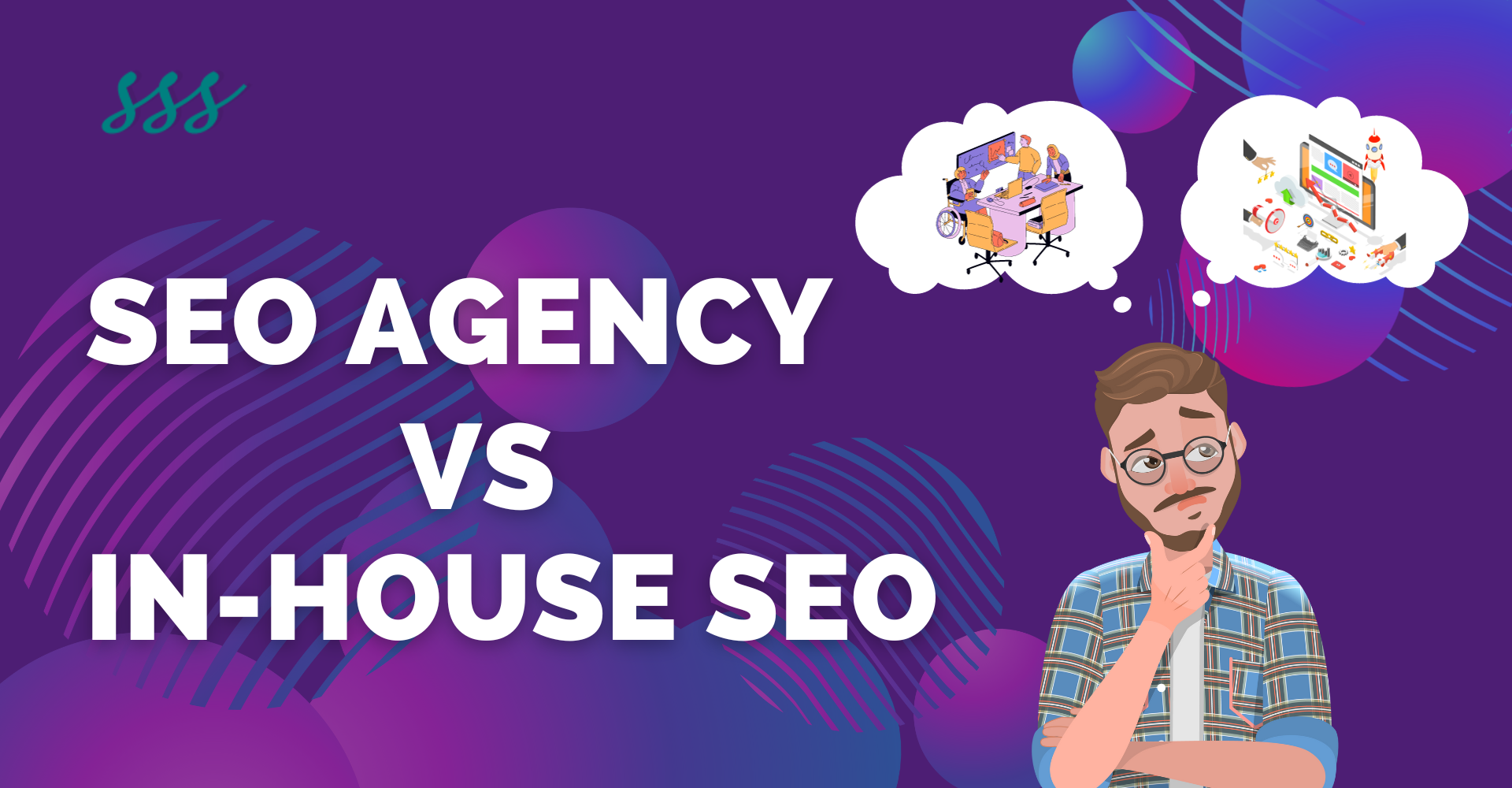 SEO Agency Vs In-House SEO : The pros and cons
November 20, 2023
|
9

min read
By: admin
In the hope of being successful online, SEO is one of the most highlighted components in the digital marketing industry. All companies whether it is big or small don't matter, all they need is to rank their website on SERPs to get noticed by more people to make that dream or expectation successful. They hire an SEO agency or build an in-house team for it.
Worldwide, you get in touch with two types of SEO service providers such as SEO agency and In-house SEO. SEO agency refers to a third-party company that helps other companies rank higher on SERPs and get organic traffic from organic search results. In-house SEO refers to building an expert team in-house to manage all of the marketing operations. Search engine algorithms change frequently, and it takes enough time to master that field. Before deciding to hire professional teams or build that team in-house, you need to know all the advantages or disadvantages of an SEO agency and in-house SEO. So, let's get started:
What is an SEO Agency?
An SEO agency refers to a hub of professionals who offer search engine optimization services for various companies in different industries. Agencies work with their clients to conduct various marketing strategies, and SEO audits along with solving technical, on-page, and off-page cases according to their business requirements. Every SEO agency consists of experts who have extensive experience and training in their field. Most often you find link-building experts and technical SEO experts in the team of most agencies because both are crucial parts of search engine optimization. All team members work with their clients and follow every SEO best practice to make their business requirements successful.
What is In-House SEO?
In-house SEO refers to an internal expert team hired by an organization to daily tasks on marketing or SEO operations. All members of that team will be responsible for link-building, SEO audits, on-page and off-page SEO, competitive analysis as well and keyword research. Most members hold a position in the organization with the following titles:
SEO Director
SEO Specialist
SEO Manager
The number of team members and the titles of members' positions depends on the size of the organization. When you're in an in-house team, you have to work with one website rather than working with 50 websites at once.
The Difference Between SEO Agency and In-House SEO
The main difference between an SEO agency and an in-house SEO is that in-house team members just work with their website but when it comes to an SEO agency, they work with various websites in different industries at once. If you choose an in-house SEO team for your business, then you need to hire specific experts in each SEO field to build a strong team whereas if you choose an SEO agency, then you give all responsibilities of your website to another third-party company. Now one may be wondering which one they want to choose between an in-house SEO and an SEO agency, here are some pros and cons of each for getting a clear image.
Pros of Hiring An SEO Agency
1. Get to Meet With a Wide Array of Experts
On-page SEO might seem easy but when it comes to technical and off-page SEO many companies like to choose SEO agencies because they have a team of extensively experienced professionals in each digital marketing field. Their immense knowledge of mobile SEO, social media SEO, e-commerce SEO as well and digital advertising helps you to achieve your business goal. A popular SEO agency always handles different projects of clients at once. As a result, they will be able to apply their vast SEO knowledge to your company with a unique perspective.
2. Have a team of Experts who have Knowledge of All updates of Search Engine Algorithms
When you hire an SEO service provider, you get along with a whole team of professionals including content writers, account managers, web developers, and more, all of whom have practical experience in their specific skills, so they can easily tell their clients where they need improvement in their clients' SEO campaigns. All of them have extensive experience in their field which will help them align with your business requirements. When you choose to work with an agency, you get a little bit more flexibility because during the project if the professionals discover a new key feature to improve your SEO campaigns, you can easily implement it.
3. Cheaper Than Hiring an In-House SEO Team
Hiring a full team of SEO professionals as employees in an organization can be costly because when you hire them you need to pay for them according to their experience and salary expectations as well as need to pay them as full-time jobs. With an SEO agency, just have to pay for the services that you need, and pay a specific fee monthly.
4. If You Face Any Issues, You can Contact the Higher authority
If you face any problems such as if you don't have an agreement on something with the agency or you can't find the project manager on the phone, your project will suffer during this dispute. To avoid this problem, you can contact the higher authority like their boss, senior manager HR, or CEO, and keep trying until you get the response you need.
5. Fire The SEO Agency You Hired Whenever You Want
If you feel like you are not getting the result you expected from your agency, or if they can't meet the deadlines or the quality of work is not as good as what was promised you can fire them immediately. Since you pay for the service when you hire an SEO agency, you can fire them whenever you feel like the service is not working anymore.
Cons of Hiring an SEO Agency
1. Contact Between Agency and Clients is Limited Within the Virtual World
When you hire an agency, you face one major problem, which is that most of the time, they like to contact you by email or calls. if you need to inform the agency members, you can't find them in person. Because of that, most of the time, brainstorming ideas can't be implemented in the projects which may have caused some damage to the project. You might find local agencies, who meet you regularly face to face, but by doing this, you limit yourself to a particular category. However, choosing a local agency does not mean you find an experienced team of professionals like a good popular SEO agency. They might not be able to meet your every need.
2. Works on Various Projects in different industries
When you choose an SEO agency, you need to know that they always work on various projects in different industries. Paying for your project does not mean that you'll get all the unvivid attention from the agency. If you expect VIP treatment, then you are going to walk into disappointment.
Pros of Hiring an In-House SEO Team
1. Having Someone who Focuses on Your Project Only
As we talked about before while working with an agency, they work with various clients, so you never get their full attention, but when it comes to an in-house SEO team, you hire some specialists in each specific field and pay them according to their expectations and salary expectation and after the selection process, they hold a position as employees of your organization. They work on your SEO operations and give undivided attention to your website. They spend most of the time keyword researching, and on-page and off-page SEO to execute the best SEO best practices that will be suitable for your organization.
2. Having an In-house Team who have an Idea of Your Business's Needs and Products
Whenever you hire someone in-house, you will welcome them fully into the inner workings of your company. Apart from having experience and extensive knowledge in their specific field, you will have to introduce them to your company in and out. Once they get an idea of your organization and its needs, it will be easy for them to work on your website. This allows them to deliver work perfectly which should meet your business goal.
3. Build a Relationship with the In-House Team Easily
While you work with your agency members, most of the time you are restricted from meeting them face to face which is one of the major problems, that's why many businesses choose to hire an in-house team because you can discuss any ideas face to face whenever you need. It would be easy to explore different ideas organically rather than talking about those over emails or calls which helps to discover news leads that help to build the best SEO marketing strategies for your company.
Cons of Hiring an In-House SEO Team
1. More Expensive Than Hiring One SEO Agency
Hiring an in-house SEO team is more expensive than hiring one agency because you have to pay for all that knowledge and experience. After hiring each experienced member to build a team, you need to pay for all the essential SEO tools they need for their work. The cost slowly starts to add up when you hire a team as employees rather than hire a whole agency.
2. Your In-House Team Members will be Entirely Responsible for Your Project
The success of your projects fully depends on the skills and experience of team members. If your team members are not working well or aren't able to meet the deadlines or their skills do not match your business requirements, then you will not get the results that you are looking for.
Conclusion
Today you can't ignore SEO if you have a business because your business gets successful when your target audience chooses to look into your website over the competitors and SEO is the only cost-effective way to achieve that goal. According to your business needs and the budget of the company, you need to decide which you will choose between an SEO agency and an in-house SEO team. There are plenty of SEO service companies in India that provide SEO services and we are one of them, we have popularity as the best SEO service provider in Kolkata. We hope this article will help to make a decision on which one is right for your organization. If you want to read more articles on trending topics, keep your eye on our blog page.