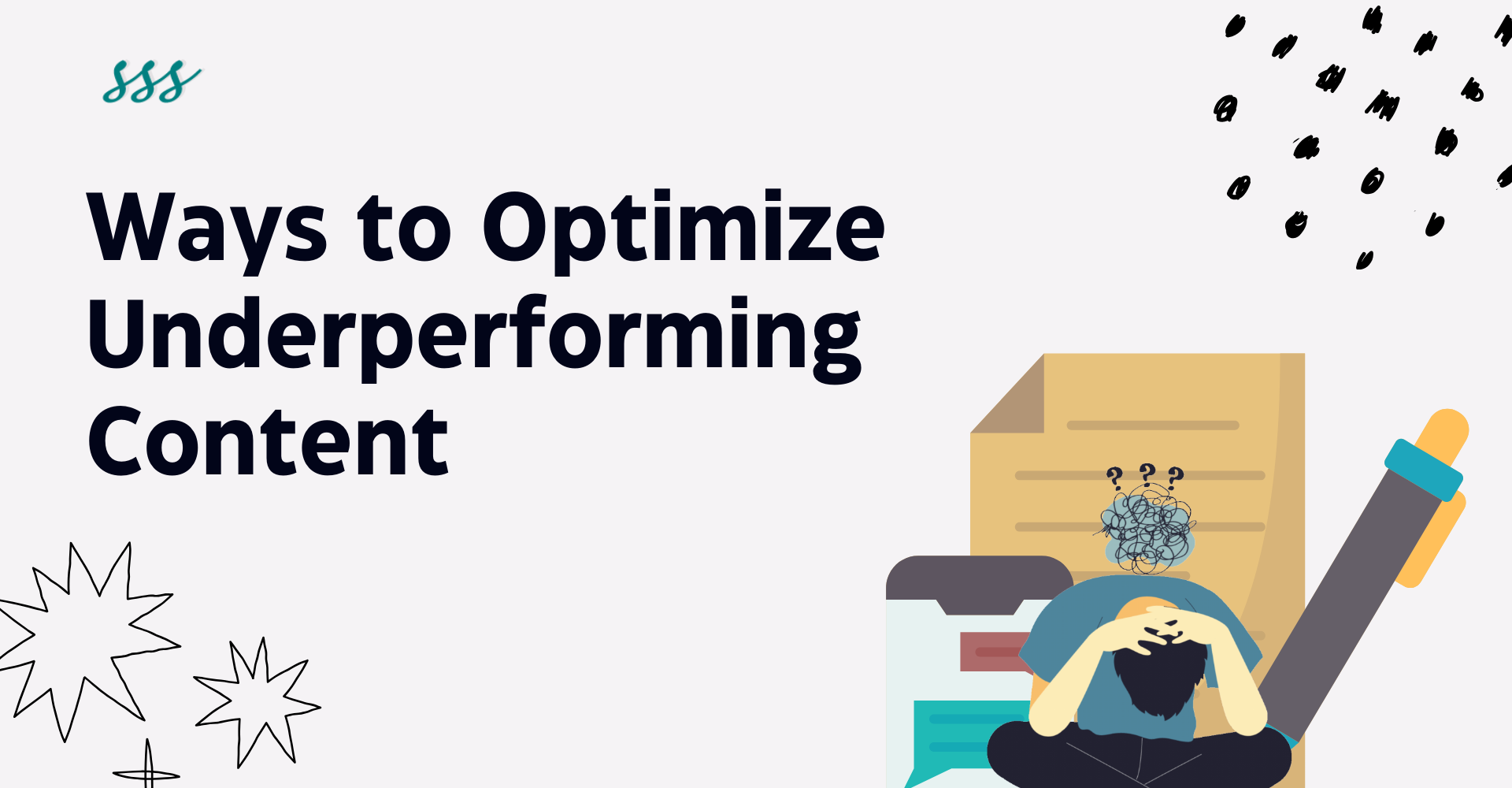 Top 5 Smart Ways to Optimize Underperforming Content
October 31, 2023
|
10

min read
By: admin
Sometimes we get disappointed with our published content. We get frustrated with why it is not performing well on the search engine result pages (SERPS). Don't worry! it just needs to be updated. Here is our guide for optimizing underperforming content. To boost up old content, you need to maintain the process of editing, updating, rewriting, and tweaking, in return, you'll get a higher ranking, more clicks, more conversions, more leads, and last but not least more sales.
In the ever-evolving digital realm, the success of online content is not solely determined by its initial release. Instead, it often requires ongoing attention and fine-tuning to reach its full potential. When content falls short of expectations or struggles to gain the desired traction, content creators and marketers must be prepared to roll up their sleeves and engage in a strategic process of optimization. This process, which involves analyzing, enhancing, and reinvigorating underperforming content, can yield remarkable results. By reevaluating and improving existing assets, it is possible to transform mediocre or overlooked content into powerful tools for audience engagement, traffic generation, and conversion.
Content optimization is a multifaceted endeavor that combines the art of creativity with the science of data analysis. It calls for a keen understanding of both your target audience's evolving preferences and the ever-changing algorithms that govern online content discovery. But fear not, as we embark on this journey to optimize underperforming content, we will uncover a plethora of tactics and strategies designed to breathe new life into your digital assets.
The importance of this endeavor cannot be overstated. In a digital universe saturated with content, competition for attention is fierce. Your underperforming content represents an untapped reservoir of potential, and optimizing it can bring a substantial return on investment. Whether your primary objectives are to boost brand visibility, increase website traffic, or drive more conversions, the techniques we explore here will help you achieve those goals efficiently and effectively.
Optimizing underperforming content is not only about investing in creating new content but also about optimizing old content that you already have. It also helps you to improve your content marketing strategy. If you put all the strategies that we are going to discuss, you'll be able to add one more star to your content engagement. This is essential because most marketers fail to create engagement with content.
Here, we will delve into a comprehensive guide on ways to optimize underperforming content, addressing the crucial steps of content auditing, strategic SEO enhancements, the art of content repurposing, and the tactical promotion of your revamped assets. Each step is designed to provide you with a clear roadmap to revitalize your content, increase its impact, and harness its full potential. Let's embark on this journey of content optimization, unlocking the hidden treasures within your underperforming content.
Identify Underperforming Content
To identify underperforming content, you need to look for specific metrics to find it. There are various tools that you can use to find your underperforming content such as Google Analytics, Ahrefs, SEMrush, and more.
Look at your organic keyword statistics, particularly the average position of your content in Google, to identify content pieces that are underperforming in search results. To list your content in the 10X content calendar, you need to identify the following points which are required for high-performing content whether is in your content or not:
High Quality
Useful
Relevant
Solution based
Fresh
Non- promotional
Innovative
Educational
It might feel easy to implement these points in your content, but actually not that easy. It is too hard to appear on search engine result pages with all the mentioned points. More than 60% of marketers are still struggling with content engagement.
Low on-page time/session duration per page with a high exit or drop-off rate is another sign of underperforming content. In long-form content, you want readers to linger, indicating that they are reading it completely. As opposed to using the landing page as an exit or leaving the site without taking any further action, you also want the reader to visit other pages.
Top Reasons Why Your Content is Underperforming
Before jumping into optimizing the underperforming part, you need to understand why your content is underperforming. It is important to have knowledge of what's lacking in your content. Here, we have mentioned some top reasons why your content is underperforming which are given below:
1. Your content doesn't have user intent
It is one of the most common reasons why content doesn't rank on SERPs or search engine result pages. Now you might be thinking about how user intent is connected to SERP rankings. Whenever users are looking for something online, they always have a purpose. Before searching for something online, users have specific needs, and they expect that the result must match their intent.
That's why every marketing expert recommends adding retable keywords in order to rank their website on search engine result pages (SERPs). But if you don't optimize your content with related keywords, you will never see your website on the SERPs.
For example, if users search for "Best Restaurants in Kolkata" it means they are looking for restaurants near them. However, if users search for "the best Redmi mobile phones" defines they are looking for stores or websites where they can find the best Redmi mobile phones.
That's why along with including keyword research, you need to analyze your content marketing thoroughly as well as your competitor's website content. It enables you to get better insights about what you need to add and what mistakes you are making.
2. Your Content Isn't Updated
Not updating content is the most common reason why your content is underperforming. In the ever-evolving era of digital marketing, Google algorithms are changing rapidly. For that, it is very important to update your content according to changes.
When it comes to content marketing, it is crucial to stay current and your content should match current trends and current customer needs. We often fall into the trap of thinking we're covered for everything when our topics have become outdated. That's why it is vital to stay a step ahead of the game when it comes to content marketing. If you are losing behind, then your content may not keep up with the new trends and technologies which could be the reason for underperforming your content.
3. Weak SEO Strategy:
Search engine optimization (SEO) is crucial for content visibility. If your content is not optimized for search engines, it's likely to remain buried in the depths of search results, making it challenging for your target audience to find.
A weak SEO strategy might involve a lack of relevant keywords, poor meta descriptions, or inadequate backlinking. To improve your content's SEO performance, conduct keyword research to identify the terms your audience is searching for and incorporate them naturally into your content. Optimize meta tags and descriptions to make your content more appealing in search results. Additionally, build high-quality backlinks from reputable sources to boost your content's authority and visibility.
Top On-Page SEO Elements For Optimizing Underperforming Content
Here are the top five on-page SEO factors for optimizing underperforming content which are mentioned below:
Look For Written Content
Go for Title Tags Optimization
Add Image Alt Text
Look into Both External Links and Internal Links
Page URL
1. Look For Written Content
The first step for optimizing old content is looking into what is written on it. Make sure you utilize long tail keywords to perform better on search engine ranking because long tail keywords are less competitive but more specific on what your target audience needs. So, it is easier to get a rank on search engine result pages (SERPs).
Find the particular keyword and add it to your content, it is not about stuffing keywords, try to add keywords in order to the total word count of your content because when users search for that particular keyword, they want to see that you use the keywords in your article or not. Remember, for search functions, most search engines depend on keywords. So, you need to do proper keyword research, and for that, you must have a clear vision of your goal. Use HTML subheading for indexing your content, which helps Google crawler to crawl your content and rank them on the first page of search engine result pages.
2. Go for Title Tags Optimization
Title tags refer to the " Title" of your content which creates the first impression when people search for that specific keyword. It is the indicator of what your content is about which is the main element of search engine optimization. Make sure you use the main keyword and power words like Top, Best, Advice and more, which help you to increase CTR or click-through rate. According to marketers, it is one of the vital factors for boosting organic search ranking.
Google always cares about its users. So, if a website gets 15% CTR more than others, google will help the website to get high rankings on the search engine result pages. because Google identifies that the website content offers more useful, relevant and high quality. Since most users are clicking on your website, even though your rank is at 5th position, Google will want you to be seen by more users.
3. Add Image Alt Text
Now, most content creators are going for visual elements, because users are more into visual media. They are more likely to see cinematic content which entertains them. Marketers start using visual content on their websites to make it attractive to their target audience.
Using Image Alt text is one of the vital elements for optimizing underperforming content. Alt text refers to the descriptions of the images or videos you use in your content. You can't see it on-scene but when you publish your article from CMS platforms, which allows you to add image alt text. Make sure that you use the target keywords in your image alt text, otherwise, google will not index the image as visual content.
4. Look into Both External Links and Internal Links
An internal link points to another piece of content on your website. As a result, Google understands the context of your site's pages and how they relate to one another. Take a look at internal linking best practices to help you support your search engine optimization efforts. A link to an external website points to content that is not on your site. Your readers will be more likely to trust you when you link to reputable sources and offer information on subjects that are more complex or less well-understood. It is an essential step for search engine optimization. The more backlinks, the more you will get traffic, leads, and conversion.
5. Page URL
To get a better user experience and SEO, URL plays a vital role. Every webpage needs a different URL, and it should consist of the target keyword. If you add the target keyword to the URL, It helps users to understand better what they are looking into and also, it helps google to identify your page content and rank the website higher on the search engine result pages (SERPS). Your URL needs to be short and catchy and to the point. Complicated long URLs bring challenges from Google and users too.
Conclusion:
Optimizing underperforming content helps to get more ROI. It will always be part of the SEO strategy. We hope this article on the top 5 ways to optimize underperforming content will help you to understand it better. If you are struggling with ranking articles on Search engines, we are here to help you. If you want to read more articles, keep your eye on our blog page.