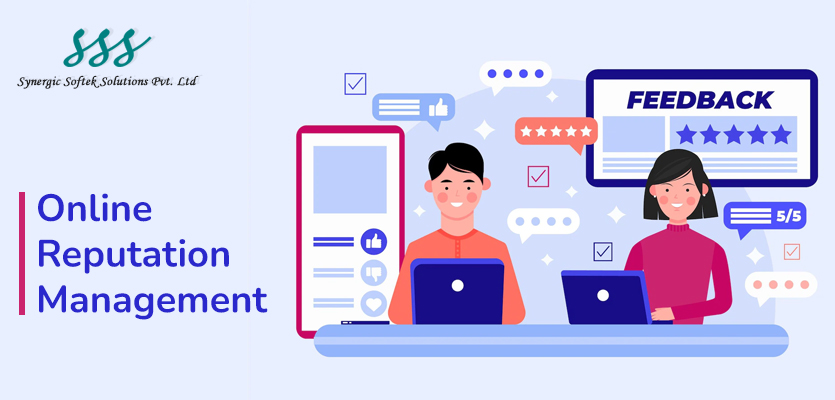 Online Reputation Management – Best 4 ORM Strategies for 2022
October 20, 2022
|
11

min read
By: admin
Online Reputation Management is getting attention from websites of every company or business. It is a very important thing to look into when a larger number of people use the internet today. First, you need to gain the trust of the customers, investors, and employees. The best way to balance out your brand's image is through online reputation Management. To help you to figure out what exactly online reputation management is, why it's important, and the strategies which you can use to build your brand's image on social media.
What is Online Reputation Management
Online Reputation Management is to control the online negative or wrong comments about any person, brand or company. You have to make some strategies which will give the right information to the audience or customers. For that, you have to be on the first page of google because it is always important to take a position on the first page of google.
You can see when people search for something on google, people only go first for detailed information. If you want to get noticed by the users or customers or stakeholders then you have to take control over the first page on google. Online reputation management strategies are really important. For ORM, you need SEO, Social Media Marketing, Customer Service Tactics, Review Management, and Public Relation.
Your online presence on that First page of Google defines how others think about your brand when they look into it on google. If you use the ORM strategies, that will help from going down in the Google Search Engine Result Pages (SERPs) and by ranking your informative and Strong SEO articles or blog, you will gain more traffic to your website. It is always not only about managing content on Google by doing SEO but also watching or managing the negative comment on your brands and supporting and encouraging happy clients to put positive comments on your brand.
There are various digital media channels also described as the PESO model that help to build your brand's image by using ORM strategies.
1. Social Media:
Social media platforms include Facebook, Instagram, Twitter and more where many brands promote their products and share posts on platforms. Social media is also referred to as share media. On social media, anyone can put positive and negative comments on your post.
It is important to manage your post on social media. If you have many followers and you get bad reviews for your product, then it could destroy your brand's image. So you have to be careful about your social media posts. You can also take online reputation management services to take care of those facts.
2. Paid Media:
Paid media is all the social platforms, digital marketing vehicles, and all channels where you have to pay for featuring your brands such as Google Ads, Social Media Ads, Native Ads, Display Ads, Microsoft Ads, LinkedIn sponsored messaging and all sponsored content. But Owned and earned media are more effective than paid media because the organic search result is more useful than the advertisement.
3. Earned Media:
Earn media explains the coverage of your brand on external websites and you don't have to pay for it. Earned media allows gaining positive trust with google as well as the audience. If the Google Algorithm notices the positive off-page mentions, then that will help to rank your website on google. Earned media includes Articles and blog posts on other websites, third-party websites like Glassdoor, Capterra, Trustpilot and more, press Coverage, Quora, Reddit and more.
4. Owned Media:
Owned media is where you create your website to promote your brands. In the owned media you have the ownership to control your own website where SEO comes to play. If you rank your website on the first page on Search Engines such as Google, Bing, Yahoo and more, then you are doing the right things to maintain your online reputation.
Importance of Online Reputation Management in Digital Marketing
Online Reputation management is a crucial part to control, analyze and monitor reviews of customers towards your websites or brands. For that, you need to check your websites, and blogs daily. Brands need to pay attention to what customers need, what they write on their website posts and how they can improvise on that. From research, 40% of brands or companies regularly check their website. By checking their website regularly, companies can almost avoid losses and manage the bad reviews on their sites.
Benefits of Online Reputation Management
Here are some reasons why you should maintain your brand's online reputation. Here we are going to discuss the benefits of online reputation management which are mentioned below:
1. Maintain the Brand's Image
Only negative information can ruin the brand's image. It impacts customer loyalty. Then users or customers start commenting on the brand's products. The respect that the brand earned is going to be destroyed.
But if you take the help of Online Reputation Management Services that will guide you with a proper strategy which needs for your brand's image. On the other hand, If brands regularly check and monitor their websites and blogs, and companies' reviews then they can build a strong and successful brand image.
2. Build Customer's Trust
Trust plays an essential part for any company to make their position at the top. Brands need to build customers' trust by providing the best products or services. You see that people always notice the customer's reviews or product quality to trust that brand or company. You have to take care of what information you will post on your website. You need to post something which is reliable, trustworthy, and consistent.
3. Build Credibility
You will see that most people buy their products from trustworthy brands. So you have to maintain the quality of products and other stuff which really matters to customers to maintain their trust. That's why the brand's owner should be aware of the bad review which might be the cause of losing reputation. Help with the Online Reputation Management Software you can track down the customers' reviews.
4. Impacts on Sales
When Customers buy any products online they always check the online reviews. This is the main deciding factor for every customer. Positive reviews can increase product sales on your website. That's why online businesses need to take care of reviews. Business owners need to track down all negative and positive reviews.
5. Improve Search Engine Rankings
If any positive feedback gets viral on social media platforms, it brings more traffic to your brands and your products get attention from the customers. So, your need to maintain online reputation management for having positive responses on social media platforms.
Best 4 Online Reputation Management Strategy for Your Brand
Here are our best 5 Online Reputation Management Strategies which may help to build and monitor your brand's image.
1. Response to Online Negative Comments
Reviews are an essential part of every brand. Business owners need to be aware of all their reviews and manage all their reviews. Negative reviews are a great opportunity for businesses to reply and understand the customer's needs and Understand how they provide better services or products for their customers.
Business owners should respond to all positive and negative comments and reply very gently even if it's a very rough review. It also creates an online reputation. Other customers will see your response and If you also work on that product for giving customers better services, you will get positive responses from customers which help you to maintain your brand's image.
2. Conduct a Brand Audit
For finding loopholes in your websites, Social media accounts, blogs, or any of your third-party business profiles, you have to perform a brand audit. It is one of the most important parts of an online reputation management strategy.
You need to check your blog's or website's rank on google. When people search for your company or website, what they will see and are there any negative comments or not? Every Business owner needs to check their websites regularly.
3. Give More Importance to SEO
Investing in SEO is Important for Business and necessary for online reputation management. But you need to do it very strategically for your business. SEO is mainly used to rank web pages on websites for different search queries. In ORM, SEO is an essential part which helps to rank your website in different search engines. Help with proper SEO, you can push down all your negative feedback by ranking the Positive content of your brands.
4. Encourage Customer Review
In the ORM strategy, Business owners need to encourage customer reviews. Customers are the main subject of reputation management. Help with the positive response, your blogs or websites may get noticed by a larger number of people and the website can gain more traffic. There are some activities you can do for encouraging customers to leave positive comments on your website:
1. Make a page for reviews where and how they put a review for your website or blogs.
2. Send them emails asking them to comment on your websites or products or services.
Best Online Reputation Management Tools
Here are some best online reputation management tools which require tracking your brand's online reputation which might help to manage and monitor your brand.
1. Mention
Mention is one of the best online reputation management tools which offers brands to monitor social media and all online conversations about your brands all over the world. You can see who is talking about your brand. Mentions give you a glance at every specific conversation about the brand and what they are talking about. From mentions, you can reply to those social media conversations and you can also create social media content following the trends
2. Google Alert
Google Alert is a free online reputation management tool where you can see who mentions your company or website's name and monitor those from Google Alert. You just need to put your company's name or website name on the search, it automatically shows you all results where your brand's name is mentioned.
3. BrandMentions
BrandMentions is another best online reputation management tool where you monitor who mentions your brand's name and where and what they are talking about. By using it, you will see your online reputation and also monitor it regularly.
How to Choose the Best Online Reputation Management Service for Your Business
Here are some ideas which might help you why you want to choose the best online reputation management service for your business which suits right, which are mentioned below:
1. Having Knowledge about Your Needs
You need to clear things out why you need online reputation management services or whether you need it or not. If you want to rank your website or blog or article, if you need help monitoring social media feedback, if you want to clean things up from social media platforms, then you should take online reputation management services.
2. Doing Your Research
Before taking over your brand to an online reputation management service you should check and read about it. It is really important to know about online reputation management and how it works. Business owners should check about the firm when they give the responsibility of maintaining their online reputation to an online reputation management service.
3. Having Ideas for Your Budget
Business owners need to do proper research on how they can get the best online reputation management services at affordable prices. You need to do good research for that. You will find some ORM services at an affordable cost that will help to build your brand's image by monitoring your online reputation.
Conclusion:
Building and maintaining your online reputation requires actively shaping the perception that users have of your company. Choosing how you want your company to be viewed is the first step toward building a solid reputation.
Four digital marketing channels: paid media, earned media, owned properties, and most importantly social media help monitor your online reputation. There are various tools available, particularly for social media, to assist in completing daily activities like content generation and maintaining an online conversation about your brand. A social media policy and content plan should also be in place.