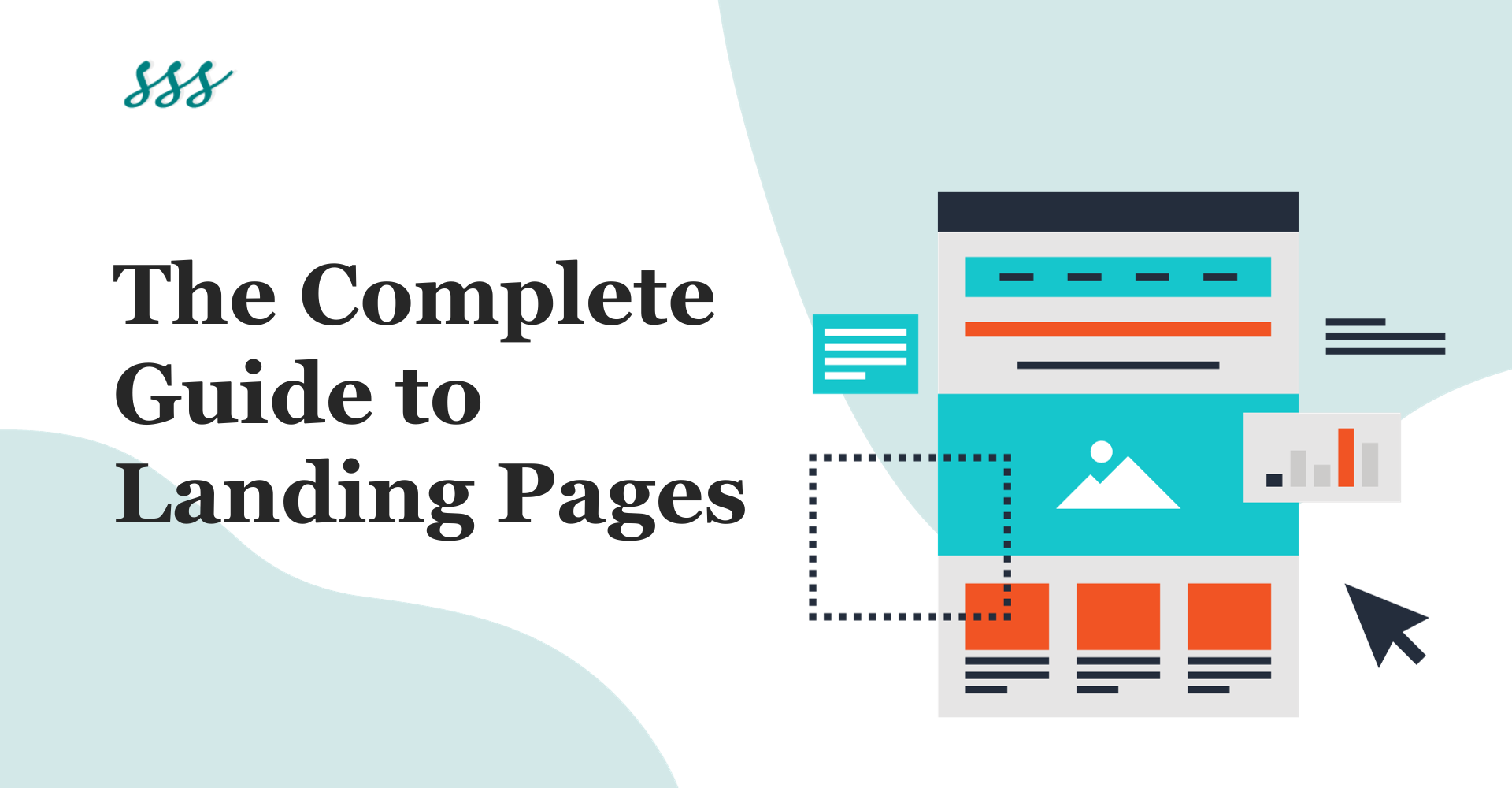 The Complete Guide to Landing Pages: Unlocking the Power of First Impressions
November 3, 2023
|
11

min read
By: admin
When we usually search or browse on the internet, we always land on various landing pages unconsciously. But which page can we refer to as a landing page? When we see an ad online and click on it, we fall into a landing page that can be designated, where you can find a direct call-to-action button or the website home page. The main motto of a landing page is to convert users to leads or customers. This is only a strong reason why landing pages are referred to as a strong element in the digital marketing strategy.
In the fast-paced, ever-evolving landscape of digital marketing and online engagement, there exists a digital doorway that holds the key to your audience's heart, mind, and action: the landing page. It is here that the first spark of connection ignites, where visitors decide whether to journey deeper into your world or to swiftly exit. Welcome to "The Complete Guide to Landing Pages," your definitive roadmap to creating landing pages that captivate, convert, and command attention in a digital realm teeming with options.
A landing page is not just a webpage; it's your digital handshake, your elevator pitch, your stage to deliver a compelling narrative and persuade your audience. It is the digital canvas upon which you craft an experience that can shape the destiny of your business or cause.
This guide is an expansive treasury of knowledge that will equip you with the skills and insights to master the art and science of landing pages. Whether you're a seasoned marketer aiming to fine-tune your conversion rates or a newcomer embarking on your first landing page venture, we've got you covered.
Within these pages, you'll embark on a journey that explores the essence of landing pages, delving into the core principles and psychology that underpin their effectiveness. We'll unveil the secrets of creating content that engages, design that captivates, and call-to-action strategies that propel visitors from casual browsers to dedicated customers. Moreover, you'll gain proficiency in the indispensable practices of A/B testing, analytics interpretation, and conversion rate optimization, ensuring that your landing pages are not static but constantly evolving, growing, and delivering the results you desire.
Whether your goal is to capture leads, sell products, raise awareness, or inspire action, our guide is your compass, leading you through the intricate and ever-evolving world of landing page creation. By the time you've reached the last page, you'll have the knowledge and tools to craft landing pages that don't just attract visitors, but also leave an indelible imprint on their digital journey. Welcome to the journey of unlocking the power of first impressions, where landing pages are the keys to digital success.
What are Landing Pages?
A landing page is a special page that most websites recently use to drive more conversions. The main purpose of a landing page is to convert users or visitors to leads or customers. There are different types of landing pages but their purpose is always the same. A landing page consists of lead forms or CTAs which mainly ask for the contact details of users or visitors in exchange for something of value. If you are thinking of creating a landing page, you need to think about what would make your users click on your landing page and give their contact details. Here we'll discuss some landing page best practices that might help you to create a landing page.
Importance of A Landing Page
A landing page is a must-have for any business or organization. It's a web page that allows people to "land" on your site, giving them a clear picture of who you are and what you do. It's the perfect place to introduce yourself to your potential customers, as well as provide information about your products and services.
A landing page can help you increase conversions and sales by giving users the information they need to make an informed decision. It can also help you capture leads, as you can place a form on the page to collect contact information. Additionally, a landing page can be used to build your brand and increase awareness. With the right design and content, you can create a page that not only drives conversions but also leaves a lasting impression on your visitors. So if you're looking to boost your online presence, a landing page is the way to go.
Landing Pages Best Practices
Here are the top 6 landing pages best practices which are mentioned below:
Create a Catchy Headline
Select a Focused Image
Write an Engrossing Copy
Add Call-to-Actions
Make Your Landing Page Responsive
Remember to add a Thank You Note
1. Create a Catchy Headline
You need to create a catchy headline for your audience because if 10 people click on your landing page, seven of them will spring back because they will know what is on that page within a second of arriving on that page. So, to keep that number low, you need to create a unique headline which should be clear and concise about what your landing page is about.
2. Select a Focused Image
Image is a very crucial element in a landing page which should focus on your target audience and their needs. The main motto of a landing page's image is to move forward with hope. It should portray hope when a user lands on a landing page and see the exchange value.
3. Write an Engrossing Copy
If your writing can't stand out with others' writing copy, then all your efforts for your headline and crafting image will be drawn. The words are more important than images, they actually help you to sell your call-to-action. Your writing copy should compel your visitors to click on your CTAs. To make your visitors feel engaged, you must use "you and "yours".
4. Add Call-to-Actions
CTAs are referred to as the most important element in a landing page because it is the only element which helps to increase your conversion rate on your website. In your landing page, CTA should be highlighted with different colours with contrast. Put an action verb on your page that clearly spells out what you want visitors to do such as " download", "submit", or "sign up".
5. Make Your Landing Page Responsive
Just like other pages on your website, your landing page needs to be responsive because it gives your user a better viewing experience whether they use mobile or desktop. Whatever medium your visitors use to view your site, make sure you give them the best chance of converting.
6. Remember to add Thank You Note
Following the completion of a form, you should send a thank you page to your leads. There are several reasons why showing a thank you message on the same page is not the best course of action. A thank page indicates that you are excited about your new leads, or you are happy by delivering the value as you promised.
Tips for writing Landing Page Copy
After designing your landing page, you need to add some words that make sense to your visitors and convenience them to complete call-to-action, the whole process of converting visitors into conversions. Here are some tips for writing landing page copy which mentioned below:
1. Try to Cover Your Main Purpose of Creating a Landing Page
It doesn't matter how you design it until you add your thoughts and your pain points to it. Pain points refer to solutions to problems. The solution should be what you offer in exchange for their contact details. Focus on problems that your target audience is facing, what solutions you are giving to remove their pain points and how those solutions will improve the situation of your target audience, you will add all in a short summary.
Sometimes, the solutions that you offer are not enough to generate leads, you need to explain exactly the features of the solution, like if you offer a service, how that service makes their life easy or if you offer an e-book, explain a short summary of your e-book. The main purpose of your writing copy should be how you can help your audience, not how impressive you are.
2. Make it trustworthy for Your Target Audience
To make your writing copy trustworthy, try to offer proper value in your writing copy. When you start to write a copy for a landing page, you need to think about how you make your visitors click on this. To convenience your target audience, you need to build their trust in return you will not hesitate to give their contact information. To build the trust of your target audience, you need to think from your buyers' persona. You should use case studies that feature customers similar to those you are aiming for.
3. Give Social Proof on Your Landing Page
It's crucial to offer evidence that customers believe in you. Customer testimonials must be used in your landing page copy if you want your visitors to convert. Imagine your landing page as a house. You want a visitor to feel at home when they come over. A landing page operates in a similar manner. You want to welcome them in and earn their trust as soon as they land on your landing page. You want to demonstrate your expertise and the fact that your clients are successful as a result of you.
How to Build an Effective Landing Page
To increase your landing page's performance, here are some tips on how to build an effective landing page which is mentioned below:
Optimize Your Landing page
Try to Think as Buyers' Persona
Offer a Seamless Experience
Create a Flawless Way for Converting Conversion
Use Video Marketing
1. Optimize Your Landing page
You need to make sure your landing page is created in the best way that it can be. Look into the design, the purpose of your landing page, the headline, the image you use, use templates and the compelling writing copy. In landing page optimization (LPO), elements on a website are improved in order to increase conversions. A/B testing is one of the methods used in landing page optimization (LPO), a subset of conversion rate optimization (CRO).
2. Try to Think as Buyers' Persona
Since landing pages are aimed at driving conversion, you need to have knowledge about your buyers' persona. Once you identify who your target audience is and what needs or problems are facing related to your products or services, it would be easy to offer them solutions in exchange for your contact details. If you are dreaming of converting visitors to leads, you need to make sure that your copy should reflect solutions to their problems.
3. Offer a Seamless Experience
Your landing page should not surprise anyone. Be consistent with your copy so that it is exactly what you have advertised. If you had a social post, a blog CTA, a paid ad, or an email to get people to your landing page, use the same words. People will not stay with you if you bait and switch them.
4. Create a Flawless Way for Converting Conversion
When someone lands on your landing page, they will know where they are within a second, so your page motive should be clear about what exactly you want from them in return for what you offer. The goal should be to provide a guideline to complete the process of conversion. To make your CTA stand out, make it a contrasting colour. Your lead form should be indicated with arrows. Your CTA should be placed on a page with some negative space. When people click the anchor text, they will be taken back to the form.
5. Use Video Marketing
With good reason, video marketing is gaining popularity. Customers like it when businesses use video, and according to 88% of video marketers, video has a positive return on investment. The trick is to produce a compelling video that doesn't divert viewers from your call to action, which is what you want them to do.
Conclusion:
We hope this article on the complete guide to landing pages will help you to understand it better. If you are struggling with creating a landing page, we are here to help you. But as long as you follow our guide, we hope you will be able to create a high-performing landing page. If you want to read more articles on trending topics, keep your eye on our blog page.