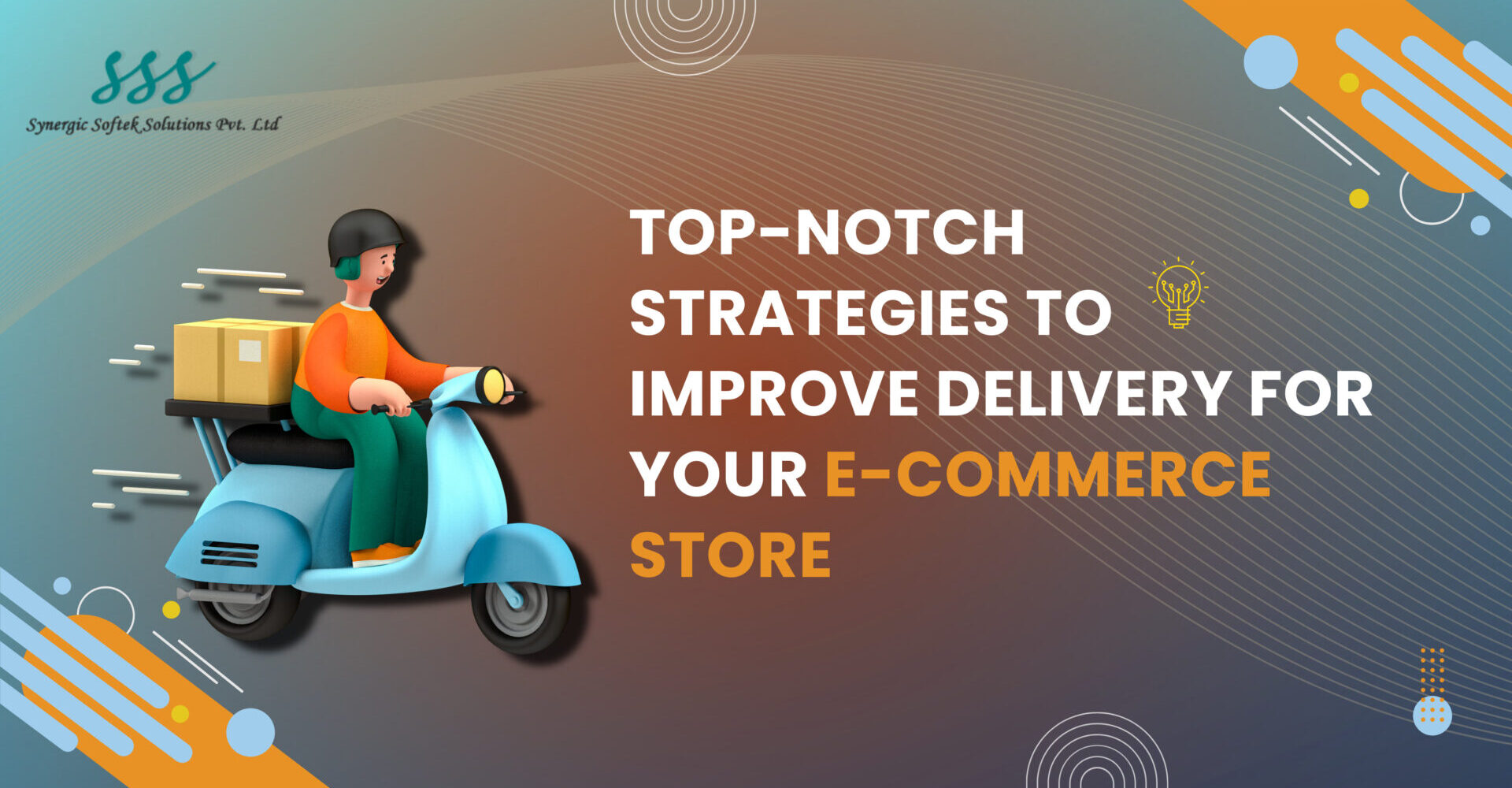 Top-Notch Strategies to Improve Delivery for Your E-commerce Store
August 2, 2023
|
9

min read
By: admin
In the e-commerce industry, customer experience needs to be well-pampered. In order to take over the hot spot, you must have a plan to defeat your competition. Today, what makes your e-commerce store more colorful and bright than others? Think! You have all e-commerce features in your stores which is no secret at all. So! What stops you? The secret sauce in today's ever-evolving e-commerce landscape is efficiency. Making an e-commerce store efficient for target customers is not only dependent on selling quality products but also on delivering the product quickly and efficiently to customers as soon as possible.
After the pandemic, the number of people with shopping addiction continues to grow. According to notable online shopping statistics for 2023 by Meetanshi, the number of people who are shopping online has increased to 2. 64 billion which implies 1 out of 3 people shop from online stores worldwide.
Did you ever consider what exactly customers expect before buying products from online stores? This is important not just for improving customers' shopping experience but also it helps you to boost brand awareness. To take these advantages, businesses are more likely to do anything, like bringing down the cost of shipping which is one of the most important things people mostly consider when it comes to buying products online.
Today, the shipping and delivery process carries an essential role in the growth of any e-commerce store. In the huge crowd of 12-24 million e-commerce stores, how can you improve your delivery for your e-commerce store?
Creating an effective strategy for maintaining a flawless delivery process is the process. But you need to be an expert in this field. As a leading e-commerce solutions provider we know what, where, and how strategies need to be implemented. Before you start doing anything to get a better delivery process, you need to know the process. So, we are going to discuss the strategies to improve delivery for your e-commerce store.
What is E-commerce Delivery?
E-commerce delivery is the process of transferring ordered products from retailers to the customer's home location. With a delivery partner, the process will be more efficient, affordable, and quick.
But, e-commerce shipping methods are more focused on the package that should reach the customer's hand securely within the timespan. You may be able to track your package's progress through tracking numbers or updated order statuses. As a result, both the seller and customer can track the shipment's progress and estimate the delivery date.
You need to know that the delivery process mostly depends on factors like carrier capabilities, the customer's location, and mostly the level of services that are chosen by the customers.
How Does the E-commerce Delivery Process Work?
The E-commerce delivery process is managed through a very specific model, which is called breakthrough logistics. Although, due to the evolving growth of the e-commerce industry, many new delivery models take shape in the competitive market. It might be curious to know the reason. The reason is the way businesses now store their products during online selling. To know the way you need to check out the major e-commerce delivery models which are mentioned below:
1. Warehousing:
Warehousing has been one of the popular delivery models since the days of yore. Still, many businesses follow this model to secure inventory management. Warehousing is one great option for small e-commerce stores which have limited products. It helps you to control the variety of a large number of items.
2. Outsourcing:
When you shake hands with third-party logistics companies to handle some tasks related to your online store, this process is called outsourcing. In this delivery model, after you give the power to any third-party company, for order fulfillment the stock is managed by their warehouse. When customers order from your e-commerce store, the third-party company will transfer the purchases to them. But you need to choose very carefully because you have to choose a well-known fulfillment company whose services will not harm any cause.
3. Dropshipping:
Dropshipping is the most recent popular keyword we heard from the e-commerce industry. If you have an e-commerce store, and you choose to work alone, there will be lots of tasks to handle. But, in this dropshipping model, e-commerce owners don't have to do any physical work. They outsource the whole process of procuring, storing, and shipping products to a third-party logistics company.
In simple words, you only just promote the products and provide your customers with the details of your products through an online storefront. When any customers make a purchase, you just need to transmit the information to the third-party company and notify the customers that the product is on the way. The rest of the task will be managed by the supplier.
How to Improve Delivery for Your E-commerce Store?
Whether your e-commerce store goal is to boost sales or improve brand awareness, one thing that is consistent to get success is the seamless delivery process. With the right e-commerce delivery strategy, you are able to improve the shopping experience for your customers. Here are the top 5 ways to improve delivery for your e-commerce store which are mentioned below:
1. Select the Right Delivery Partner
When we buy something from any online shop, what do we expect? We all prefer to get our purchases in our hands as soon as possible. And the first step to match customer expectations is selecting the right delivery partner. Depending on the business size and sales of your business, owners need to consider the factors of what delivery models like dropshipping, warehousing, and outsourcing will be best for their businesses. Most businesses now are more likely to outsource. But if you choose the same as others, then these factors you need to consider:
Affordability
Delivery Speed
Tracking tools
Technologies used for order fulfillment
Return and refund policies
Management Process
Top E-commerce Delivery Partner Companies
When it comes to choosing the right e-commerce delivery solutions, you are not alone, there are plenty of companies still confused about the fact. So, we will give some suggestions on which top delivery partner companies you can choose.
1. FedEx:
FedEx is the most popular e-commerce delivery partner company worldwide. FedEx offers shipping across borders. From scheduled pickup to fuel surcharge, all are managed by FedEx.
2. Xpressbees:
It is one of the fastest-growing express logistic service providers in India which provides end-to-end solutions for e-commerce business.
3. Blue Dart:
Blue Dart Express Limited is a popular international e-commerce delivery logistics company. As part of its courier division, Blue Dart offers a variety of services. Courier services include Dart Surface line, Domestic Priority, Dart Apex, and Regional.
2. Real-Time Tracking
Most of the time, e-commerce stores focus more on product quality than giving a smooth and seamless delivery process. What would be the next point then? For improving the delivery methods, you need to keep your eye open on internal matters too like communication flaws among an e-commerce store, third-party logistic company, and the customer. In order to have better communication, you need to implement a sms service that will inform all parties about the real-time times of the order.
Many times, we see issues with late deliveries faced by e-commerce stores. Streamlined communication between the internal team and delivery is one of the core keys that can solve the issue.
3. Include Technologies into the Process
Utilizing advanced tools and technologies to optimize the delivery process and streamline logistics. Incorporating technology-driven solutions can significantly enhance the efficiency and effectiveness of your e-commerce store's delivery process. Here are some ways to leverage technology for improved delivery:
Implement an automated inventory management system that tracks stock levels, alerts you when items are running low, and ensures that you always have enough products available for timely delivery. Utilize automated delivery notifications to keep customers informed about their order status, tracking updates, and estimated delivery time. This reduces customer anxiety and enhances satisfaction.
Leverage data analytics to gain insights into delivery performance, identify bottlenecks, and make data-driven decisions for process improvement. Deploy chatbots and AI-powered customer support systems to handle delivery-related inquiries, provide quick responses, and offer 24/7 support.
Use geolocation services to track delivery vehicles in real time, enabling you to proactively address any potential delays or issues. Analyze customer data to understand preferences, location-specific demands, and peak delivery times, which can help optimize delivery schedules.
By leveraging technology in these various aspects of your e-commerce store's delivery process, you can enhance efficiency, reduce costs, and ultimately provide a better overall experience for your customers.
4. Reduce the Cost of Shipping and Operation:
Most third-party logistics providers have some connections with warehouse facilities and shipping providers which helps to reduce shipping and operational costs. According to many studies, based on which delivery partner you choose, you can save between 15-35 percent on shipping costs anywhere.
If you reduce shipping costs, it makes your customers happy as well as gives a better shopping experience. Having great knowledge of local shipping and logistics law will help you to avoid shipping charges and heavy fines.
5. Analyze the Data to Optimize the Process:
From receiving orders to delivering the purchase, it generates an immense amount of data that needs to be properly analyzed and maintained. In order to improve the delivery process, you need to gather all the data from the tools and delivery partners.
Analyzing the data will help you with identifying the cause of late deliveries, get the opportunities to save money and time, achieve more clarity of your delivery process, and identify major shipping spends. Once you identify the problems, you can inform your teams to work on them.
Conclusion:
Leverage your business with these strategies to improve delivery for your e-commerce store which help your business grow. As we said, it is not one-man work, you need a team to handle the various tasks. We suggest that owners stay transparent with the teams and customers in order to maintain better customer satisfaction. Go ahead with these tips to finetune your delivery process to offer a better customer experience and boost your revenue.