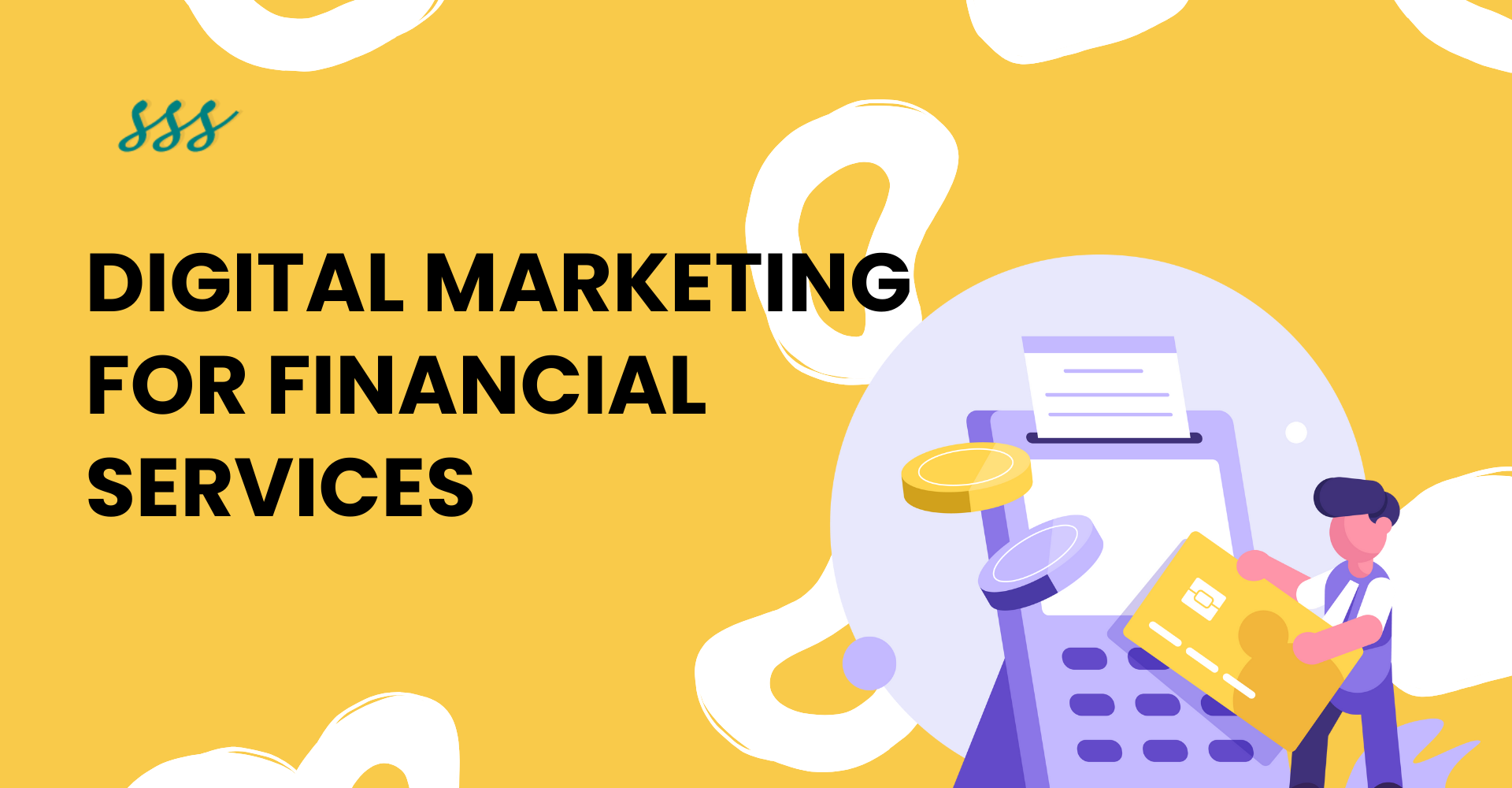 The Importance of Digital Marketing for Financial Services
October 17, 2023
|
11

min read
By: admin
In an era defined by digital transformation, the financial services industry stands at the precipice of profound change. The world of finance, once synonymous with tradition and conservatism, is now being reshaped by the relentless advance of technology and the evolving preferences of a new generation of consumers. As such, the role of digital marketing has emerged as a linchpin in the industry's ability to thrive and adapt to this rapidly shifting landscape.
Digital marketing is not merely a buzzword; it is the lifeblood of contemporary financial services, an indispensable means to engage, inform, and resonate with clients in a highly competitive market. This digital metamorphosis is not just an option—it's a fundamental necessity, as the financial sector grapples with the demands of an increasingly tech-savvy and discerning clientele.
Most people get used to the transactional world which only becomes possible for the immense role of digital marketing for financial services. However, the slowness of financial sectors has become a cause of lagging behind other sectors in marketing. As new technologies have been emerging in financial sectors it could bring some hope of revolutionization in it.
There are various financial institutions such as banks, insurance companies, investment companies, private lenders, and creditors. The purpose of financial marketing is to connect financial service providers with both consumers and business organizations who need those services. As the financial sector begins to embrace digital marketing strategies, visibility, exposure, and customer engagement will increase. When it comes to requirements for financial services, financial marketing is a crucial tool for both consumers and organizations.
Within this dynamic and ever-evolving financial ecosystem, traditional marketing channels and strategies are no longer sufficient to captivate an audience. Customers now demand accessible, personalized, and on-demand financial services that meet them where they are—online, on their mobile devices, and across social media platforms. In this context, digital marketing emerges as a game-changer for financial institutions, serving as the bridge between antiquated approaches and the modern consumer's expectations.
This transformation encompasses a wide array of strategies, from search engine optimization (SEO) and content marketing to social media campaigns and data-driven analytics. It revolves around building a formidable online presence, fostering trust, and generating brand loyalty in a digital realm fraught with opportunities and challenges.
In this exploration, we will delve into the multifaceted realm of digital marketing within the financial services sector, dissecting the reasons why it is imperative for the industry's success and sustainability. From enhanced customer engagement to bolstered brand awareness and, ultimately, its impact on the bottom line, digital marketing is the cornerstone of survival and success in an industry poised at the intersection of finance and technology.
Reasons Why Financial Services Need Digital Marketing Services
Digital marketing has revolutionized the financial services industry, ushering in an era of unprecedented change and opportunity. In an increasingly digital world, traditional marketing methods no longer suffice in capturing and retaining clients. The financial sector has realized that it must adapt or risk obsolescence. Here, we outline the critical importance of digital marketing for financial services:
1. Enhanced Customer Engagement:
Digital marketing allows financial institutions to engage with customers on their terms. Social media, email marketing, and personalized online content enable banks, insurance companies, and investment firms to reach their clients where they spend their time, fostering deeper connections and trust.
2. Brand Awareness and Visibility:
In a crowded marketplace, a strong online presence is essential. Digital marketing strategies like search engine optimization (SEO) and content marketing help financial organizations rank higher in search results, making it easier for potential clients to discover their services and trust their credibility.
3. Data-Driven Insights:
Digital marketing provides valuable data and analytics. Financial institutions can gain insights into customer behavior, preferences, and demographics, enabling them to tailor their services and marketing efforts for maximum effectiveness.
4. Cost-Effective Marketing:
Compared to traditional advertising methods, digital marketing is often more cost-effective. Financial services can reach a larger audience with a smaller budget through targeted online campaigns.
5. Compliance and Security:
With stringent regulatory requirements in the financial sector, digital marketing tools can be tailored to meet these requirements. Institutions can communicate securely with clients, ensuring data protection and compliance with industry regulations.
6. Competitive Edge:
Financial institutions that embrace digital marketing are better positioned to adapt to changing customer expectations and industry trends. They gain a competitive edge by being agile and responsive in an ever-evolving marketplace.
7. 24/7 Accessibility:
Digital marketing ensures that financial services are accessible round the clock. Clients can inquire, transact, and seek information at their convenience, fostering trust and satisfaction.
Digital marketing is no longer an option but a fundamental requirement for financial services. Its importance lies in its ability to not only meet customer demands but also to surpass them, helping financial institutions thrive in a digital age where adaptability and customer-centricity are paramount. Those who leverage the power of digital marketing will be best equipped to succeed in a rapidly changing financial landscape.
Digital Marketing Strategies for Financial Services
The main goal of implementing digital marketing strategies for financial services is to reach out to more customers and gain trust and customer engagement with financial sectors. It will help you to maintain viability and get more exposure. Here are some benefits of digital marketing, that will help you to grow your business online:
Apply Search Engine Optimization
Content Marketing
Take Advantage of Pay Per Click
Drive More Conversions
Increase Brand Awareness
Monitor Online Reputation Management
Publish Press Release
Email Marketing
Understand Customer Behavior
Social Media Marketing
1. Apply Search Engine Optimization :
Search engine optimization (SEO) offers to get rank higher on search engines so you can get noticed by your potential customers. It will help you to gain more organic traffic from organic search results. You don't have to pay for SEO to make a spot on the first page of search engine result pages (SERPs).
Once you successfully rank your website on search engines like Google or Bing, that means more target audience will notice your brand and click on it. It will help you to maintain your brand visibility and gain more click-through rates (CTRs). But for search engine optimization you need to put some strategies to rank your website on search engine result pages (SERPs).
When it comes to on-page SEO, you need to focus on the content of your website. Here, you must do keyword research, add title tags and meta descriptions, and publish unique, fresh, relatable content. When you research keywords, you need to think as a buyer persona, what they search online for your products. Once you identify the phrases or terms, try to rank your website on those keywords. That's how you can get more organic traffic from organic search results.
Off-page SEO refers to all activities that happen back from your website. Inbound linking refers to backlinks as the main element of off-page SEO. If any websites add links to your website content, that is called backlinks incoming links, or inbound links. It will help you to get noticed by more leads and rank higher on search engines.
Last but not least, technical SEO refers to the technical parts of your website like coding, image compression, CSS, and more. These technical parts help you to improve your page speed which is an important factor when it comes to ranking higher on Google.
2. Content Marketing :
Content marketing is an important element in digital marketing for financial sectors. It will help to build trust and bring more customer engagement with your brand. Your company needs to act like a leader with all knowledge related to your business and provide solutions for your potential customers. First, you need to understand what they want, and what they search for in your products. Also, you need to interact with your customers to offer them a positive experience.
Most people want to know about various financial staff when they search for it. If your website publishes financial blogs then it would bring a great opportunity that gets noticed by potential audiences. It is an effective way to make connections with your target audience. To create content, it should need to be unique, fresh, and related to your products or services. The main motto of content marketing in financial services is to gain the trust of customers and develop customer loyalty. As a result your potential customers always choose you over your competitors' websites.
3. Take Advantage of Pay Per Click :
Pay-per-click refers to paid advertisement. You need to pay whenever you get each click on your paid ads which appear on top of search engine result pages (SERPs). PPC campaigns are for attracting more potential costumes to your website. Google Ad is one popular example of it, it helps you to get a spot on the first page of Google. Some social media channels such as Facebook, LinkedIn, and Twitter allow you to run PPC campaigns.
4. Drive More Conversions :
Conversion rate refers to the number of customers who have desired to purchase your products or services. To calculate the conversion rate, you need to divide the total number of visitors by the total number of sales that have happened from your website.
To get more conversion rate, you need to implement digital marketing strategies on your website. To generate more customer rates, you need to understand your customers better and their needs too. Conversion rate optimization will help you to interact with your potential audience and help you offer them a better user experience.
5. Increase Brand Awareness :
Today many private financial services providers enter the internet to interact with more potential customers. It is tough to stand out from the stiff competition. Here, digital marketing is the only way to stand out from others and increase your brand awareness. Still, many financial companies don't have an online presence.
So, it is time to start involving your online customers. Start implementing new techniques to get noticed by your target audience. The best way to maintain online visibility is to get involved with social media and mobile marketing. It helps your customers to be aware that your company exists.
6. Monitor Online Reputation Management :
It is important to have an online reputation when you are a financial service provider because if you can't make a positive online reputation, users won't trust your website and you won't get a chance to rank your website on search engines. It is always essential to check what people respond to your products or services and what reviews you get online so that if your potential customers see reviews before purchasing your products they can trust you. You need to respond with a low tone to show respect to the people who comment on your products. It will help you to create a positive impact on your potential customers.
7. Publish Press Release :
Social media makes it easy for press releases to be shared with anyone, anywhere. It doesn't matter whether you're reaching stockholders on LinkedIn or casual users on Facebook, your information will spread more rapidly than ever. As a consequence, volumes increase further, driving prices even higher.
8. Email Marketing :
Email marketing is the use of email to send personalized and targeted messages to your prospects and customers. Email marketing can help you build trust and rapport with your audience, increase conversions, retention, and referrals. You can use tools like Mailchimp or Constant Contact to create and manage email campaigns that deliver value, relevance, and timeliness to your subscribers.
9. Understand Customer Behaviour :
You can understand your target customer's behavior by monitoring customers' reviews. It will help you to understand what your users want and try to improve your products or services. As a financial provider, you need to make sure your customer gets a positive user experience and understands your customer needs. To understand your customer behavior, you can organize a survey, events, and various social media polls on various topics.
10. Social Media Marketing :
To attract more Gen Z customers, social media marketing is the best way to promote your brand. Here, you are able to get more potential customers and generate more traffic to your website. The following social media channels you can use for providing your financial services such as Facebook, Twitter, Linked In, Youtube, Instagram, Snapchat, and more. Here, you can share your website post, create polls, and surveys, and create many unique posts to attract more customers which convert into conversions.
Conclusion:
Financial services will become more widely known to the public as long as online marketing is implemented. Financial services providers today compete fiercely for clients' trust and security, making one provider stand out from the rest. Your company can also benefit from digital marketing if you embrace it. If you need help with the implementation of digital marketing strategies for your financial services, we are here to help you. This article on the importance of digital marketing for financial services will help you to understand it better. If you love reading our articles, you can also check out our blog page to explore more articles on trending topics.