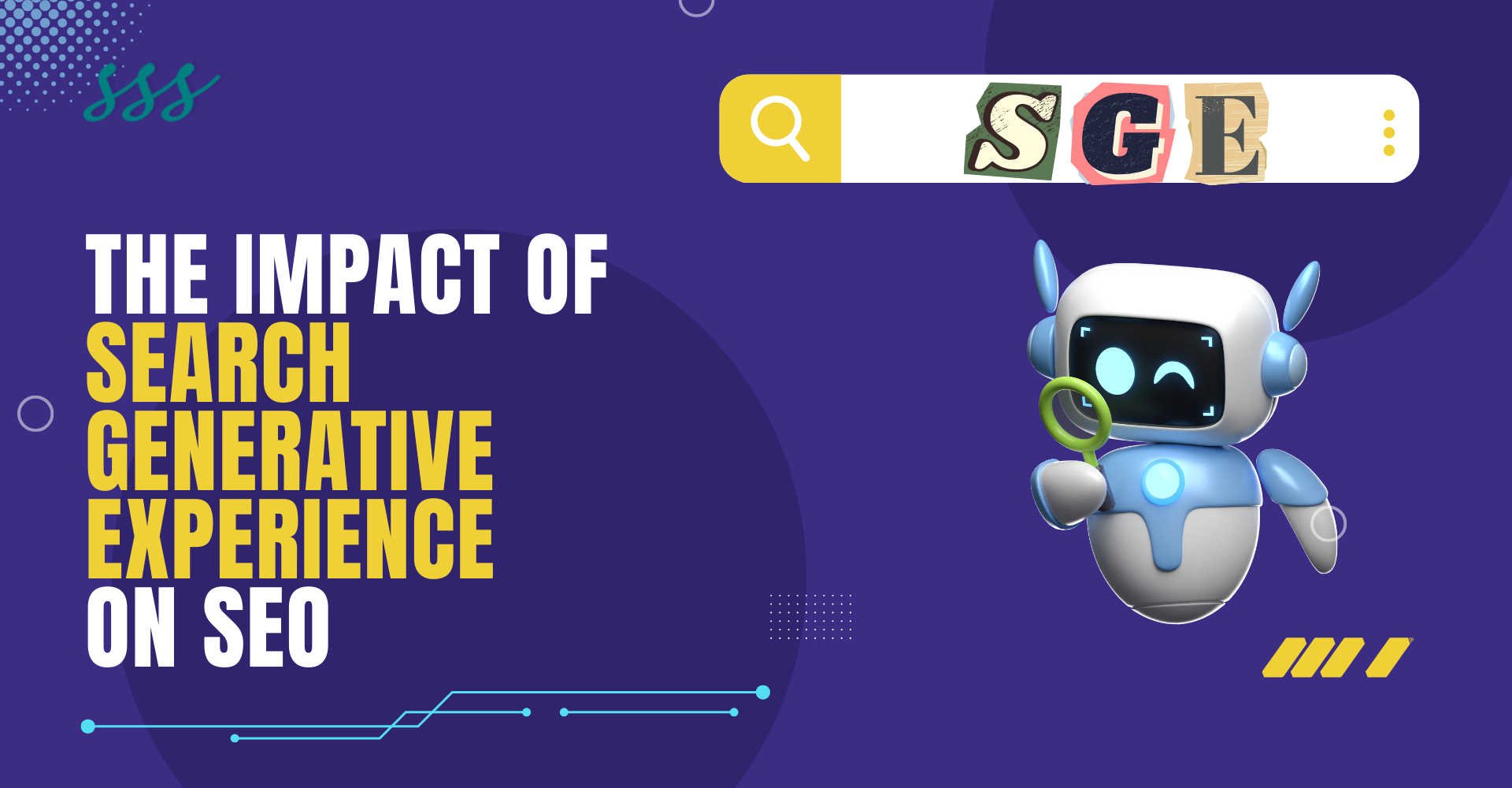 The Impact of Search Generative Experience (SGE) on SEO
November 8, 2023
|
9

min read
By: admin
"Time has changed!"- the line might give us a bad trip of what we lost and how our lives have changed in one blink. Where we just got comfortable with Google's algorithm changes, now a new technology has started knocking at our doors- called AI or Artificial intelligence and the Impact of Chatgpt, Bard, and various AI sites has drastically made people's lives easier. In May 2023, Google announced in their latest Google IO Conference to bring a new feature called "SGE or Search Generative Experience or Generative AI into search engine results.
Since 1998, Google has never disappointed its audience in online search technology. After updating its algorithm, Google has reached an edge over the competition which gives way to market dominance. Now after releasing the Generative AI, it has created a buzz.
Google has been working on its generative AI for many years. But in early 2023, Google successfully announced its first artificial intelligence chatbot, Bard. Similar to ChatGPT, Bard provides all types of AI answers for all kinds of questions. You might be thinking, after releasing Bard, why did Google add Search Generative Experience (SGE), a new feature, quite similar to Bard, into the SERPs? It has a clear and loud answer- it helps to simplify search results and makes answering questions easier.
Now, after Google announced SGE, people are using it and loving the way it offers faster answers. With the powerful cutting-edge generative AI technology, SGE helps to improve search results, enhance the way users browse the web, and offer a handy view of search results.
Introduction to Search Generative Experience or SGE
Whenever we are looking for something specific or researching any specific topic, we also have some confusion between our lines and moreover, many times we want more information. In order to solve this issue, Google has introduced SGE or Search Generative Experience. According to Google, " To make this easier, we will soon roll out improvements to our AI-generated responses for various topics or questions related to science, economics, history, and more. With this update, you'll be able to hover over certain words to preview definitions and see related diagrams or images on the topic. From here, you can tap to learn more."
Moreover, when you are up to researching any specific topic, you need to know the ins and outs of this specific topic. Most of the time, we can't find what we want while digging into the search results, and "SGE while browsing" comes to play a vital role. As per Google's recent updates, this feature was recently available on Mobile devices like Android and iOS, and they are working on bringing this feature to Desktops and Chrome in the ahead times. They are testing generative AI in order to bring this feature into the market as soon as possible in order to help users navigate information online and identify what they are looking for more quickly.
How Does Search Generative Experience (SGE) work?
As we discussed earlier, with the aid of generative AI technology, Search Generative Experience (SGE) gives users prompt and precise responses to their questions. It functions by examining the user's search query and producing a response in accordance with the information and knowledge that is at hand.
Contextual understanding and natural language processing are used by SGE to determine the user's intent and deliver the most pertinent and helpful content. It also offers supplementary data to aid users in understanding the subject matter, like definitions and relevant images. SGE continuously learns from new data and user feedback to enhance its answers. This implies that Search Generative Experience is more adept at giving precise and beneficial answers the more users engage with it.
With one tap on "ask a follow up" users can easily explore more information without restating the sentence in the search bar. In this additional feature, SGE provides you with some links, so that you can explore more. One most important feature of this SGE is vertical experience. Whenever you are about to search for local searches or shopping, Search Generative Experience or SGE will produce the list of best products with detailed information like reviews, relevance, ratings, features, prices, and product images. So, users can make faster decisions for purchasing the product.
What impact will Google's SGE have on SEO?
As Google's SGE or Search Generative Experience is in the experimental stage, no one can say directly how it will affect SEO. But as we see what change it makes in the search engine result interface, we can guess that a drastic change is on the horizon. Here we are going to discuss some of the possibilities of what kind of impact will leave on SEO. So, you can prepare yourselves from now on:
1. Competition for basic question-based keywords would be much tougher:
In the past few years, Google has introduced many features like knowledge graphs, rich snippets, shopping carts, and more. Now they have recently added Search Generative Experience or generative AI on their search result interface which helps their users to get answers more quickly and easily. Like Bard and ChatGPT, the SGE snapshot on the first page of SERPs offers detailed information.
SGE provides users with quick answers, eliminating the need for them to click through to a website. This means that SGE can reduce organic search traffic to websites, making it more difficult for websites to rank for standard question-based keywords.
2. Ranking on the top of SERP will be much more competitive:
Ranking on the first page of the SERPs has been always important for any website online, now after releasing SGE, the competition will be much harder and moreover crucial in order to get website traffic. As per the data, the top five results can be shown as a part of the generative AI answer. Now think, one of them of yours! I Feel blessed!
After analyzing the situation, we can predict that SEO goals may shift from ranking on the top of Search engine results pages to getting the entry pass into the top-five results shown by the SGE or Search Generative Experience. This means that it will be more competitive and harder to rank for. Companies should consider investing in SEO strategies that are more targeted and niche-specific.
3. Give your attention to user search intent:
To be part of Search engine optimization or digital marketing strategies, one thing that will always be on the board is understanding the user's search intent. But after SGE comes on the scene, it suddenly becomes more important.
The snapshots are now accurately replicating the top-ranking SERP results, showing any featured links to be similar or identical to them. Moreover, Ranking on the highest spot of the first page of SERPs also gets the same attention as similar to the website which gets the recommendation by SGE.
4. Use SGE to get more brainstorming ideas and the primary format of the content:
Just like other AI chatbots, you can generate an entire blog or articles in a few seconds. Nevertheless, the results from AI bots are still highly subject to serious factual errors since they lack hands-on experience.
However, AI can give you the topic ideas and brainstorm format of content which makes your content writing jobs easier. It enables you to streamline the process of writing the content and gives you points on which you can elaborate in your own words.
5. Focus on User Experience and Engagement
As per the experts, user experience and engagement metrics play a vital role in which content is shown on the SGE snapshot. Maybe it is too early to decide what metrics will be used for AI-driven searches but having a preparation for enhancing your user engagement and experience game is never a bad idea.
Instead of using the same content type, use multiple types of content in order to make your SEO game strong. Use images, videos, infographics, ebooks, and more to enhance user experience and engagement performance. To improve your click-through rate, use internal linking to your blogs and articles. This is the most important rule of the topic cluster strategy.
Limitations of Search Generative Experience (SGE)
As we already told you SGE is still in the experimental phase. So, there are some limitations that are also mentioned by Google itself. Here are some limitations which are mentioned below:
1. Misinterpretation during the showing of results: Sometimes SGE generates results, output is not the same as the users asked for.
2. Provide Misrepresented Facts: Like other LLM-based experiences, SGE provides misrepresented facts that are not appropriate for users' questions.
3. Duplicate Content Issues: As we know this is a generative AI, and it includes in the search, It might produce content by gathering information from various sources whereas rich snippets produce content from one particular source.
Are You Ready to Make Your SEO Game Strong for SGE or Search Generative Experience?
While Google's new addition Search Generative Experience or Generative AI brings many challenges to your SEO strategy and digital marketing strategies, it will introduce you to some opportunities. By implementing the right strategy in the right position and getting an early start, you can rank your brand for a better position in the AI-driven future of search.
Start by creating quality content that resonates with your audience. Make sure to use relevant keywords and phrases. Optimize your content for search engines and make sure to update your content regularly. The way people search and get the answers to their questions is changing, that's sure- but just remember: It will still be important to produce relevant, high-quality content that answers from a real reader's mind.
Conclusion
The way Google's new feature, SGE or Search Generative Experience has dropped onto the scene, it is quite an obvious situation that many digital marketers aren't sure what to do or what not to do yet. But using AI with the right strategy can help your brand to shine on SERPs. We hope this article on the impact of Search Generative Experience (SGE) on SEO helps you to understand Google SGE better and what impact will Google's SGE have on SEO. If you want to read more about digital marketing services, keep your eye on our blog page.