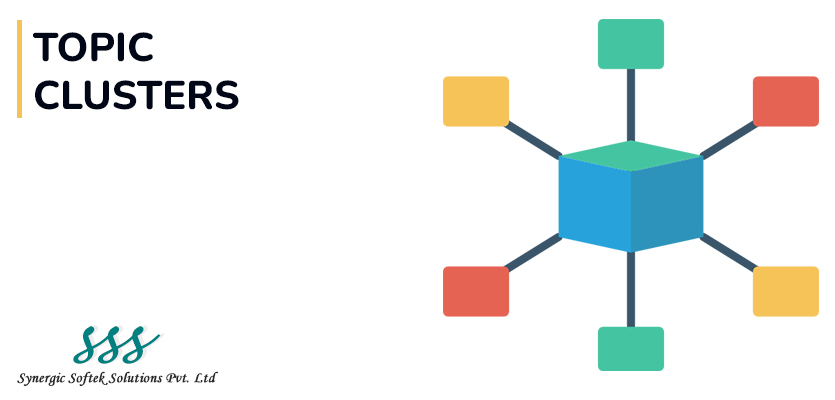 How To Improve Content Marketing With Topic Clusters
December 5, 2022
|
7

min read
By: admin
If you are facing an issue with the ranking of your article or you don't get enough traffic on your webpage, you try every kind of content marketing strategy for your website, but still, the same things are going on, when it feels like your leg struck into the mud, you can't do anything, then topic cluster comes to play.
Stop posting articles or blogs on individual keywords, go for topic clusters which revolve around one main topic, called the "Pillar page" where you write about those cluster topics as subheadings. You can use the link of the pillar page on your cluster topic which helps you to increase your page traffic.
What is Topic Cluster?
Topic clusters are collections of articles that Centre on a single subject and link to and from a single pillar page. To keep people on your site, topic clusters are organized around a particular subject and provide several options for internal linking. A topic cluster is the combination of pillar pages, cluster pages, and internal linking:
Pillar Pages
The pillar page is the main writing, where you put all cluster topics as subheadings. On the pillar page, you put all information about the topic. You need to put everything that people ask for on one single topic. Generally, pillar pages are linked with the various cluster pages.
Cluster Pages
Cluster pages refer to answers to a specific question with depth information. It is not just long tail keywords, it is intended for specific users who search in a specific niche.
Internal Linking
If you put the links of pillar pages in your cluster topics that will work as a signal in the search engines which means that the pillar page is the main topic. Links from a pillar of authority to content in the cluster transfer authority to the rest of the cluster. There should be a suitable anchor text for each connection. Search engines can better grasp the content "behind" each link thanks to this description.
Benefits of Topic Clusters
Here are the benefits of the topic clusters model, which are mentioned below:
1. Improving SEO
2. High-Quality Content
3. Increasing Content Production Speed
1. Improving SEO
Linking pillar topics to topic clusters generally improves your SEO by giving your article the authority of a pillar page. Along with that, you have to do proper SEO to enhance the rank of your article on the first page of search engine result pages.
2. High Quality and organised Content
Pillar pages allow you to write organized content for your website and cluster topics are the more specific content about one particular topic which is related to pillar content. That will give you a broad amount of high-quality and organized content which will help you to get noticed by Search engines and rank your article at the top.
3. Increasing Content Production Speed
Once you have done the bulk of information for your pillar pages, topic clusters are needed to research a particular topic and it is much more similar to writing than the pillar pages. So, after writing one main topic like pillar pages includes all the information people ask for. You can write various topic clusters from that pillar pages, and link those topic clusters with that pillar page. That process will help you to increase content production speed.
Steps for Creating Topic Clusters
To develop a thoroughly thought-out topic cluster strategy from scratch in only a few minutes, there are the following steps for creating topic clusters are mentioned below:
1. Need to Decide on a Particular Topic
2. Research Keywords on the Core Topic
3. Outline Pillar and Topic Clusters
4. Add Internal Links to Topic Clusters
1. Need to Decide on a Particular Topic
Firstly, you need to decide a particular topic which you want to article for your brand. Keep in your mind that the Topic should be related to your website. It will help customers to know about what your brand or business provides. This is the part where you can decide whether it will be a pillar page or not. From there you can decide which sub-topics are going to be a topic cluster. For example, if your business provides a digital marketing service, you can write about digital marketing with detailed information about where you can put the digital marketing strategy, SEO, and Search Engine Marketing as a subtopic. You can write topic clusters which you used as subheadings in digital marketing.
2. Research Keywords on the Core Topic
The next step is to conduct keyword research for your content. It's important to make sure your topics are appropriate before you start studying and writing about them. This crucial step will help you avoid time wastage and enjoy the benefits of producing high-quality content. Sometimes You can keywords as a topic cluster. And link it to the pillar pages and it will help you to increase traffic to your business.
3. Outline Pillar and Topic Clusters
Before start writing, you need to outline your pillar pages and topic clusters. You need to consider your main topic as a pillar page, and add links to the pillar pages on topic clusters. When you outline the pillar pages you need to cover a massive amount of information with depth knowledge. While creating topic clusters, you need to add topics with must be relevant to the pillar pages that can link to the pillar content.
The blueprints for each piece your team will produce should be contained in your content outlines. The headings and subheadings, lists of keywords, intended word count, and mentions of top-ranking competitors should all be included in your outlines.
4. Add Internal Links to Topic Clusters
After publishing the pillar content, you need to write topic clusters which will be relevant to the pillar topic, then do internal links that direct the pathway to pillar pages. Even if your content is ranking, you need to update it regularly to maintain ranking, it will help to get noticed by your potential customers and increase your page traffic.
Why do topic Clusters Matter for SEO?
Topic Clusters help search engines to understand your website better and it will bring your website to the top of search engine result pages and help you to get noticed by users. Topic clusters can significantly affect SEO results in two ways when used properly. First, sites that thoroughly cover their selected topic receive a gain in site authority and overall page ranking.
Even if this is merely speculation, it makes logic. The stated goal of Google is to deliver relevant results that correspond to user queries; hence, using topic clusters to completely cover a topic increases your chances of ranking highly. If you want to grow your website, then you have to start writing Top clusters. You have to write more content that will help you to cover every topic which you want to write.
Conclusion:
Present high-quality content that will help you to get noticed by your customer and topic clusters help you present organized content which links to a pillar page. We hope this article will help to understand topic clusters better. If you want to know more about it, keep your eye on our website.