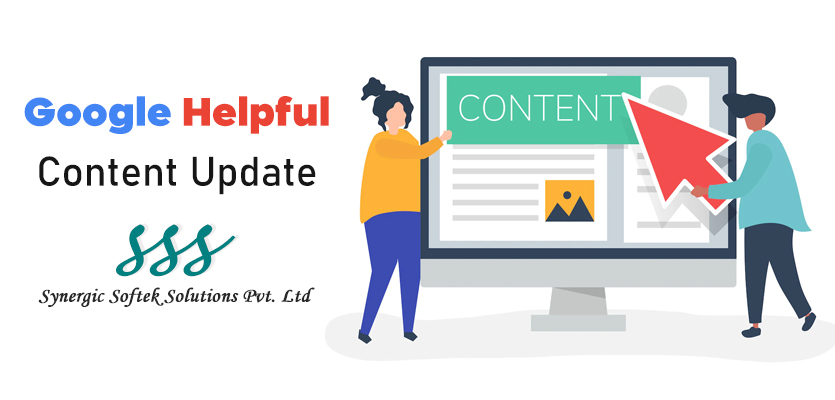 Latest Guidelines on Google Helpful Content Update
January 6, 2023
|
6

min read
By: admin
No more copy-and-paste content, no more unnecessary content you will see when searching for something on Google. Google recently announced Google's helpful content update on August 18th, 2022 mainly for the importance of high-quality and valuable content which will be more focused on search engines. Here are our tips to make your website's content more relevant and valuable for Google's helpful content updates.
What is Google Helpful Content Update?
The "Helpful Content Update" refers to an update on an algorithm by Google which is the kind of reward for the content which gives the best user experience. If too many articles are flagged as "unhelpful," the "Helpful Content Update" signal, which affects the visibility of all content, may become less effective. It started rolling out on August 25, 2022, and the end date is September 9, 2022.
Google's Helpful Content Update is mainly to help users notice more helpful and valuable content while they search on Google. When you update any content on your website just keep in mind Google's helpful content because posting it should provide users and searchers with a better experience, as a reward Google helps you to rank your website on top of search engine result pages (SERP).
Latest Tips to Make Your Website's Content More relevant for Google Helpful Content Update
The purpose of this is to be of assistance and to produce original, useful materials or content for your website. Google has offered a list of useful questions to ask yourself when generating content for your website or the websites of your clients, as the development of content is the main emphasis of this algorithm update.
This would be an essential update when you implement SEO on your content. We decided to provide you with some guidelines on how you make your spot on top of the SERP with Google Helpful Content Update.
Focus on People First Content
Remove Unnecessary Content
Use AI Content Intelligence
Add Valuable Content
Add Your Own Graphics, Videos and Images
1. Focusing on People First Content
The main purpose of Search Engine Optimization is to focus on people-first content. Content creators or companies should focus more on customers' or users' needs and choices. When you try to create people-first content you need to face some questions from Google such as What does your audience think about whether they are getting useful and valuable content or not? What is the main purpose of your website? Is your content filled with deep knowledge and first-hand experience? Do audiences leave a comment about their experience after reading your content? And more like this.
If you overcome these questions and post useful content and the user gets the best experience after reading your content, then Google considers you as a People-First Content.
2. Remove Unnecessary Content
A site-wide signal called Google's Helpful Content Update will determine whether your domain has an excessive amount of "unnecessary" content for audiences. If so, it's possible that even the naturally occurring visibility of your very helpful articles diminishes. It makes sense that starting to remove any content that fits this description is one of the best ways you can get ready for this update. You can find unnecessary and unhelpful content on your website by using Screaming Frog.
When comparing the performance of specific pages on your website to its overall performance, using tools like Google Analytics and Search Console is a good first step. Metrics like traffic, rankings, target keywords, session duration, bounce rate and conversions are just a few that you should consider. Before putting URLs on the cutting edge, you should also take the quantity and caliber of backlinks pointing to specific pages into account.
And keep in mind that just because a page does not rank well or does not receive a lot of organic traffic does not imply that it is not helpful. Even if a page is not deemed worthy of ranking by Google, it may still be helpful to your clients on their journey to conversion.
3. Use AI Content Intelligence
Artificial Intelligence is mainly used for improving high-quality content and increasing website productivity. But usage of AI tools makes search engines full of trash content. Because people just do not use All tools for grammar checking or finding keywords, they use AI tools for generating content which sometimes does not seem useful or valuable for any website. You can use Al tools for converting your ideas into the actual pictures but the final ideas and say should belong to you.
4. Add Valuable Content
The growth of SEO you have seen in the past decade has been outstanding. If you are in the content marketing industry, You have already known the term "SEO" and How it impacts the search engine. It gets adopted by senior marketers. Today agencies, marketers, and big in-house industries all focus on search results for which they need SEO for running their content.
Companies have come to the realization that they have been passing up significant market share chances inside their own businesses during this time. They have therefore established teams, developed strategies, and carried out the production of new material to close such gaps. In general, Google has benefited from this since more competitive material provides them with more search possibilities, which raises the caliber of their offering. Companies need to realize to add more valuable content to their website, it is easy to rank their article with proper SEO strategies.
5. Add Your Own Graphics, Videos and Images
If you want your website to look more visually appealing, then you need to add images or videos and create your own graphics in your content. Additionally, coming up with original designs of your own is advised because they are understandable and linkable assets. This is a terrific approach to enhance your chances of generating hits and shares because people are more likely to engage with material that incorporates videos and photographs.
Conclusion
Websites and content producers should use this chance to step up and provide their viewers with useful content by taking advantage of the helpful content update. Many websites on the internet will undoubtedly be impacted by the goal of writing for humans and producing helpful material, and some marketing companies' future content strategies will undoubtedly change as a result. We hope this article helps you to understand the concept of Google's Helpful Content Update. If you want to know more about It, you can contact us or if you want to update yourself with trendy topics, you can check out our blog section.