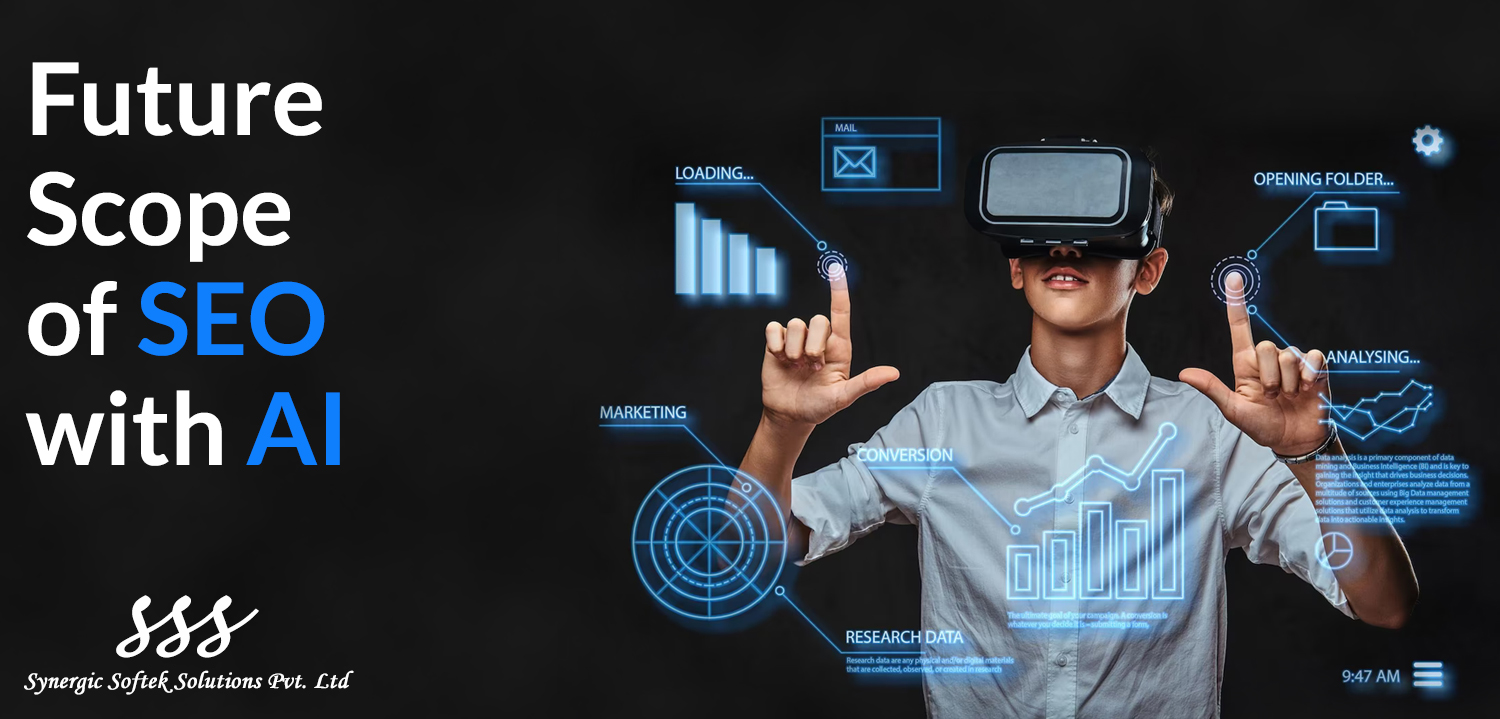 Future Scope of SEO with AI
May 12, 2023
|
6

min read
By: admin
For the future of the digital world, will eagerly wait for Artificial Intelligence to take over Search Engine Optimization. AI already takes part in users' daily life. It is just a matter of time before AI starts dominating SEO marketing. If you are looking for answers to how AI will impact the future of SEO, then here it is! We are going to discuss the Future Scope of SEO with AI.
What is AI?
Artificial intelligence (AI) is an area of computer science that deals with making computers do tasks and work as humans do. It is defined as the theory and development of computer systems able to perform tasks that usually require human intelligence, such as visual perception, speech recognition, decision-making and translation between languages.
To understand the impact of AI on SEO, we should first look at how different technology is evolving and learning. The need for search engine optimization is growing in importance as a result of Google's increased reliance on artificial intelligence to rank their search results. This can be seen through their use of RankBrain, a machine-learning algorithm, which has become Google's third most important signal for ranking web pages.
The influence of AI on SEO is huge because it is not just about creating content anymore but also about creating intelligent content that generates more shares and traffic from social media platforms like Facebook, Twitter and LinkedIn. Furthermore, advanced machine learning allows virtual assistants like Siri and Alexa to sell products or answer customer service queries by accessing data from other companies through machine translation tools. So AI allows you to publish more high-quality content and increase traffic to your website.
Top Ways AI will Impact SEO
Today, AI is used in digital marketing for targeting ads or gathering data, to figure out specific customer industries for analyzing data, streamlining marketing campaigns and cross-selling. You need to understand that AI already impacts other industries but SEO Artificial Intelligence is still on a note, if AI enters into SEO marketing, there would have a massive change that users or business owners want. Here are the top ways AI will impact SEO which is mentioned below:
Optimize Visual Content
High -quality Relevant Content
Have an Idea of the Rank of Your Website
Optimized Voice Search
All about User Experience
Control Over Search Engine Result Pages
1. Optimize Visual Content
Visual content includes audio clips, short videos, and images, which will help your article on blogs to rank on Search Engine Result Pages (SERP). According to many researchers, Al made visual content is going to be a ranking factor in the future. We are already seeing many websites making visual content and Google is identifying and analyzing it and helping to rank.
Now content writers should consider visual content as an SEO ranking variable. While you are optimizing your content, put an attractive and short heading, and keywords when you have to add visual content similarly. You need to add tags, and video descriptions, and check the video length also.
2. High -quality Relevant Content
Artificial intelligence has the potential to improve the quality, relevance and consistency of content. It can help solve some problems in the content writing industry. The purpose of Search Engine Optimization (SEO) is to rank web pages for keywords and make them visible on search engine results pages. But this can only be achieved if the content is relevant and of high quality.
Artificial Intelligence (AI) has made it possible to help you generate web content that is high quality and relevant. You need to take over the responsibility of creating original, authentic content which will be a perfect fit for SEO. Rankbrain is a google algorithm AI system, which helps you to identify the most relevant search result that you want.
3. Have an Idea of the Rank of Your Website
There are many factors we consider when we try to rank any article or blog such as on-page SEO, backlinks, and optimize keywords. But still, many websites face issues while ranking their articles. For solving this problem, AI can analyze data and give you an idea of how much these factors help you to rank your article. This will become the main element to develop an SEO strategy.
4. Optimized Voice Search
Online information search behavior is evolving. People now use voice search using artificial intelligence on their mobiles, tabs, or voice assistants to look up information online. The use of voice search has grown in tandem with this increase in mobile device usage. People are getting used to the idea of speaking directly to computers and using the Internet to acquire information whenever and wherever they may need it.
Artificial intelligence is making online searches more conversational. Online marketers may eventually adopt a different strategy for content optimization by concentrating on more conversational keywords.
5. All about User Experience
The Artificial Intelligence Search Engine changes the way people search, if you already have an Idea of AI SEO, and utilize the idea, then no one stops you to reach on top and getting noticed by your potential customers. If you already provide high-quality relevant content, have an idea of what customer needs, and optimize keywords properly, then you have already stood out from other competitors. UX designers can swiftly answer users' problems by building models based on user preferences by utilizing AI to learn about user behaviors, and they can create more customized applications.
6. Control Over Search Engine Result Pages
Today, many agencies have faced issues while trying to control SERP ranking. You do everything which is needed for ranking, but still, you don't get a good result. You need to create high-quality relevant content and optimize every SEO strategy you need to do. We hope Google algorithm may check it well and help you to rank your article on the top of Search Engine Result Pages (SERP).
In the future, it will be easy when you will use AI-based tools which help you to give specific data about a topic and will tell you which area you need to work in.
Conclusion:
Yes, AI will create an impact on SEO in the future. It will definitely change how businesses work with their SEO strategy and other agencies help them to get a better result on search engines. We hope this article will help to understand Al SEO better. If you want to know more about it, don't hesitate to contact us and keep your eye on our website for more content.