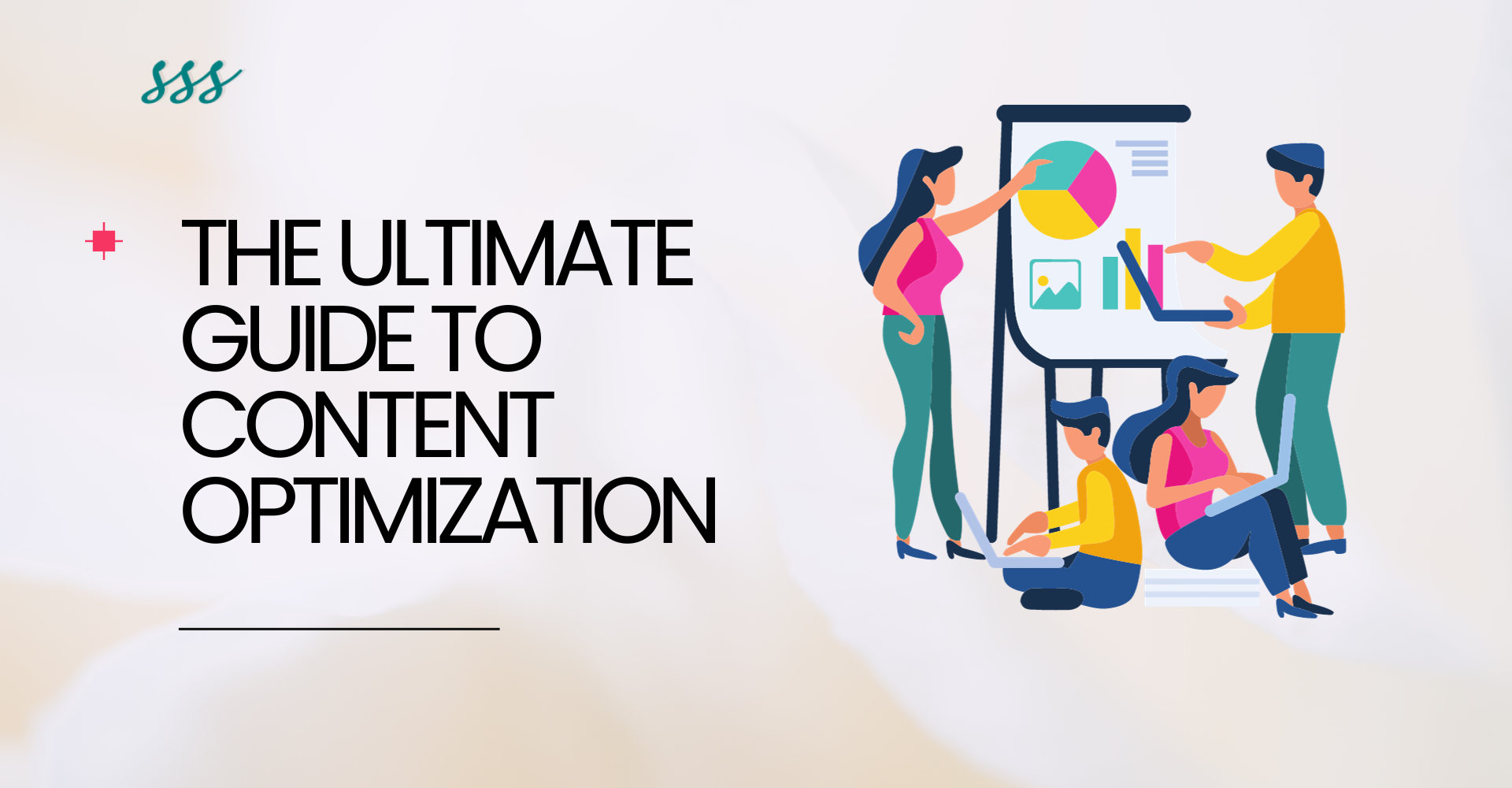 The Ultimate Guide to Content Optimization
November 10, 2023
|
10

min read
By: admin
Why content optimization compares to art! This is because it is not just about writing, you need to put some paints as images, videos, headlines, and subheadings to make it presentable to your audience, aimed at attracting them by the beauty of your content.
Often people get confused between search engine optimization and content optimization, but here we like to clear it up. In simple words, it is not the same thing, but you can say both complement each other. When you optimize your website for users, it becomes search engine-friendly automatically. In this article, we are going to discuss the various ways you can optimize your content to improve your performance.
What is Content Optimization?
Content Optimization refers to the practices we use to achieve the goal whether it's about ranking on search engine result pages (SERPs) or generating leads by publishing optimized content. For optimizing content, you can implement some time-tested or basic methods to reach the goal. Some significant elements need to be covered when it comes to web content optimization.
Content optimization should be done in the hope of attracting as many users as possible. Search engine optimization, also known as SEO, is a technique that helps you grow your traffic. When a Google bot notices your content is written properly, edited, formatted as well and crafted technically in a search engine-friendly manner. By optimizing your content, you make it easier for search engines to index and categorize the content on your web pages. You will then be able to find your content more easily and receive more click-throughs.
Why is Content Optimization Important?
Content optimization is an integral part of content marketing strategy, if you don't optimize your content properly, it will never get a chance to show up on the SERPs. For example, if you have written a blog according to the top of the funnel concept, after four or five months, when you check the performance of the post, nobody has seen your blog. Why it is happening? because you don't optimize your blog properly like :
Keywords that you have used have no search volume
Maybe you don't write the topic properly like forgetting to add some real data
There is maybe no use of headline tags or meta tags
There are plenty of reasons why your content disappeared into Google Vortex. No matter how good your writing is, if search engines and your audience don't find you, then all effects will go down the drain. Here are the following reasons why content optimization needs to be done:
Get a Higher Ranking on Search Engine Result Pages (SERPs)
Generate More Quality Leads
Increase Brand Awareness
Boost Revenue
Optimizing Content For Search Engine Optimization (SEO)
The primary goal for content optimization is to rank on SERPs and it will be possible with search engine optimization (SEO). For optimizing content for search engines, you need to research your business-related keywords and use them without overstuffing them into the content. For keyword research try to identify who is your target audience and what they use to search for your products or services.
To make this process easy, there are various free keyword research tools out there such as Google Ads, Keywords Everywhere, Keywords Planners, and more, also you can use paid keyword research tools like SEMrush Keywords Magic tools, Moz's Keyword Explorer, and Ahrefs keyword generator tools. After researching keywords, identify the keywords that you'll use as target keywords and which you'll use as additional keywords.
Once you figure out your topics and the related keywords, it is time to create an outline of the structure of your content and maintain a design in a logical flow like mapping your headline tags (H2, H3, and H4). According to a recent survey report, over 47% of content structured with advanced headline tags, gets a higher rank on SERPs.
There are major two reasons why you need to use headline tags: first of all, it is easy to read when users come to your website looking for answers to their questions, and also for visitors to your pages, it would be easy to navigate content and understand the depth of content you cover. Additionally, by breaking up your article into sections that search engines can crawl, you make it much easier for them to understand what's important in your article.
Use an internal linking process in your content to allow search engine bots to find your content easily and rank it on the first page of SERPs. It helps to increase user engagement and user experience. Also, you can use visuals like images, infographics, and videos to attract more people. According to SEMrush content marketing research, content with more than six images gets 116% more organic traffic than content which has zero images.
Last, but not least, here comes the most important part of the content optimization process which is the technical SEO. If your content has been written perfectly but your website loads slowly then people are not likely to look at your page further. Here are some important aspects of technical SEO that need to be maintained which are mentioned below:
Add meta tags
Add alt tags
Look into page speed
Absence of broken links
Content Optimization for Backlinks and Shares
Another reason for optimizing content is to get more authority backlinks and shares which helps to improve your website SEO. You need to create clickable and shareable content and to make it possible here are some ways, which help you to find a way to stand out from others and gain more backlinks.
Try to create controversial content:
If you comment on something or write something that goes against most people's opinions, this will help you to get noticed by others and stand out from your competitors. But one thing we need to alert you about is if you try to make your content controversial just to get attention, then users will notice that and it will create a negative impact and you'll lose your potential customers too.
Create Original Content:
Write up original content or opinion that has effective potential to create chaos or change the way people think on a particular topic, this strategy will help you to gain authority backlinks. If your target audience likes your opinion then you'll get shares, as well as backlinks and if the Google bot finds you as a reliable and trustworthy website then it will help you to rank higher on SERPs.
Try to Follow the Latest Trends:
Follow the latest trends and topics that the backlink creators in your niche are into, and create useful and original content based on that topic. If you don't have a topic to write about, then this is the best way to find a topic and write about it.
Have a Popular Voice:
Having a popular and unique voice makes you get the limelight first. This is one of the effective ways to generate authority and quality backlinks. For example, if you have talking and writing skills and you have many followers, then it would be easy to get backlinks from authoritative websites.
Optimizing Style and Quality of Writing
For improving the quality of your content, Here are some fundamentals. It helps to give you ideas on how you can improve your content quality. According to a recent survey, it is the most effective content marketing strategy in 2023. So, it needs to be prioritized first. Here are tips on how can you improve your content quality which is mentioned below:
Writing engaging and quality-based content can be tricky even for skilled writers. But with these tips, you are able to create compelling and engaging content easily.
Understand Your Target Audience's Needs:
Before starting to write anything, you need to understand what your target audience is looking for or what their needs are and how you can provide them with the information they want to know. It can be a guide or ways or solutions. Try writing your content the way your audience wants to see it.
Write Content as You Speak:
Make sure you use human language because Google prefers content with human language. Use short and simple sentences which help readers and Google Bot understand it easily.
Try to Use Short Paragraphs:
It is an important tip for content writers to use short paragraphs in content. We are most recommended to write 90 words for each paragraph. We can use free analyzing tools to see whether any paragraphs are too long or need to be rewritten.
Use Brand's Voice through your Writing:
Try to maintain your brand's voice for each piece of content you are writing which will help you to improve your brand awareness as well as user engagement. According to a recent survey, over 78% of articles that maintain Bran's voice are getting more organic traffic to their websites.
Content Optimization for Gaining More Conversions
Every content needs to have some ways to generate conversion, that's why optimizing content is important for that. When your target audience comes to read your website content and then what steps do they take to engage with your brand? And What way do you offer or open for them to make them engage with your brand? Here, we are going to discuss Call-to-Actions (CTAs) which need to be followed to optimize content to gain more conversions.
Call-to-Action (CTA): CTA is one of the most important parts of generating conversions. When you think of increasing conversions as a goal of your business, then you need to make your readers take action after looking into any pages of your website. That's why, it's not only about providing CTAs but also, you'll need to focus on designing, writing style, well-positioning, and quality of your content.
Before creating CTAs, you need to understand where your readers are on the stage of the buyer's journey. For example, you have sent an email about a new product or service to the person who just subscribed through your newsletter. Those who just subscribe to your channel might not be interested in purchasing any products the right way.
If you sent them any case studies or e-books, they would like to click and engage with your brand. To create CTAs correctly, you need to get attention from your target audience by making it easy to take in key information with bullet points, numbers, lists, and comparison tables. Focus on your target audience's wants, not think about your business. Make sure while writing, you use punctuation and adjectives correctly.
Content Optimization for Other Formats
Optimizing content for other formats like videos or images is also important when you need to get noticed by your target audiences because it also makes your content interesting, or entertaining. You'll see that YouTube is the best platform to showcase your brand through your video content.
For optimizing videos to get a higher spot on YouTube search results or get attention from more target audiences, you need to create original, relevant, engaging titles by including the main target keyword. Make sure you write a description for each video and the most important part to remember, must optimize your video file name. When it comes to image optimization, you need to focus on alt tags, image tags as well and file names.
Conclusion:
Content optimization is one of the crucial and integral parts of a content marketing strategy as well as an SEO strategy because it helps you to enhance your brand awareness, rank your website on SERPs, and convert traffic into leads. But make sure you write in human language because Google prefers websites that write most content in human languages. We hope this article on the ultimate guide to content optimization will help you to understand it better. If you like to read our articles, then keep your eye on our blog page.