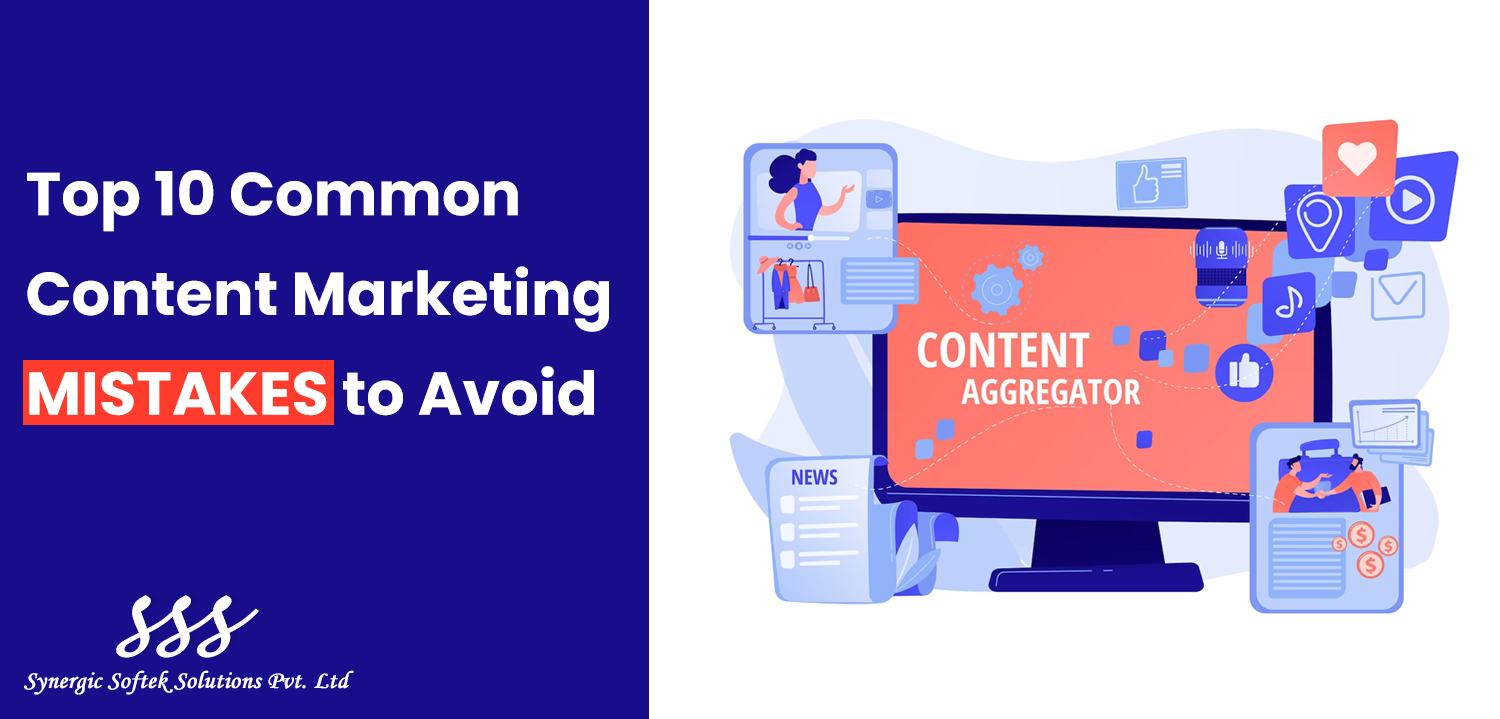 Top 10 Common Content Marketing Mistakes to Avoid
May 19, 2023
|
8

min read
By: admin
Today, content marketing is the most essential part when you want your business on the internet. Investing in content marketing is one of the smart decisions when you want to promote your brand online. Today this is the most effective way we use marketing strategies. But if you think, it is just about writing 2000 words per day and publishing it, you are wrong. Content marketing is not that simple. Today we are going to discuss the top 10 common content marketing mistakes that every business does.
Content Marketing is one of the effective investments every business should make. It gives you an opportunity to increase traffic, generate leads and get noticed by more potential customers. So, there is no question of why every business is going on the same road. But most businesses make the same mistake when they invest in content marketing just to gain more ROI. On the internet, over forty million blog articles have already been written. If someone already wrote about anything, and the article already gets the spot on the first page of search engines, then why should you write about the same thing? And how you rank your own article and stand out from others.
SEO is the most important part of content marketing which everyone needs to remember. Why do users want to read your articles? To get an answer to this question, you really need to invest in content marketing which mainly refers to a way of providing information for your target audience, who wants to know some answers to their questions which they are likely to search online. To rank your article you need a proper content marketing strategy for that. But sometimes your content marketing strategies do not stand out and you have to pay many dollars per year. So. Here we will briefly discuss the most common content marketing mistakes.
10 Biggest Content Marketing Mistakes to Avoid
Content creators are already seeing the revolution in content marketing and have gotten ideas on the benefits of ROI. Every day, Google algorithm provides new updates on SEO guidelines and new technology which have created impacts on content marketing strategies. And content creators are struggling with ranking articles on search engines. So, we are some spotlight on content marketing mistakes which every business does.
Not Publishing Blogs on a regular basis
Not Providing Enough Data For Customers
Not Giving Attention to Email and SMS Marketing
Ignoring Social Media
Forgetting to Pay Attention to Proofread
Not Focusing on SEO Best Practices
Choosing Quantity over Quality
Not Having Ideas on Content Goals
Not Analyzing Content Marketing Performance
Ignoring Mobile Optimization
1. Not Publishing Blogs on a regular basis
Over the world, there are around 1.8 billion websites and today over 500 billion blogs have been written on the internet. But more than 200 million websites actively produce or publish their blog daily on the world wide web. Every day, having an active website with blog posts is the crucial part that every business needs to follow.
According to content marketing specialists, websites that publish blogs on a regular basis, generate around 68% more leads than businesses that don't have any blog pages. Providing blogs every day helps to increase organic traffic, easily promote brands or their products or services, and get exposure on search engine result pages. If you are still not giving your attention to blog posts, now is the best time. But one thing you need to maintain a content calendar for managing new posts.
2. Not Providing Enough Data For Customers
We see that many companies create an editorial calendar with dynamic topic ideas which they think would give them brainstorming traffic to their website. In most companies, there is a group of people who write down the topics on their editorial calendar and they think they should write blogs on those topics.
As a result, yes, some of those topics may give you traffic but most of it sure gonna fall down. Because topics should be identified based on your target audience's needs. Those websites did not have sufficient data which can justify that customers are likely to read those contents.
3. Not Giving Attention to Email and SMS Marketing
A successful email marketing campaign will help to get introduced to a massive number of subscribers which will keep your content fresh for every reader. Email is one consistent element which never goes anywhere. Today more than 319.6 billion emails are sent and received every day. You can improve your email marketing by optimizing emails from mobile, using social media account links for promoting your brand, adding CTAs to your content, and adding an attractive subject line.
4. Ignoring Social Media
Social media is the best way to reach a massive amount of users for promoting your brand. Social media gives opportunities to content creators to add their content and publish and promote it with a wide range of audiences. But most of the time companies don't properly use their social media platforms.
If you don't know what your audience needs, and do not engage with your social media platforms, you are going to miss the opportunity of getting more traffic and leads. Everyday posting on social media and interacting with audiences keeps your brands gaining more traffic and gives your business better user engagement.
5. Forgetting to Pay Attention to Proofread
Content creators who are experts in writing, the audience can't expect any spelling mistakes or grammar mistakes in their writing. If they find any error in your writing they don't even feel like reading the full article. For that, as a content writer, you need to give attention to your spelling and grammar. It is best to read after writing a whole article. You can use a spelling checker or Grammarly extension to check for grammatical mistakes.
6. Not Focusing on SEO Best Practices
Today, search engines provide 10 times more traffic to your website than any other digital platform. So, investing in SEO is the best idea for every company. SEO  or Search Engine Optimization is the process to rank your website or blog on the first page of search engines.
SEO best practices include researching keywords, using the main keyword in the title and meta descriptions, adding internal and external links, utilizing HTML tags, and more. You can check our content marketing services if you need to improve your ranking on search engines.
7. Choosing Quantity over Quality
Writing a blog should be high quality. But today, most creators are focusing on quantity over quality. According to the search engine journal, writers spent 2 hrs and 24 minutes with a blog in 2014 but now writers spend 3 hrs and 55 minutes with a blog. They write more than 3000 words for one blog. But requirements for a blog, words should be under 2000. Content writers need to focus on producing relevant high-quality content with what information their target audience needs.
8. Not Having Ideas on Content Goals
It is the responsibility of every content marketer to create custom content for their target audience, increase traffic to their site, and build awareness of their brand. So, it is important to set a content goal. You need to research keywords based on what your target audience is more likely to search on Google or other search engines, have ideas of what your audience needs from you, and focus on a writing pattern which should seem appealing towards customers.
9. Not Analyzing Content Marketing Performance
Taking more time to evaluate the performance of your content marketing efforts is one of the biggest mistakes we see businesses make. At a minimum, you should take time every three months to review your content marketing performance. You need to optimize your content regularly. If Google updates any topic related to your business, you should add to your content about this.
10. Ignoring Mobile Optimization
If your website is still not optimized for mobile users then this is going to be a big mistake. Connecting, conversing, and interacting with our favorite brands have been completely revolutionized by mobile devices. Because of this, your website might not be getting as much traffic as other mobile-optimized websites get. It's important to offer short, to-the-point sections that are organized with headings and lists so they can easily find your content.
Conclusion:
We all make mistakes and we all learn from our mistakes. But if you cover all these mistakes, then your content marketing strategies will definitely be going to work. We hope this article on content marketing mistakes helps you to understand it better. If you are still struggling with your content marketing strategy then we are here to help you. If you want to know more about trending topics, keep your eye on our blog page.