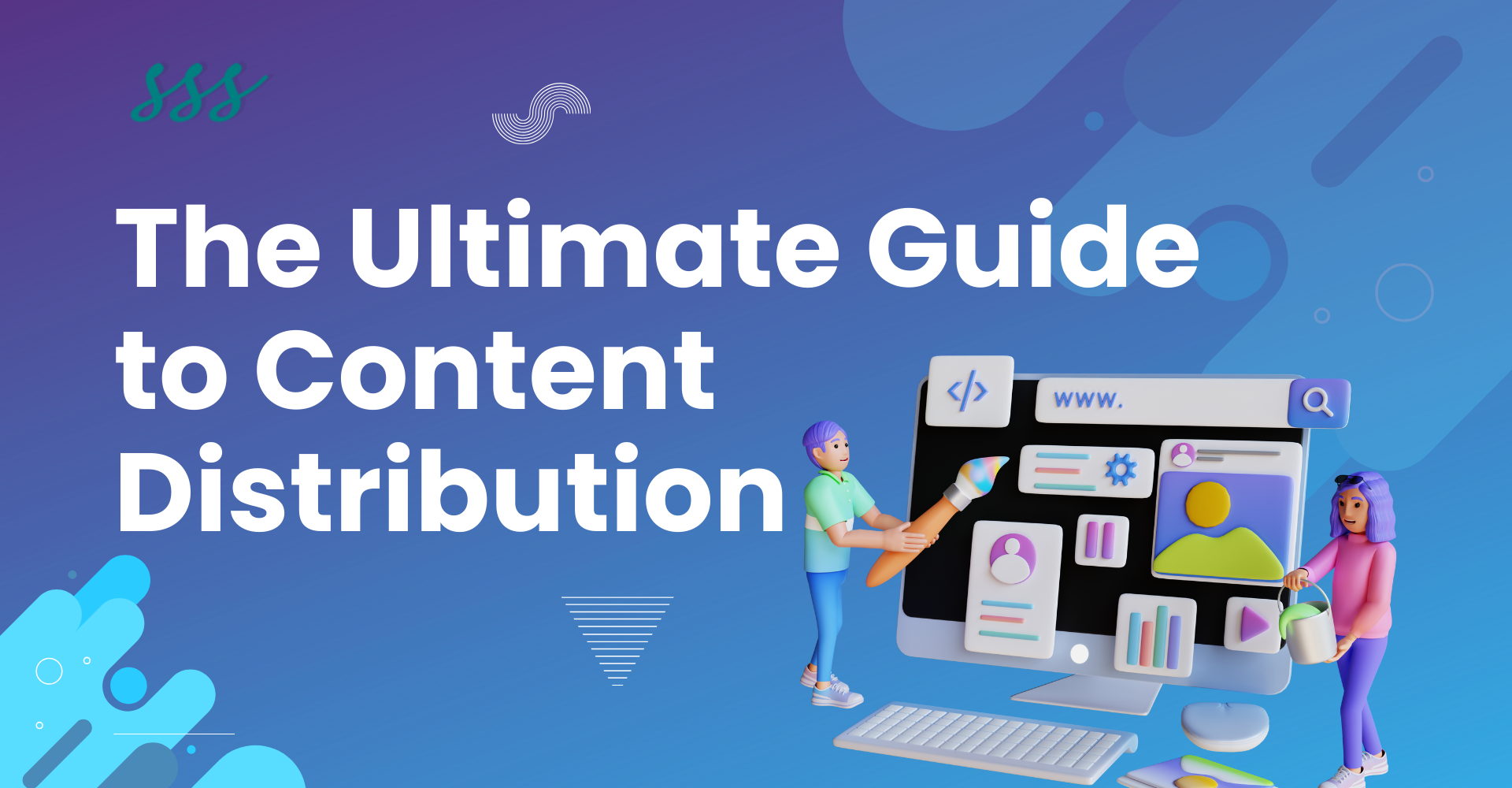 The Ultimate Guide to Content Distribution in 2024
October 30, 2023
|
10

min read
By: admin
A content marketing strategy can stand out without a content distribution strategy. It seems like a bread-and-butter combo. If you don't have a strong content distribution, then no matter how good your content is, none are going to know it exists. Vice President of Agency Strategy and Industry Development, Jonathan Perelman said that "Content is king, but distribution is queen. And she wears pants."
In today's fast-paced digital world, where information floods our screens and attention spans grow shorter by the minute, the art of content distribution has become nothing short of a paramount challenge. As we dive headfirst into the year 2024, the landscape of digital marketing has shifted dramatically, and with it, the strategies and tactics required to capture your audience's attention and engage them effectively. Welcome to "The Ultimate Guide to Content Distribution in 2024" – your comprehensive roadmap to navigating the ever-evolving, complex terrain of content dissemination.
Content distribution isn't merely a means to an end; it's the catalyst for building relationships, fostering brand loyalty, and, ultimately, achieving your digital marketing objectives. To succeed in this dynamic and competitive environment, you need to be well-versed in the latest trends, platforms, and techniques. This guide is your invaluable resource, whether you're a seasoned marketing professional seeking to fine-tune your strategy or a newcomer eager to unlock the secrets of successful content distribution.
Basically, content distribution is an integral part of content marketing strategy. It helps you to reach your website to your target audience. Today, most marketers generally avoid this part while looking into the content marketing strategy. They only go with making content for their website. Creating content doesn't mean it will help you to maintain brand visibility on search engines or more customer engagement. To attract more customers to your website, you need to focus on the content distribution framework which works convincingly on other content marketing strategies.
In the chapters ahead, we'll embark on a journey through the cutting-edge strategies and insights that are defining content distribution in 2024. We'll explore the power of multimedia, delve into the intricacies of SEO and social media, and navigate the emerging channels that are reshaping the way information is shared and consumed. You'll discover how to break through the digital noise, tailor your content to various platforms, and craft compelling narratives that captivate and resonate with your target audience.
With "The Ultimate Guide to Content Distribution in 2024," you'll gain the knowledge and tools necessary to not only connect with your audience but to create meaningful, lasting connections. As we embrace the challenges and opportunities of this new digital era, let this guide be your compass, leading you to the forefront of content distribution excellence and helping you make a lasting impact in the hearts and minds of your audience.
What is Content Distribution?
Content Distribution refers to a process of publishing and promoting content on multiple channels including your website, ads, blog, social media platforms, emails, newsletter, and more. It helps to get closer to your potential customers and bring more customer engagement to your website. This stage comes after creating content.
For example, you prepared a write-up on "Elon Musk's Twitter Takeover now it is time to publish it. You can use your blog section, ads, or your other social media platforms to share it. When you plan for your content marketing strategies, first you should plan on content distribution channels before analyzing the content type.
Importance of Content Distribution
From a recent survey, there are over 5 billion blog posts created on WordPress and 90% of websites don't get a chance to rank their articles on Google result pages. So, those web pages never get any organic traffic to their websites and their potential customers never find their websites. To make a spot in that 10% of the website, you need to plan a strong content distribution strategy.
To rank higher in search engine result pages, adding backlinks is one of the most important steps nowadays. Backlinks are the links that connect one website to another website. Backlinks are important SEO ranking factors, the more you get backlinks, the more people will get to know your website. A content distribution strategy is the best way to get backlinks.
To stand out from your competition, your content distribution needs to be on point. It helps to boost brand awareness, more customer engagement, and offer a better user experience. The more you share your post on various social media channels, the more your post will get noticed and get shares, likes, and comments. This will help to increase traffic which drives more conversion and sales.
Content Types for Distribution
There is a variety of content we see online. Before going with different content distribution channels, you need to decide which type of content you can create for your website. The content types of distribution are mentioned below:
Blog
Article
Newsletter
White papers and guides
Study Research
Case study
Infographic
Ebooks and templates
Videos
Podcasts
Newsletters
Checklists
To promote your content, you need to choose content distribution channels very wisely. If you want to get organic traffic, then you need to focus on SEO strategies such as link-building, shares, keyword research, and others.
Various Content Distribution Channels
Content distribution channels refer to multiple platforms where you can share or promote your content in the hope of getting noticed by your target audience. Mainly, there are three types of content distribution channels such as:
Owned Channels
Paid Channels
Earned Channels
1. Owned Channels
Own channels refer to platforms that are owned and monitored by you. There you can see which content gets posted which content needs to be updated and where you can able to track your posted content performance:
Landing pages
Blogs
Websites
Social media accounts
Mobile apps
Newsletters
2. Paid Channels
Paid channels are where you have to pay to promote your content in exchange for getting more potential customers. The paid channels are
Paid Ads
Sponsored ads
Paid Influencers
Paid Press Release
Display Ads
Native Ads
These above-mentioned channels charge according to their distribution efficiency. For example, if you want to go for Facebook ads, it will show you their specific budget and if you agree with the budget, then you can see your target audience and you can also track your performance.
3. Earned Channels
Earned Channels refer to shared platforms. When any third parties like journalists, influencers, bloggers, or your customers share your posts on their channel. Earned channels are:
Guest Posts
Search Engine Optimization (SEO)
Product Reviews
Social Media Shares
Online Community Mentions
You don't have to waste your money to earn channels. These are the result of creating quality content that focuses our potential audience to share it. If you focus on organic SEO, public relations, and direct media outreach, all help you gain more earned channels.
How to Choose Between Content Distribution Channels
If you are confused about which channels you are going to choose, we as a leading digital marketing company are here to help you figure this out.
We've discussed the paid channels that emphasize the money you are invested for your marketing purpose. It always gives me the quickest result in order to sustain the growth of your company. But the second you stop the investment for ads, you will see a huge downfall in traffic, reach, and moreover, engagement.
But when it comes to the organic one including owned and earned channels, you need to wait a little longer to see the results. This will, however, lead to more stable and sustainable results. Remember, you can't build a house within a day. It will take time to build a well-structured house. Same as this example, with organic channels, you might see the results after a long period of time, and it will be more effective. We recommend maintaining the balance between organic and paid channels.
Top 5 Ways to Create An Effective Content Distribution Strategy
If your aim is to focus on getting noticed by your target audience, then you may have the following top 5 ways to create an effective content distribution strategy:
Research Your Target Audience
Select Which Type of Content You Want to Share First
Select Your Content Distribution Channels
Build Key Performance Indicators to Track
Track Your Performance
1. Research Your Target Audience
The primary step for content marketing strategy is always to research your audience. If you want your content to be seen by your target audience then this step matters. To understand your target audience, first, you need to know what type of content they search for related to your brand, then track their customer journey and create a buyer persona to help them get the right and useful information about their needs.
You can also look into your competitors' websites, what they are trying to portray their brand image and how they promote their brand. Identify what type of content gets more shares and likes and which distribution channels you want to choose for promoting your website content. These tips will help you to get an idea of which type of content your target audience likes most.
2. Select Which Type of Content You Want to Share First
If you have existing content, then you don't have to create content from scratch. To look into existing content, you need to conduct an audit. It will help you to save time in creating content. Then you can utilize this time on distribution strategy. First, look into your existing content, and analyze it according to its past performance. Once you identify which content you want to promote first, then note down the past performance of the content, and from which post you get more views, likes, and shares. Then once you identify the content type, you can promote your high-quality and useful content on it.
3. Select Your Content Distribution Channels
For content marketing, it is useful to choose multiple channels to share your content. For example, if you want more organic traffic to your website, then you can go for search engine Optimization or if you want a quick result, then you can go for paid channels like paid ads, sponsored ads, influencers ads, display ads, and others. But the most important thing is to track your website performance.
When you select any distribution channels, first review the past performance, content types, and your campaigns. According to their cost and efficiency, you can select where you want to promote your website content. You can also look into competitors' key channels, analyze their content performance and apply it to your content distribution strategy.
4. Build Key Performance Indicators to Track
Your content marketing strategy should have goals. Measure your content's performance against KPIs based on the goals you need to meet. Do you want to generate more sales? You should measure conversions in your blog post. Are you trying to reach more people? A KPI for your eBook content could be the overall number of leads. Make sure each content page matches your KPIs like when you put CTAs on your blog post, then it inspires action to drive more conversion and sales.
5. Track Your Performance
If you maintain all the above-mentioned steps, it will help you to get better results in building a winning content distribution strategy. It is not just about publishing content but also measuring performance. If you have KPIs set, then it is easy to measure data and get an idea of which data is important. To gather data, you can look for Google Search Console or Google Analytics.
Conclusion
Most of the time quality content gets wasted because of content distribution strategies. Don't let your content fall behind the competition. To attract more potential customers to your website, content distribution is one of the crucial parts of content marketing strategies. If you are struggling with content distribution strategies, we are here to help you. We hope this article on the ultimate guide to content distribution in 2024will help you to understand it better.