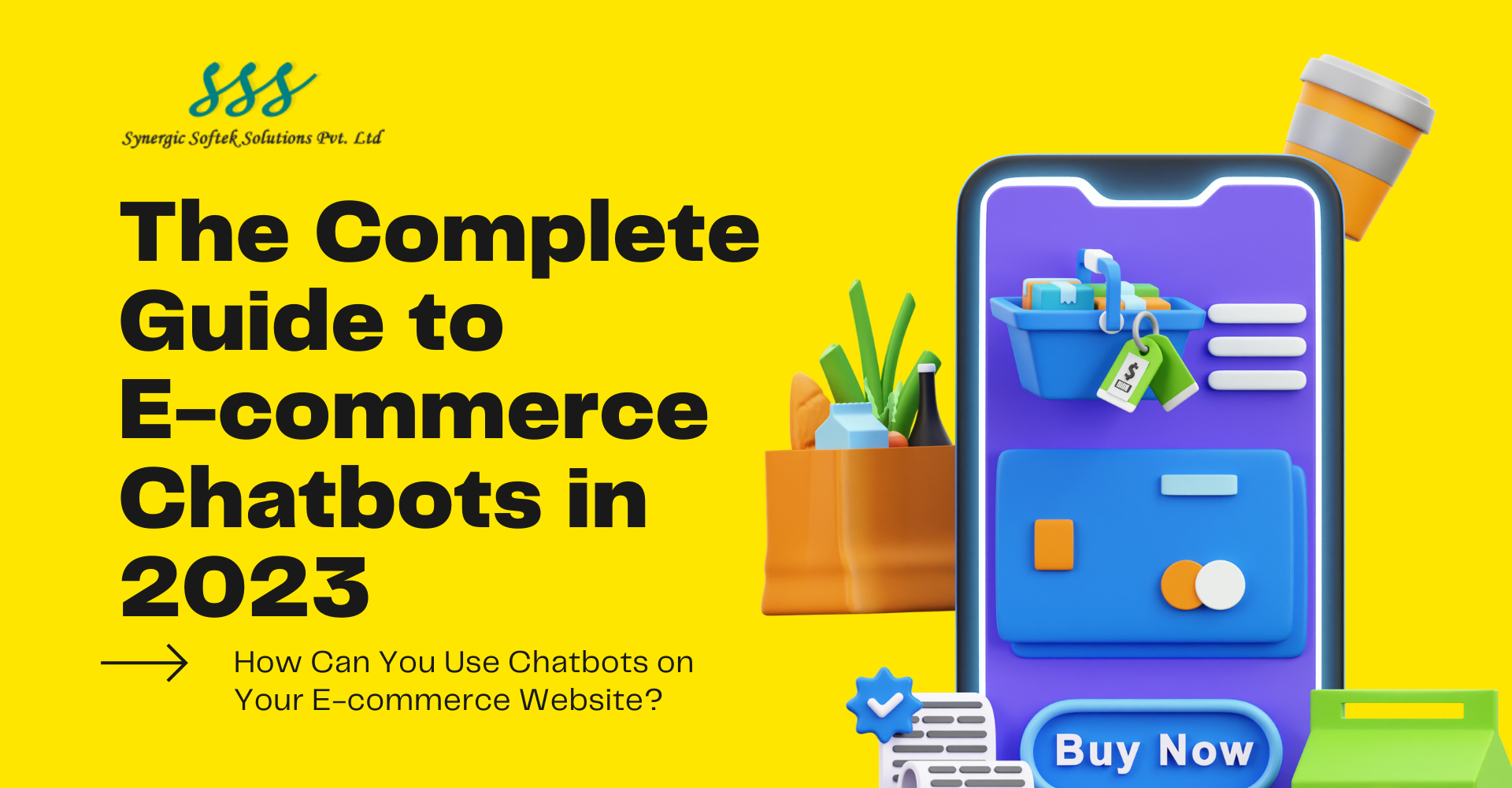 The Complete Guide to E-commerce Chatbots in 2023
August 16, 2023
|
11

min read
By: admin
As technology advances, the e-commerce industry is back in action after the pandemic, armed with the proper tools to dominate the online marketplace. With the surge of one of the unique e-commerce features, chatbots have been gaining popularity. From generating basic answers to the customer's questions, it has now been used as virtual assistance with the power of artificial intelligence (AI).
As a leading e-commerce solution provider, we know how important it is for e-commerce businesses to keep their customers happy to expand their businesses. From offering fast replies to personalized customer experience, all you can get with Chatbots.
We are already well aware of the benefits of AI in e-commerce, now it is time to know more about AI-based chatbots which have the ability to complete all the customer support duties. But what are the benefits you can expect after integrating chatbots into your e-commerce websites? We are going to discuss it elaborately. Let's dig in:
What is an E-commerce Chatbot?
A chatbot refers to a computer program that can make automated conversations with users. The conversation is built based on some specific triggers or events around what users exactly ask for. For example, if you visit the popular software company, Hubspot, you will see the chatbot asking you
"Want to chat about HubSpot? I'm an AI chatbot here to help you find your way. Ask me a question and I'll find you an answer."
You can ask anything, and based on the questions you enter, the chatbot will answer your response as soon as possible.
This is the most basic example of what e-commerce chatbots do.
Now chatbot is now on the list of the latest e-commerce trends. To be in the competition, e-commerce owners need to include a chatbot to enhance their online presence and improve customer experience. With AI-powered chatbots, your customers don't have to wait for responses anymore from a real-live person. However, the most important customers are now getting alert notifications about new deals, product launches, offers, and more which provide personalized customer experience.
Benefits of E-commerce Chatbots
Using chatbots as customer services can bring many advantages to your e-commerce business. The advantages of e-commerce chatbots are mentioned below:
1. Customers can Talk to You:
According to the customer expectation, we see that before making any purchasing decision from any e-commerce website people want to talk to the brand. This is because now most of the shopping is going online, and people never get a chance to touch or feel the product before purchasing. So, it is okay that they have lots of questions to get what they want.
If they want to ask you anything and you are not available at some point that can be a major problem for your e-commerce store. This is where chatbots come to play. A chatbot can reply to all questions your customers wish to ask before shopping from your e-commerce site. It helps your customers to reduce their anxiety and share with them that your brand cares.
2. Available 24/7
Availability is one of the most essential factors why an e-commerce website needs a chatbot. You might be available on new product launches, new deals, big billion offers, and more big days, but what about every day? Customers may ask you anything at any time, you need to reply as soon as possible in order to enhance customer experience and improve your brand awareness.
Now You could have a team of AI-powered chatbots which are sitting on your website to answer your customer's queries 24/7. Chatbots might not be able to reach your customers to the checkout options, they can keep your customers engaged by asking more queries and collecting data from them, so you can send them notifications about what they are looking for.
3. Personalized Support
E-commerce chatbots have the power to notify your customers with personalized recommendations according to their age, personal information, and previous purchases. What customers buy from your site previously and what kind of products did they browse on your e-commerce site by examining this kind of data, chatbots give customers product recommendations.
4. Enhanced Customer Experience
For enhancing customer experience in an e-commerce store, chatbots are the most important element. With AI bots, customers are more likely to return and become loyal because they receive timely, individualized, and effective service.
5. Improved Efficiency
Would you like to improve customer service for online retailers? Chatbots can be a great tool! By responding instantly to multiple consumer inquiries simultaneously, these helpful bots cut down on waiting time for consumers.
If you add integrated chatbots in your e-commerce store, your e-commerce customer service team can get more free time to handle more complicated things like order tracking and returns procedures. In simple words, all work can be done more efficiently.
Types of Chatbots
To take the above advantages of chatbots, you need to have an idea of the types of chatbots that are available. We have categorized chatbots into 3 types which are mentioned below:
1. Simple Chatbots:
It is a primary-level chatbot that has basic capabilities. It is only used for answers to some specific questions of your customers. It is more likely some specific task-based, for that it is called "rule-based bots". In simple words, this kind of chatbot is set up only the way it can reply to such questions they have knowledge about. It has no power to draw up any interference from previous chats.
For example, chatbots are used for the status of orders, which is one of the main examples of simple chatbots. It is only asked for your order number in order to provide the status of your product along with the tracking URL.
2. Smart Chatbots:
This kind of chatbot is more advanced than simple chatbots. It is built with artificial intelligence (AI) so, it is better for human interactions, and it understands the intent better for answering the customer's inquiries. It is able to save data from past conversations and manage conversations more likely as humans. For example, Siri and Alex are the best examples of smart chatbots because both have all answers to the questions of their users.
3. Hybrid Chatbots:
It is a mixture of simple and smart chatbots which is used to simplify the use cases. In addition to some rules-based tasks, these robots are capable of understanding the intent and context of a message in order to deliver a more humane response. For example, if you have a pizza shop, and you add a hybrid chatbot, it not only asks you about pizza toppings but also asks you about your choice of the taste you prefer like sweet/ spicy/ very spicy/ bland.
How Can You Use Chatbots on Your E-commerce Website?
There are many ways to use chatbots on your e-commerce website which are mentioned below:
1. Gather Customer Information:
Chatbots are very useful when it comes to gathering customer information. For example, when you are on an e-commerce website, chatbots welcome you to initiate a conversation. During the conversation, it collects personal information and according to user intent offers customers personalized customer experience.
2. Use as Customer Support:
Most people have some questions before making any purchasing decisions no matter how intense and attractive your product page is. It is normal for online shoppers because they make the purchase without touching or feeling it.
This is where chatbots can be one helpful tool for you because it has the ability to answer all the questions of customers and offer them a complete guide to the product that they exactly want. Chatbots can also provide customers with online discounts or offers so they can redeem or can make product recommendations depending on what they are looking for.
3. Good at Upselling and Cross-selling to Buyers:
When you go to a shopping complex to buy a pair of boots but during the checkout times you bought a sleeper along with one pair of boots. How did this happen? The credit goes to the salesman because he/she doesn't only upsell the pair of boots but also cross-sell the sleeper.
Chatbots do the same thing for online e-commerce stores. During the conversation, it not only gives product recommendations of what you are looking for but also suggests you some different products available to your store. Sometimes customers find the products are better than what they already kept in mind.
4. Reduce Cart Abandonment:
Did you know that many people leave the e-commerce website without making any purchases or choose to abandon the website? But can stop them from doing this with chatbots. If you see that a visitor abandons the cart or takes time to go to the checkout option, chatbots can be useful in this kind of situation. Chatbots use various kinds of triggers to continue the conversation in order to ask them if they need any help.
For example, by calculating the total expense, offering customers some discounts or free shipping costs. However, chatbots provide a return and exchange policy to reduce their anxiety. So, you don't have any kind of tension about cart abandonment if you integrate chatbots in your e-commerce store.
5. Provide Order Tracking Updates:
Order tracking is the most common and popular usage of e-commerce chatbots. According to many e-commerce experts, most e-commerce businesses implement chatbots in their stores in order to notify their customers about the status of their orders.
Before the invention of chatbots, people called or texted e-commerce stores to know about the order status. To avoid that chaos, chatbots will be a great option. A chatbot collects the order status data from your third-party logistic service provider and stores it to update the customers about the order status. Chatbots provide customers order status along with the tracking URL.
Steps to Implement an E-commerce Chatbot
Implementing e-commerce chatbots requires various steps which are given below with detailed information:
1. Collect Common Questions Customer Frequently Asked:
In order to collect the common questions customers frequently asked, research through e-commerce customer care statistics. Implement a database of the questions you have collected into the chatbots so chatbots can use it to give answers to the questions of customers.
2. Select a Chatbot Platform:
Discover a chatbot platform that needs to be perfect for your e-commerce store requirements. For that, research well and find the best one. You need to consider the basic e-commerce requirements like NLP capabilities, customization possibilities, reporting requirements, and customer services to select the right one.
3. Customize Your Chatbot:
Create a customized chatbot that peers with your business logo, response pattern, and user experience. So, customers can get a more seamless customer experience. Chatbot will be the online salesman for your online e-commerce business.
4. Test the Chatbot:
Test the chatbot extensively to ensure that it is functioning correctly and providing accurate information. This test involves evaluating its ability to understand and respond to a variety of questions using natural language processing.
5. Launch the Chatbot:
After texting the chatbot, if you think it works perfectly it is time to launch the chatbot. It is ready to use. But you need to track and analyze the data, so you can use it further to enhance your customer experience.
Where You Can Implement the Chatbot?
Considering Chatbot is a technology, you can implement it on any platform to improve user experience. So, here is a list of some platforms where you can use the chatbot for your e-commerce store.
1. Live Chats:
According to e-commerce experts, 46% of customers prefer live chats over emails and phone calls. Live chats are the place where e-commerce store owners mainly should implement it in their e-commerce stores.
2. Social Media:
According to the study by Facebook, most customers want to make a conversion through social media before making a purchase. That's why today e-commerce stores use social media for their brand promotion. Due to that reason, e-commerce stores need to implement chatbots in their social media platforms.
Conclusion
If you want a better customer experience, then integrating chatbots will be the best option. Thank the AI-powered chatbots, so now you can easily respond to your customer queries. As a leading e-commerce solution provider will also be here to help you with e-commerce chatbot implementation. We hope this article on the complete guide to E-commerce chatbots in 2023 will help you to understand it better. If you want to know more about chatbot implementation in e-commerce stores, contact us now.