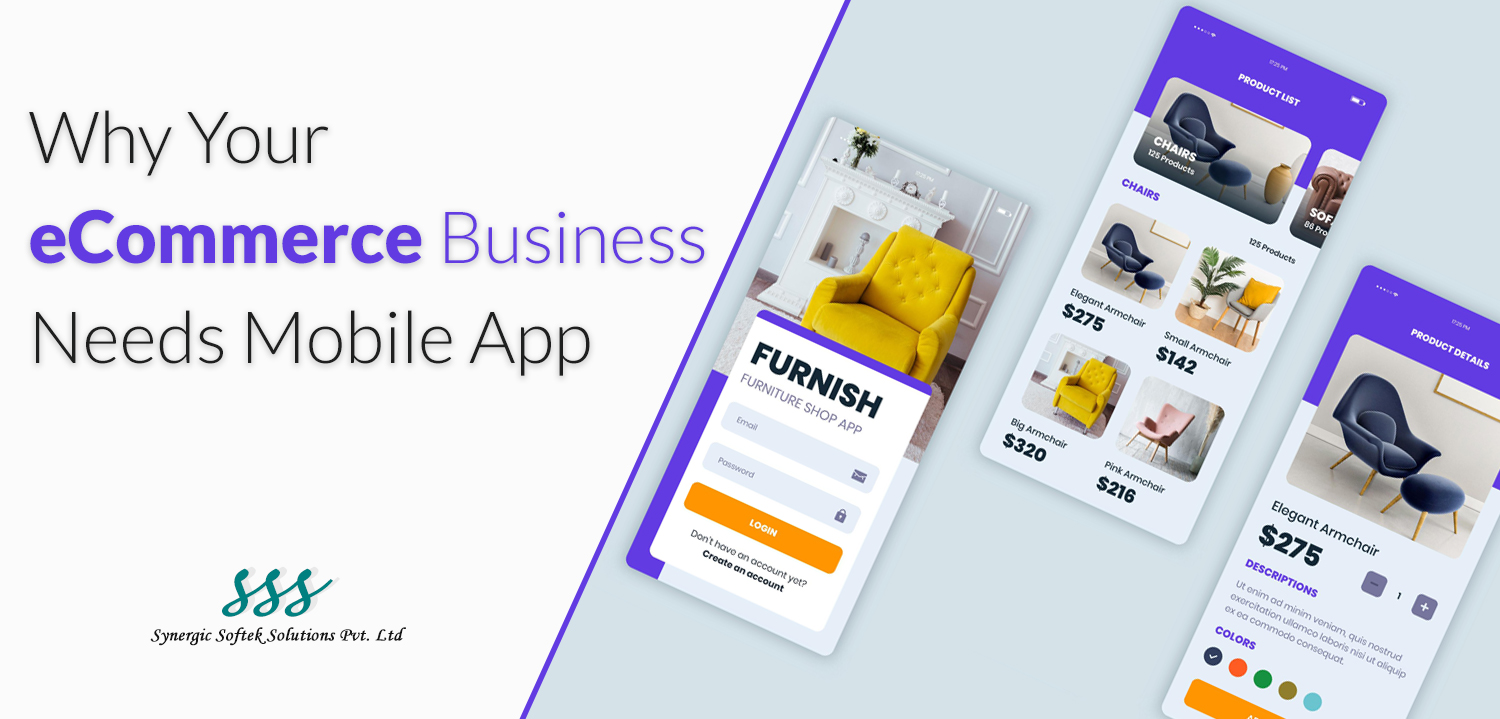 5 Reasons Why Your Business Needs a Mobile eCommerce App
March 31, 2023
|
5

min read
By: admin
The growth of mobile applications has increased unexpectedly, now mobile apps are like glue which helps to attach users to businesses. M-commerce and e-commerce companies both are now focusing on creating a smooth e-commerce mobile app due to users these days being more likely into online shopping. Creating a responsive website for mobile users ensures to have an excellent journey as an e-commerce company and in future also. If you can successfully create a mobile app for your e-commerce brand, then it is like the tip of the iceberg. When users click through it, they will get to see your products or services, they can add to their cart their favorite products, pay online and get their products without leaving their houses. Here we are going to discuss reasons why your business needs an e-commerce mobile app.
Benefits of Having an E-commerce Mobile App
Besides the potential to reach a wider audience, why would e-commerce businesses consider mobile retail apps? That is the most important question asked by many users. So, we have decided that now we will discuss the benefits of an e-commerce mobile app, which are mentioned below:
Better User Experience
Boost Brand Awareness
High Conversion Rate
Useful Multiple Payment Options
Increase Revenue
1. Better User Experience
It does not matter whether the website is created with a responsive design or not, the user will be prompted each time they access the website to sign into their account. Users only have to sign in once when they download a mobile app, which stores the user information because users do not have to sign in each time they shop, it is easier to use, resulting in higher user satisfaction. Comparatively to websites, mobile applications also offer users simplified navigation and user experience with the ability to switch between tabs.
2. Boost Brand Awareness
Boosting brand awareness is one of the most important reasons for choosing an e-commerce mobile application. When you create a mobile-friendly app, it will help you to maintain your brand visibility. It is also a distinct advantage of mobile commerce apps.
As more customers spend much time on their mobile, they are more likely to scroll into e-commerce apps. A developed mobile e-commerce app helps you to connect users with your business. But many users don't like to see products or services of any brands on a small screen if it is not easy to use. According to a recent survey, over 32% of users get offended and uninstall the app if they find any issues while scrolling it. That is why e-commerce mobile apps need to be built with responsive design and offer better user experience for increasing their brand recognition.
3. High Conversion Rate
When e-commerce site owners ask " why do they need an e-commerce mobile app?", the answer is for a better conversion rate. The ultimate goal for every e-commerce business is to generate more sales. Conversion rate helps your business to reach out to gain better revenue. When customers desire to purchase any product online through an application, they want a seamless process to buy the product or service. To offer your customer a better user experience, you need to put in some effective features using your e-commerce mobile app, here are some ideas on how you can give your user a better experience while they are scrolling through your mobile app:
A mobile app with a unique feature that saves your registration credentials and keeps the session alive as long as you stay logged in, leverages this session by using the saved credentials to complete the purchase order, in case you wish to make one.
A mobile app with features sends push notifications to users who are visiting the app, to bring more conversions.
A Mobile app locates your address with different features like a camera for delivering orders.
4. Useful Multiple Payment Options
The most common issue any e-commerce company faces is shopping cart abandonment. Every time when customers close to completing the process of purchasing, they give up due to the obstacles they face while making any payment. To avoid this problem, many e-commerce sites use the mobile wallet option to offer a seamless transaction process. E-commerce mobile apps use many features like face recognition and fingerprint recognition for getting faster involvement with the payment process.
5. Increase Revenue
If you create an effective mobile app with unique features that help you to attract more potential audiences and convert them into sales. That is how you can increase your brand's revenue. With push notifications, brands try to attract customers and inspire them to make purchases which help in conversion.
Conclusion
Now you have known why your business needs an e-commerce mobile app, it is high time to get started on building a mobile app for your e-commerce business. The more you include new features on your mobile app, the more opportunities to gain potential customers and it helps you to build bonds with your target audience. We hope this article on reasons why your business needs an e-commerce mobile app will help you to understand it better. If you want to read more about trending topics, keep your eye on our blog page.