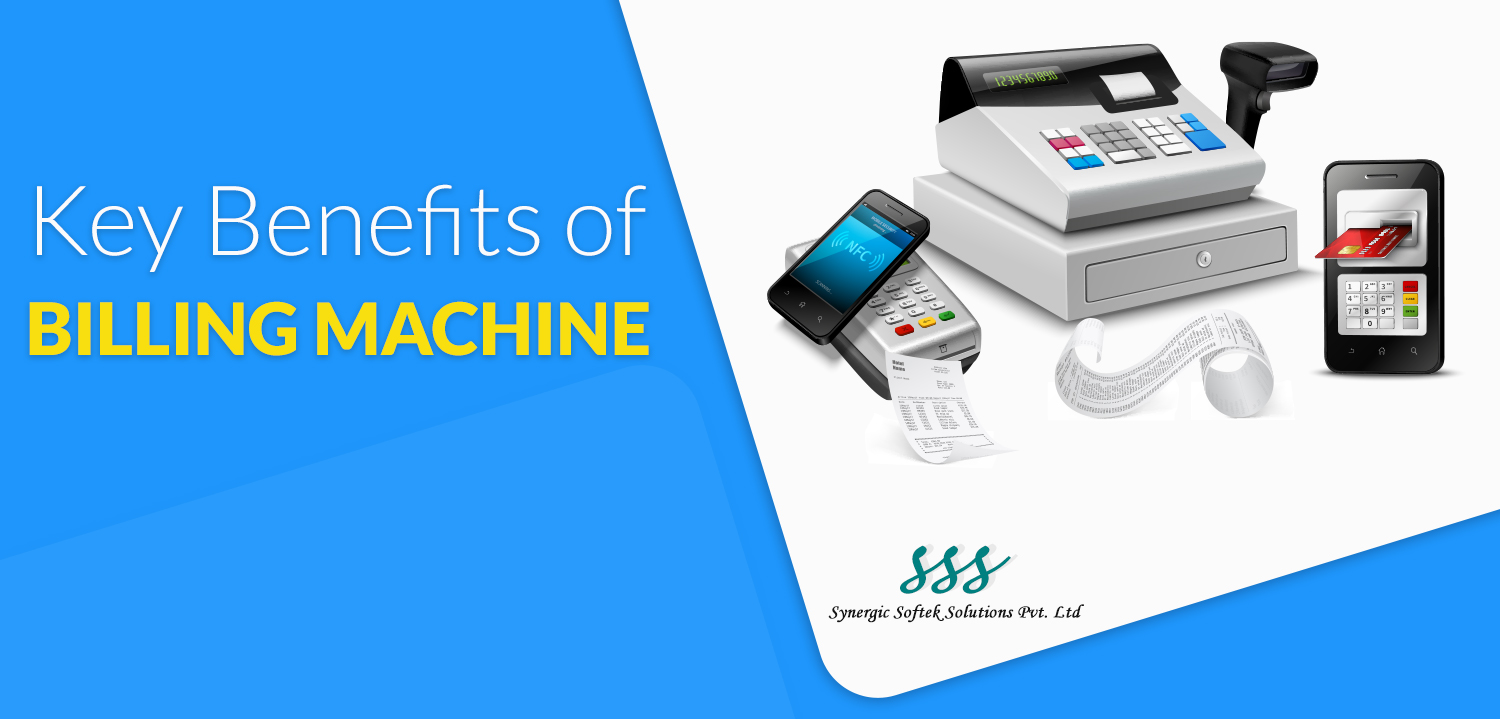 Benefits of Using a Billing Machine for your Business
March 24, 2023
|
6

min read
By: admin
There is no longer standing in a long queue, just waiting to get the bill for your purchases. The game has, however, changed entirely as a result of new billing software. With the advent of new software, even the smallest stores are no longer creating bills from scratch. As a business owner, you need to check how much-improved cash flow you have. Today. It is important to have improved billing machines to add the same speed to your business growth.
A decade ago, we used pen and paper for accounting, billing, and maintaining customer details. But after the advancement of technologies, business owners are introduced to automated billing machines where you can create bills, invoices, customer details, payment card details and more. You can easily monitor your billing database in one place. Today, we are going to discuss the benefits of billing machines.
What is a Billing Machine?
Billing Machine refers to software where you can manage all your financial work along with creating bills and monitoring the billing database in one place. Billing activity can be accessed easily on a single dashboard, so there's no need to keep multiple bookkeeping records.
In traditional marketing, businesses have specific parameters for getting achievements and business growth. But in the era of digital marketing, the growth of businesses has increased and the billing machine is the one of main components for enhancing your business growth. It has become a basic requirement to manage bills and accounting and even invoice-related transactions.
Top 10 Advantages of Using Billing Machine
Here are the top 10 advantages of using billing machine which are mentioned below:
Easy to use
Advanced Payment Methods
Advantage of Cloud Storage
Fast Billing
Strong Security
Great Accessibility
Save Costing
High Transparency
Automation Functionality
Brand Awareness
1. Easy to use
As we know, we are into traditional marketing anymore, now most businesses use the billing machine to save time and invest precious time in other work. It helps to create automated billings, manage accounts, and keep the card details of customers and also customer details.
As a result, customers don't have to wait for a long time in queue. Customers are more likely to revisit your shop again which helps you to get better customer engagement with your shop. When they get their items with proper bills, they will surely give your shop a positive review. In order to get the best billing machine for your business, you should choose one with a print speed that fits your needs.
2. Advanced Payment Methods
With the billing machine, any retail business gets the opportunity to add various payment methods for their customers. Most unique Point of Sale (POS) system allows you to use plastic money for payments. The best billing machines allow you to connect them to a variety of existing devices in your shop. Invoices generated by the billing machine can be easily integrated with online payments through WiFi connections.
3. Advantage of Cloud Storage
Every small business faces a problem with cloud storage. Now with the billing machine, you get the cloud storage option where you can store your invoices and you don't have to worry about computer crashing issues or any kind of email problems. With automated billing software, when you put information for billing, it automatically saves and stores your data. Before purchasing any billing machine software, you need to know about the cloud storage capacity.
4. Fast Billing
The invoice process is pretty time-consuming, before generating any invoices, you need to face some steps. Your invoice needs to be ready before delivering the products to your customers. With the unique billing machine, it is an easy way to generate invoices quickly and helps in the payment process also. With the billing machine, you are able to accept offline and online payments too. Your business is able to offer various payment methods for their customers.
5. Strong Security
Any business person will prioritize security. a well-known and automated online billing service adheres to PCI Security Standards, so it always provides high security. By doing so, you help customers get more confident about the security of their personal information and the process of making payments. It is true that it is not easy to receive PCI security standards clearance but it will help you to provide a security guard against any damage.
6. Great Accessibility
Billing software provides cloud-based storage, which offers you to monitor your data anytime anywhere, and you are able to keep track of your invoices. You are able to access your invoices all the time by using any portable device. If you don't have to go to the office every day, you can check your invoice sitting in your home. With the billing machine, you can use multiple vendor records also.
7. Save Costing
You have to do a one-time investment in purchasing the billing software until you feel any glitch on it. It is only one cost to pay to buy it. It helps to manage all information related to billing stuff. It will help you to save money and time, you can utilize that time on other work.
8. High Transparency
Transparency is beneficial to both retail shop owners and customers when invoicing is regulated and organized. Since machine-printed invoices are easily trusted by both retailers and customers, they dissolve mistrust between them. It is particularly useful for resolving disputes, exchanges and returns.
9. Automation Functionality
Modern automated billing machines have various in-built functionalities such as messaging, mailing, and notifications which are also easy to monitor and you have to take care of every customer's details for various payment methods. Also cloud based storage helps you to keep track of invoices anytime anywhere. Billing machines are the most important requirement for business growth.
10. Brand Awareness
One of the most crucial points of using billing software is that it helps you increase your brand awareness. You can use your brand logo, and branding styles along with matching colors to give it a professional look in your billing software. It allows you to get a quicker payment than usual. As an example, if you put your brand identity on your invoice, it helps you to get more online payments.
Conclusion
Now billing software has become part of every business. Sometimes you may feel industry-related software is the best for you or a universal solution is okay to manage billing stuff. It all depends on your business requirements. During the selection of the best billing machine, we recommend Balaji Handheld Point of Sale (POS) devices, which helps you in your business growth. We hope this article on the benefits of billing machines helps you to understand it better. If you want to read more articles on trending topics, keep your eye on our blog page.