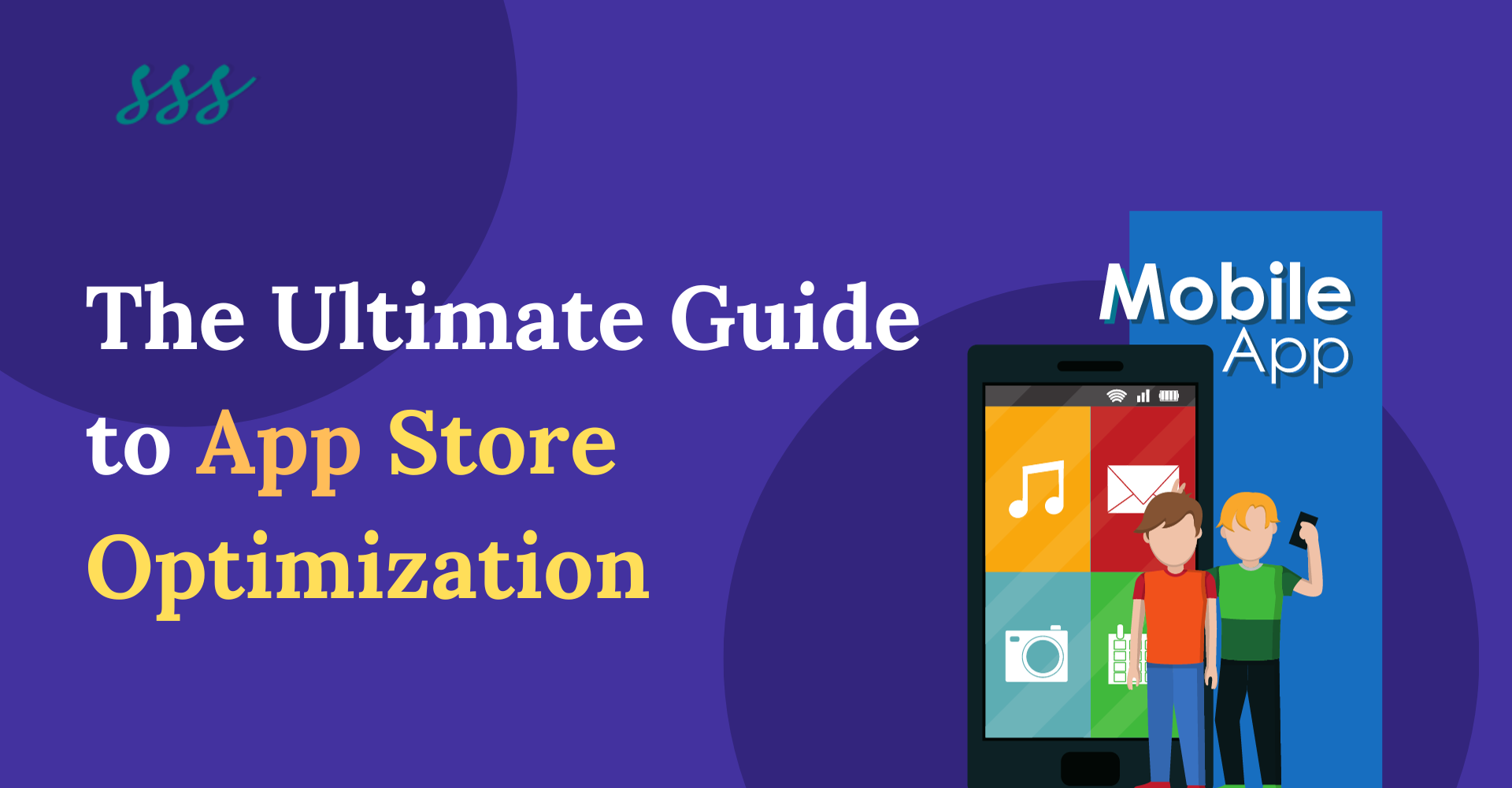 The Ultimate Guide to App Store Optimization (ASO)
November 16, 2023
|
12

min read
By: admin
Seeing the growing number of mobile application users, businesses are coping to be the best with their effective mobile apps. But over 6 billion mobile apps are already available on the app store. According to 2021 statistics, in Google Play, over 3.48 million apps are available for Android users, and iOS users can find over 2.22 million apps in the apple app store. How do you beat up all your competition and rank your app in the app store search engine? To make it possible, you need to learn about app store optimization (ASO). Here, we are going to discuss app store optimization briefly. So, if you are a beginner, it will help you to understand and learn it with simple words.
What is App Store Optimization (ASO)?
App store optimization (ASO) refers to the process of improving app visibility on the app store's search engines like Google Play and Apple App Store which makes it easy for your users to discover your app. By improving your app visibility with the mobile app development services you can get more traffic and downloads along with improving user engagement, brand awareness, and gaining more feedback. ASO is also called app store marketing as well as mobile app SEO.
When it comes to the app store, the two names: Apple App Store and Google Play keep knocking on our heads. However, there are plenty of app stores like Amazon App Store, Huawei AppGallery, and Samsung Galaxy Store where you can also perform ASO to improve visibility as well as the ranking of your app.
Why Do Businesses Need To Invest in ASO?
As per the statistics, the mobile app is the most popular and trending growing industry. Since 2016, the number of mobile app downloads is continuously growing. Statistics say that, till 2020, over 218 billion users have downloaded apps from app stores. ASO is crucial for businesses because it allows you to control your app's visibility as well as discoverability in competitive app stores.
According to recent data, over 82% of users download apps either by discovering or by getting recommendations which explains that most people download apps just by seeing them on the app stores. In this field of competition, it is quite tough to outrank others and shine brightly on the app stores. That is the exact reason why you need app store optimization (ASO).
ASO Metadata
You need to know that each app store has a different pattern of algorithm. So, the Ranking process of the app will be different from each other. So, then your tactics for getting downloads from the app store will be slightly different. These algorithms are built depending on various matters, and most of them are unknown. But using keywords or relevant search terms is one of the best ways to optimize your app for app stores.
There are the top 5 components in metadata which are titles, subtitles, keystring, promo text, and description. You might think of why app store metadata is so important. The answer is:
It helps you to get more exposure which means if you fill the five components in metadata with relevant keywords your app can get the top rank in app stores. More users will see your app and download it on their devices.
There are some rules and limitations when you are about to start filling up the top five components of metadata. Each and every metadata has some restriction in characters. Try to use as many characters as possible in the app store metadata. We recommend not to you "and", "the", "or" and more of these kinds of words because the app algorithm ignores these kinds of words. So, don't waste your characters in these words, instead try to use the most relevant keywords.
If you want your app to stand out and get more downloads, you need to give some attention to app store metadata.
Researching Keywords for App Store Optimization (ASO)
For app store optimization, keyword research holds a huge place. Because of your keyword relevancy, the app algorithm decides how important your app is for your target audience and where your app is going to rank. So, you need to add relevant keywords to titles, subtitles, and keystring. Most people still don't know that you need to add keywords in titles and in terms of search engines, it has a significant impact. So, app store optimization should start with the app name.
It's a good idea to include your brand name as part of the title, followed by the most relevant terms that describe your app's core features, functions, and components. Use search terms users mostly use for your app as keywords. But one thing you need to remember is that don't use the same keywords for titles, subtitles, and keystring.
ASO Keystring
There is no option or feature, called "keystring" your customers see on the app stores. This is specially made for search algorithms in the app store. After using the most relevant and important keywords for titles and subtitles, the remaining keywords will be added to the keystring. You find this feature on the App Store Connect Account.
Apple suggests not to use plural forms of the word you have used once in the singular form. Don't use special characters like " @" or "#" unless these are in your brand name.
App Store Description
Optimizing your app store description is crucial for app store optimization (ASO). The app store description gives potential users an idea of what your app is all about and why they should download it. Here are some tips for optimizing your app store description:
1. Keep it concise:
Your app store description should be short and to the point. Try to convey your app's value proposition in one or two sentences.
2. Focus on benefits:
Instead of listing features, focus on the benefits that your app offers. Explain how your app can make the user's life easier or more enjoyable.
3. Use keywords:
Include relevant keywords in your app store description to improve its visibility in the app store search results.
4. Highlight social proof:
If your app has received positive reviews or has been featured in the media, mention it in your app store description. This can help build trust with potential users.
5. Include a call to action:
Encourage users to download your app by including a clear and compelling call to action in your app store description.
You need to remember that your app store description is often the first impression potential users will have of your app. By optimizing your description with these tips, you can increase your app's visibility and attract more downloads.
App Store Optimization (ASO) Guide
To improve the visibility and ranking of your application, you need an ASO guide that consists of some effective tactics which are explained below:
Focus on the title and subtitles of your application
Research keywords
Optimize your app description
Add compelling visual elements
Monitor your reviews and ratings
Update your app regularly
Analyze your results and keep testing
Go International
1. Focus on the title and subtitles of your application:
The title of your app is the most important element in the app store optimization strategy because this is the first thing users will notice while they search for your app which means it creates the first impression of your application. So, it is the major element you need to optimize in order to improve your visibility as well as ranking on both app stores. According to app store requirements, titles can be long within 30 characters. You need to be smart while creating the title for your application because it has to be short as well as eye-catching.
When you start creating the title for your app try to leverage the keyword in the title but be aware of overuse of keywords because if you do so, it seems unnatural. Keep it short, natural, and memorable, and use the target keyword cleverly in your app name. For Apple app optimization, you will see one more required step which is the subtitle where you can use the keyword and describe your app within 30 characters.
2. Research keywords:
When you want to rank your app on the Apple app store, it will allow you to put the target keywords on which you wish to rank your app. Apple considers those keywords when it is about ranking on the app store results. It requires you to put in as many as you want but the word limits are up to 100 characters and keywords need to be separated by commas.
As your app name, you need to be creative with your keyword research. Try to rank your app for less competitive keywords. It will be easier to rank than more competitive keywords but it will give fewer downloads.
3. Optimize your app description:
As you have already learned about title optimization and keyword research for ASO, now it is time to optimize your app description which is one of the most important factors in an effective ASO strategy. It helps to write a short summary of your app and show your audience why your app is the right choice for them.
Google Play requires 80 characters and the Apple app store requires 4000 characters to write your app description. Apple doesn't use the app description for ranking purposes. But still, it is important because users want to see that. It works like a deciding factor for users whether they download the app or not. Try to write a compelling app description by explaining what the app is about, what features it has, and the problems it solves.
4. Add compelling visual elements:
ASO is more into attracting users and engaging them with your app by clicking on and downloading it, this is how you can improve your app's visibility on the app store's results. To make them download your app, you need to add compelling text and visual elements. You are allowed to add visuals like screenshots and videos related to your app which goes for both app stores such as Google Play and Apple app store. On Google Play, visuals are displayed only when users click on the app. Use visual elements as to how your app works, what the features in it, and what problems it solves. Videos should consist of a sneak peek of your app and how it works.
5. Monitor your reviews and rating:
Ratings and reviews work as indications for users on which apps they need to choose. For example, if you have fewer reviews as well as ratings, you are more likely to stay at the bottom of the app store search results as well and fewer customers are willing to download the app.
As you know one of the most important key factors in app store optimization (ASO) is to keep encouraging users to leave positive feedback on app stores. On the flip hand, both popular app stores like Google Play and Apple app store, consider apps with higher ratings and reviews to be more relevant. So here are some best practices on how to get the most positive reviews and ratings on your app which are given below:
Ask your users for reviews and ratings after delivering quality products or services
Ask your users for reviews and ratings after updates
Encourage reviews via other channels
6. Update your app regularly:
When it comes to app store optimization (ASO), Google Play and the Apple App Store see app freshness and updates as ranking factors because app stores and users both are looking for apps that are continuously evolving as well as improving.
For example, if you have an app, and the last update you did five years ago. Now you are thinking of launching an updated version of your app. Based on your user's feedback, bugs as well as new features you wish to add, you can update your app to improve your app visibility on the app store's results. You can use the field called "what's new in this version" or "release date" to inform the audience what new thing you add to your app. Use keywords or any of your business-related features that users are searching for.
7. Analyse your results and keep testing:
To make your ASO strategy successful, after performing all your ASO tactics, you need to analyze your results and keep testing. To do so, you have to understand which changes give your app positive results. To track your app performance you can use SEMrush Mobile App Insights.
With this tool, you can monitor your downloads, keywords, rankings, and even your revenue. You can find which keywords result in the most downloads of the app. Test your visual elements to discover which makes positive results. Try to analyze your results and test your app performance continuously to see what works best for your app.
8. Go International:
If you want to expand your app visibility in order to gain more exposure as well as a wider audience, then you need to start optimizing your app for going international through the app stores. Google Play and the app store allow your app to reach more locals in different dozens of regions and languages.
App stores help your app to increase its user base by making it available to users of different languages and regions. While you start optimizing your app in different languages as well as regions, you need to translate your app description into local languages to make them relevant and understandable for the local people in different regions.
Conclusion:
Don't expect you will get results overnight. You need to be more patient while doing ASO. However, if you want your app to get attention from your target audience, you need to follow the ASO checklist. It will help you with improving your app visibility and ranking on the app store results. We hope this article on the ultimate guide to app store optimization (ASO) will help you to understand it better. If you like to read our articles, keep your eye on our blog page.