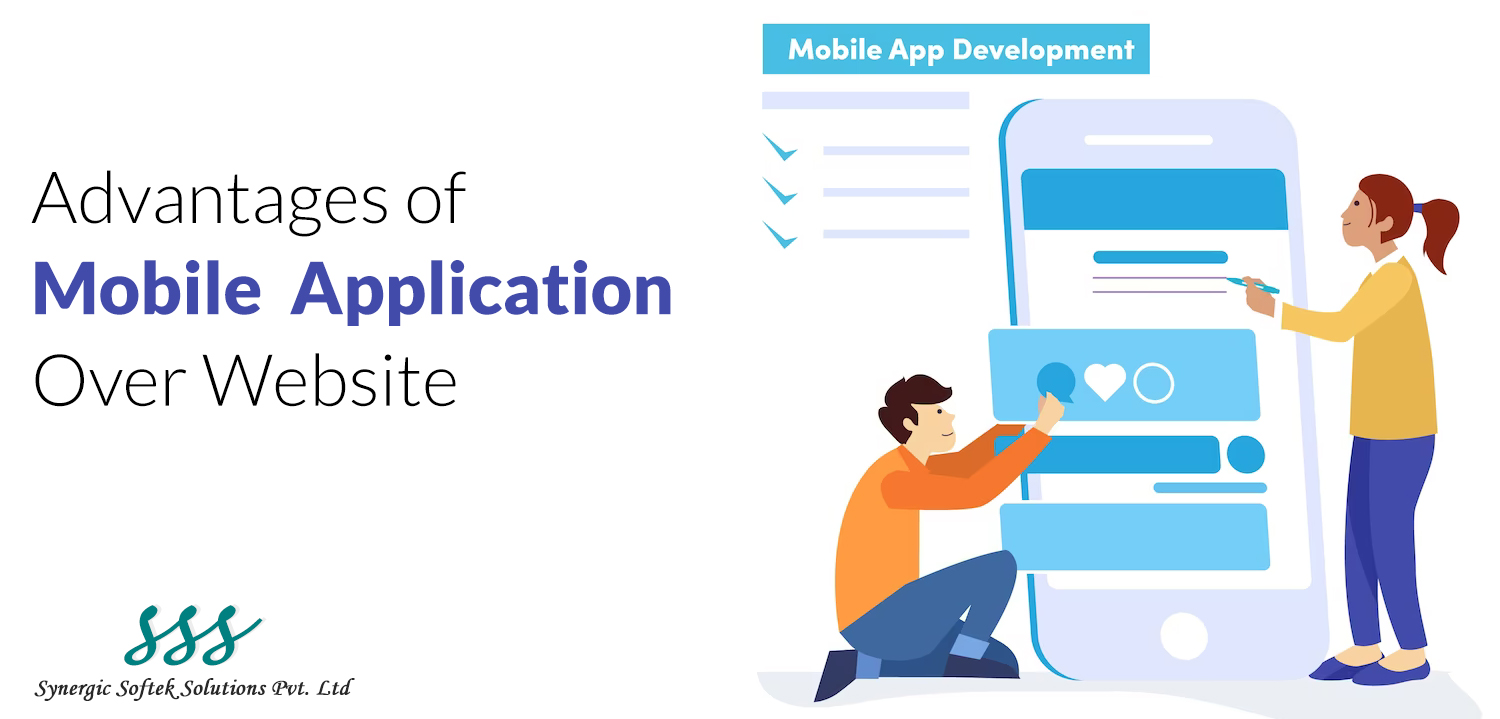 Advantages of Mobile Application over Websites
July 11, 2023
|
7

min read
By: admin
In 2020 mobile statistics, over 218 billion people have adopted mobile applications more than searching on Google for a website which means people have entered into a mobile era where the future of consumer connection is built on the basis of mobile usage.
Today the number of mobile users is greater than the number of desktop users. Businesses have understood that if they want to attract more customers then they have to rely on mobile applications. As we all know, businesses are trying to cope up with the competition of being the best where mobile apps offer businesses an advantage that will help to highlight their web presence in the digital world.
Now, business owners use responsive design to build the best and most effective mobile applications. But that is not enough. They need to focus on optimizing their apps and websites too in order to improve user experience and gain more conversions. Here, we are going to briefly discuss the advantages of mobile applications over websites.
Benefits of Mobile Apps for Businesses
There are plenty of advantages of mobile applications for businesses and it helps your brand to reach a larger amount of audience. The benefits of mobile apps are mentioned below:
1. Brand Presence:
Users are more likely to spend their time with their hand-held devices like mobile phones. They install many applications on their mobile devices which they think are the best for them. Every day they face those apps even though they are using the app. Here, the icon of the app plays a vital role by acting as a mini advertisement of the brand. It works as a reminder of the brand associated with the app. We can say that the app has the ability to influence the perspective of a user of the brand.
2. Data Security:
Today, most mobile applications provide data security for their users. In the growing digital world, people are continuously installing apps as per their choice. It has become important to consider the risk to data security. Regular apps may not provide any data security which may put the information of the specific business at risk. But when you build your mobile application with help of custom mobile app development services you are able to offer better data security for your target audience. When you hire a mobile app development company they will provide strong data security according to your business requirements.
3. Fast Operating Ability:
Mobile apps can be operated way faster than a website open from mobile devices. Even responsive mobile apps cannot match the speed of mobile apps. Users can easily operate mobile apps more than websites. Because of the advancement of technology, people get used to fast results. When results get delayed, users tend to become impatient. This slight lag can fail you from getting better user engagement. That's why businesses try to provide services as fast as possible.
4. Offline and Online Capabilities:
This is one of the crucial advantages of mobile applications. Mobile apps have the ability to access offline too. With fast loading speed, mobile apps perform well online and offline too which makes mobile apps stand out from websites. Offline accessible mobile apps provide a seamless user experience. Users can easily check any information without accessing the internet. As a result, it not only provides user experience but also helps to improve user engagement too.
5. Notification and Updates Benefits:
This is one of the essential reasons why e-commerce shops are more into building a seamless mobile app. Push notifications are one of the best ways to convert users into customers. For example, if an e-commerce platform offers discounts on its products, it will give a notification about the discount offer, which makes users excited and takes them one step toward making a purchase. However, as per the user's interest, the mobile app helps to keep them updated about offerings. Notifications keep users engaged with the brand by providing information like discounts and deals on their interest.
6. New Branding Experience:
Since the mobile application is clearly different from the brand's website, it can provide a distinct brand experience to users which means the company can choose a completely new branding style for the mobile app. The appearance of a mobile app can also be customized by users, according to their preferences. The app can be further personalized in this way.
7. Seamless Designing for Mobile Apps:
With the growing advancement of technologies, still mobile websites need to rely on browsers to perform any functions. To perform the elementary functions, users depend on some browsers like the "address bar", "refresh button" as well as "back button", whereas to perform any functions of mobile apps, you don't have to browse any button. Mobile apps are designed with advanced gestures including "swipe", "hold", "pinch", "tap", and more. With these gestures, mobile apps offer a better user experience and keep users engaged with the brand.
8. Get Quick Feedback from Customers:
With mobile apps, customers can easily and quickly send feedback to the brand just using one tab. For example, if someone buys any products from any particular e-commerce platform like Amazon, they didn't find it good. They can instantly send feedback using the mobile app. Real-time feedback helps to build a strong relationship with customers and indicate you as a trustworthy website to your potential customers. If your website gets negative reviews, respond to those with a positive gesture, which helps you to manage your online reputation. However, you can also hire a digital marketing company that offers online reputation management services which will help you to manage your online reputation in the digital world.
9. Live Wallet-Free life with Mobile Payments:
Mobile apps have introduced a new way to live wallet free with mobile payments. You can pay online anywhere anytime. And not only pay, but you can also manage your bank accounts and access them 24/7. Just keeping your hand-held device in your pocket, you can walk almost freely. Google Pay is one of the most popular UPI apps which allows you to access your bank accounts anywhere anytime and offers you to pay bills, send money, and make purchases from other apps.
10. Reduce Overall Marketing Cost:
As we have already discussed that businesses can use a new way of branding for mobile apps which can be distinct from the website. Since a business jumps into the digital world in the hope to market its products or services, they invest money in marketing. Because it is the best way to educate customers about your products or service and take them a step ahead to make a wise decision. However, mobile apps have the ability to reduce overall marketing costs. Push notifications and updates help to keep them engaged with your brand.
Conclusion:
We hope this article on the advancement of mobile applications over websites will help you to understand it better. If you are struggling with building a seamless mobile app, we are here to help you. We are the best mobile app development company in Kolkata, which offers mobile and website development services along with digital marketing services. So, from building an app or website to marketing online, you can reply to us, and if you like to read our articles, keep your eye on our blog page.